Weight Watchers Points Plus Calculator
The Weight Watchers PointsPlus program is essentially an overhaul of the old Weight Watchers Points system.
While it had been successfully over the last thirteen years, breakthroughs in understanding of the weight loss process, and nutritional content have seen a huge increase in healthy eating and lifestyle change, to accompany weight loss success.
How Many Points Plus Do I Get?
As a Weight Watchers member, you have your daily PointsPlus allowance calculated for you. This can be through etools, or at meetings. You can also use the calculator below to determine your Points Plus allowance per day.
The winning combination of accountability and support at meetings, along with the new PointsPlus system once again proved to be a winner. For the fourth year in a row, Weight Watchers has come out on top, ranking number one weight loss plan, in the U.S News and World report.
The Weight Watchers PointsPlus program follows the same basic rules as the previous program. Participants are allocated a daily allowance of PointsPlus, the minimum being 26 points. The original minimum PointsPlus allocation was 29, but this was changed when participants complained that they weren't seeing the weight loss results they expected with such a high daily PointsPlus allowance. This is a marked difference to the old program where the minimum Points allocation for a day was 18 points.
If a participant is following the new PointsPlus program and still feeling hungry all the time, they have the option to increase their points by 1-3 PointsPlus per day back up to 29 to satisfy their hunger.
Larger participants who have more to lose are allocated a larger number of daily Weight Watchers PointsPlus (up to a maximum of 79).
As well as having their daily allowance, each week has a 49 PointsPlus bonus (an increase from the old 35 Points) which can be used in one big blow out, spread out across the week, or not used at all, as the individual participant decides.
Adding activity into your day increases your PointsPlus allowance. Different values are given to different levels of activity, the larger number of acivity points being given for the most energy expended. This is not to say that you have to use it. The weekly cycle of activity points runs on the same schedule as the weekly 49 bonus PointsPlus. This means, you can use the activity PointsPlus you earned on the same day you earned them, or any time during the current PointsPlus week. But, if you don't use them within that week, you lose them, just like you do the unused 49 bonus points.
How Are Points For Foods Calculated?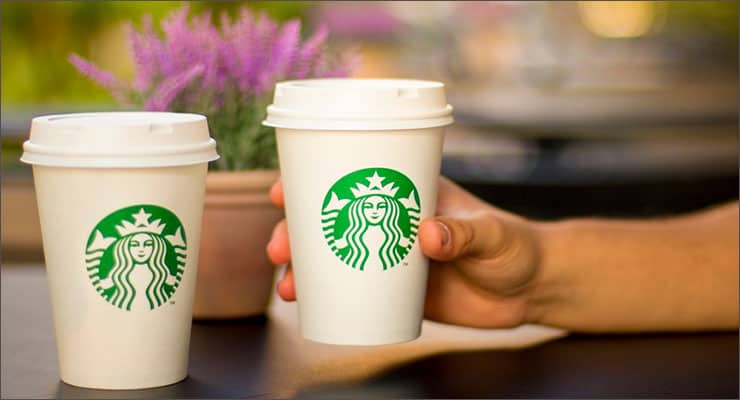 StarBucks Caffe Latte: 4 Points Vs 5 Points Plus
Along with the changes in the PointsPlus allowance, there has been a significant change in the way points for foods are calculated. Previously points were calculated based purely on fat, fiber and calories, now the PointsPlus system takes into account carbohydrates and proteins, and disregards the calories. While it's true that participants have larger daily PointsPlus allowances, it's also true that the PointsPlus value of foods has, as a general rule, increased.
The two biggest changes of the PointsPlus program as compared to the old weight watchers points system, are that fruit is now free of PointsPlus and that processed foods generally have higher points than wholefoods.
On the previous points system, participants could and often would, choose an unhealthy option, for example a cookie or a couple of squares of chocolate, instead of a piece of fruit, for the same points value. There was a need to make sure they weren't "missing out". In the new Weight Watchers PointsPlus program, participants have the option of choosing fruit for a zero PointsPlus value. This is in an effort to promote good food choices by making them more appealing within the PointsPlus system.
This is not to say that you should gorge on fruit, even though it's free. Obviously even though Weight Watchers doesn't allocate it PointsPlus values, that doesn't mean that it doesn't contain calories. The system only works if you also take into account the other rules of the diet, that you only eat when you're hungry, and you only eat until you're satisfied, not over-full.
By combining the Weight Watchers PointsPlus values with the Weight Watchers power foods list, participants can ensure they have a healthy balanced diet that promotes a sustainable lifestyle and weight loss.
The PointsPlus calculator is suitable for most foods, however alcohol and sugar alcohol use a different calculation.
NOTE: Weight Watchers is a registered trademark of Weight Watchers International, Inc. POINTS, POINTSPLUS and 123 Success are trademarks of Weight Watchers International, Inc. Authentic information about the program is only available at your local Weight Watchers meeting. This site is not affiliated with Weight Watchers International in any way, and Weight Watchers has not reviewed this site for accuracy or suitability for WW members. Information on this site is based on recollections and assumptions of it's author and is not warranted for any purpose by it's author. All readers are encouraged to go to a Weight Watcher's meeting for actual WW info. This site is presented under the rights of the First Amendment; rights worth fighting for.
All information is intended for your general knowledge only and is not a substitute for medical advice or treatment for specific medical conditions. You should seek prompt medical care for any specific health issues and consult your physician before starting a new fitness regimen.