The Noom Weight Loss App
It's no surprise that most diets do not have scientific backing for their long term success. The new weight loss app by Noom hopes to change that with a scientific based dieting approach (1).
The question is, did they do it right?
How Does Noom Work?
Noom was designed to correct both eating habits, and dietary behaviors. The value of this program lies in the idea that there are no quick fixes, only long term sustained weight loss.
They focus on incorporating a variety of meal planning techniques with a high quality ingredient list. This allows the user to feel confident that when the diet is done, they have the tools to sustain long term weight loss.
Similarly to WW (Weight Watchers), Noom combines behavioral therapy, individualized coaching, and food tracking to create an all in one program that prioritizes psychology and mental health as it relates to achieving your goals.
Using the Noom App
The Noom app includes:
Colored lists to help you make healthy weightloss friendly meals
Notification prompts to remind users to log food and exercise. Allows logging everything from breakfast to dinner, and calorie counts of over a million foods just by scanning the barcode
Daily lessons with a focus on psychology
A Calorie Tracker
Nooms weight tracker that creates visual graphs of the progress made based on weigh-ins
Hundreds of recipes
Private one on one conversations with a coach
Group sessions and support for all users
The Noom syllabus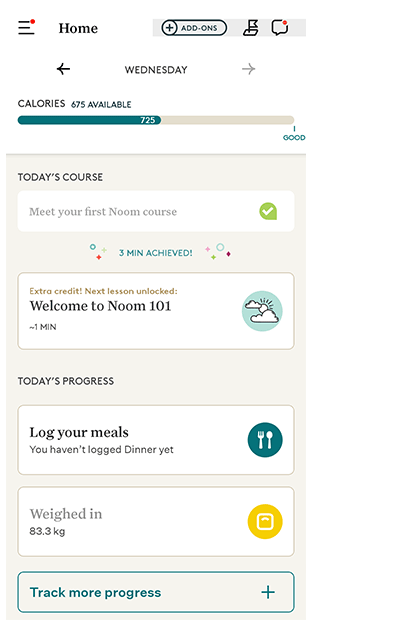 The noom app
The Sign Up Process
The plan that is created for you will be customized based on your answers to their sign up survey, which takes about ten minutes to complete. It will ask about your previous dieting history, as well as your long term goals to ensure that it makes the best choices for you.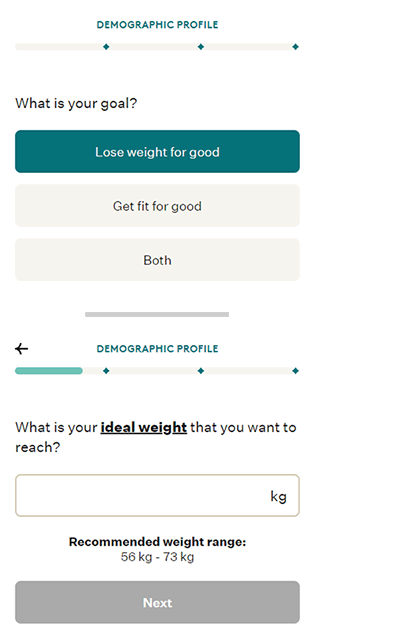 Sign up survey questionaire
Upon completion of the survey; Noom will formulate a 16 week plan for you. It includes hands-on challenges, informative articles, exercise and food logging with a calorie focus, and one on one coaching to reach the finish line on your goals.
Getting The Plan
Once the plan has been made, Noom will provide you with a few lists for different food groups. Think of these lists as a stoplight system. Green means good to go, yellow foods can still be enjoyed; just less frequently, and red foods should be minimally eaten.
The premise is that by eating more of the green foods you will be consuming lower calorie options designed to fill you up with more volume and nutrients to stay fuller longer.
Each category contains foods from every food group, protein, carbs, and fats; the only difference being that they are organized based on caloric density. While they preach a balanced diet, they never want clients to feel deprived which is why they promote a more moderate and balanced approach to eating.
Breaking Down the Noom Stoplight
Noom makes deciding what foods to eat easy. They have provided users with three lists, a green, yellow, and red ingredient option. Each option has a recommended calorie consumption amount daily per category.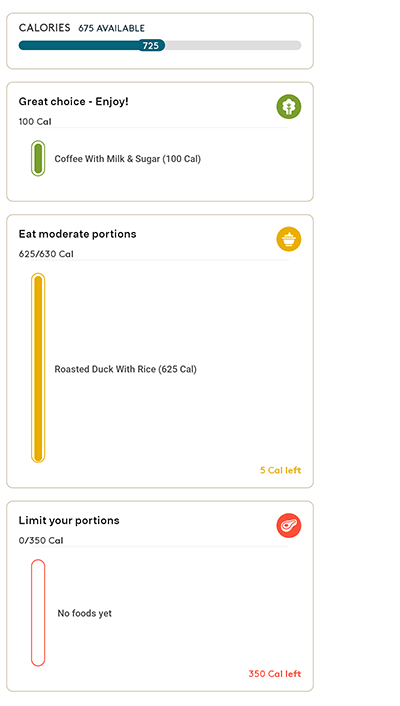 The breakdown is, 30% of the day should be green foods, 45% yellow, and 25% red foods (based on the percent of total calories consumed).
So, what are Noom foods by color?
Green Light Foods
What are green foods? Green foods are a combination of low calorie and high fiber foods chosen for their filling nutrient profiles. Some examples of typical green foods are whole grains, seafood, non- fat dairy, leafy greens, fruits, and vegetables.
They also include low calorie condiments and snacking options like pickles, applesauce, salsa, hot sauce, and mustard.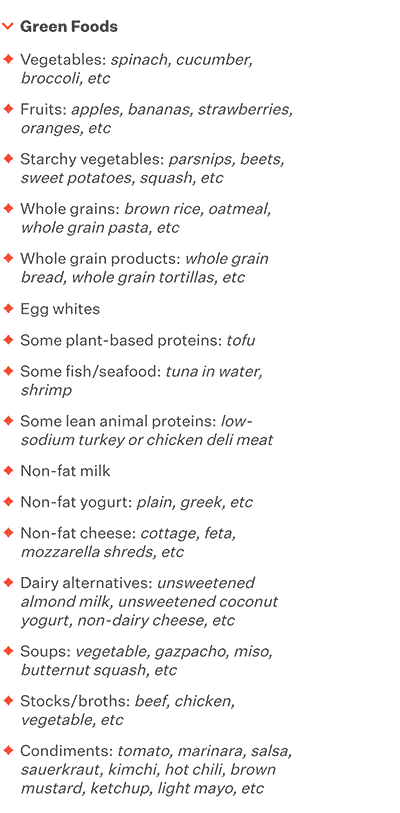 What are Yellow Foods
Yellow foods being one tier down from green are pretty similar, but incorporate a few higher calorie ingredient options. There is still a focus on lean proteins, and high fiber fruits like avocado.
However, this list also has choices like zero calorie sweeteners and drinks which are a bit more processed. It also contains fattier snacks like hummus, pudding, and edamame.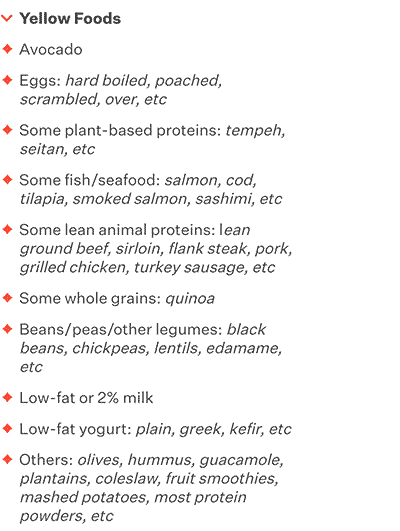 What are Red Foods
If you were worried this new diet means all your favorite foods are going to be cut out, you're half right. The red group, or the foods you want to eat the least amount of are most of our favorite snacks and treats.
Some red food examples are dried fruits, high calorie nut butter, oils, red meats, and other highly processed meats. This doesn't mean they're gone for good. Just that they should be enjoyed in moderation to prevent weight gain.
The whole goal of Noom is to ditch the deprivation and crash dieting, so if you are wondering, "what foods you're allowed to eat on Noom?" Now you know, everything can be eaten in moderation with Noom.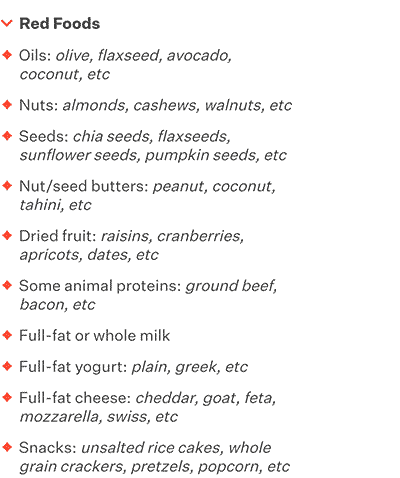 A New Take on Dieting
Noom takes pride in their psychology based program. They provide you with information that may be applicable to your personality and dieting behaviors. Making users self aware can help them to address underlying mental issues and aid in weight management long term (2).
One example is their ability to note food patterns. If you feel like someone else's feelings are reliant on you trying their cooking or not, Noom might make you aware of food pushers and arm you with articles to learn all about what you can do to prevent falling victim to it.
Noom One on One Coaching
Noom, unlike most dieting programs, allows one on one support with a coach during regular business hours.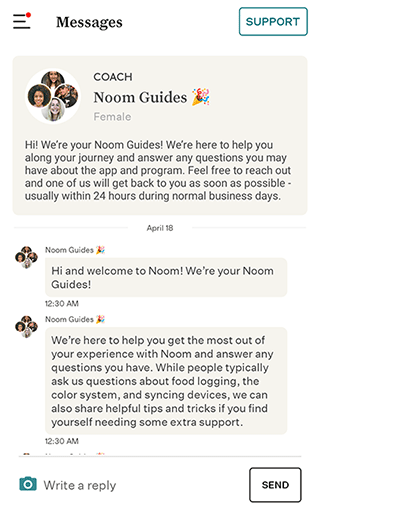 This coaching is included in your monthly fee and is still much cheaper than hiring a regular personal coach or fitness instructor.
While you can choose to do the plan solo, we recommend taking advantage of the coaches. They provide support, nutrition information, and even answer specific dieting questions you may have.
The Noom Syllabus
Noom's app gives users access to an extensive digital library full of blog posts and articles about a variety of weight related topics. They teach readers about nutrition, exercise, stress management, mindset, and behavioral changes.
The goal however, is not to overwhelm readers. Instead they break down content into short lessons that users receive each day to learn a bit more about the topic.
Easy to digest articles about specific topics like calorie density, mindful eating, and breaking poor habits are given to readers in a mini course fashion to work through at their own pace.
They contain little quizzes and multiple choice questions to help solidify the knowledge in the user's mind. Love an article? Bookmark it in the library and read it again in the future!
There are mini tests along the way to help you succeed, but keep in mind at the end of each course there will be a final quiz. This quiz is designed to help you retain information and succeed long term.
Noom Pricing and Programs
All of Noom's programming is custom, so it does cost more than a membership at MyFitnessPal. If you were wondering, "How much does Noom cost?" Or want a specific breakdown like "how much is Noom per month", you may be in for a bit of sticker shock.
On average you will be paying $60 a month for the Noom application. This includes 1:1 coaching, food lists, habit trackers, and dieting information. Noom boasts of their non-diet, dieting approach; but the cost has many people wondering if it isn't just a more expensive Weight Watchers protocol. They have implemented an annual subscription that slashes the price to $16 a month, but $199 upfront.
While their programs are helpful, they are not meal specific curated to your preferences. They give meal ideas, and nutrition information, but not much more than what you could do yourself through a few free dieting applications.
For those who want to cancel Noom once you've lost the weight or don't think it's a good fit for you, go to the settings menu and cancel by messaging your coach before your next monthly payment goes through. In the past there have been complaints about the cancellation process, but it looks like they have managed to make it simpler for users.
The Pros and Cons of Using Noom
Every app and program has its own benefits and flaws, Noom is no different. I did the research so you don't have to. Read through this list of pros and cons to decide if Noom is right for you.
The Pros
Noom creators had their hearts in the right place when designing the app. We love the ease of going into a program and having so many helpful aspects in place to promote long term dieting success.
One pro is definitely the time they spent crafting a support system for those who may experience mental struggles while dieting. Having a built in support network, and a coach in your corner cheering you on is certainly not something to be overlooked.
Another pro is that the app focuses on nutrient dense foods (low energy density) which will help with weight loss, along with other benefits (3). Their green light foods list is packed with filling fiber rich ingredients to keep you full while also giving your body the vitamins and minerals it needs to balance hormones.
The Cons
Now for the flip side, one con is that the plan is not budget friendly unless you are planning on buying a yearly plan. Most people can't afford to spend $60 a month, which may deter them from purchasing the program.
Other plans pricing includes $129 for 3 months ($43 a month), $159 for 6 months ($26.50 a month) or finally $199 annually which is $16.60 a month. While the sign up process is fairly easy it still takes a good amount of time to fill out the questioner, and an even prettier penny to purchase the finalized plan.
Another big con is the low calorie diets they put users on. They are in the business of helping people lose weight, and sometimes that means reducing customer's calories too low to ensure they do. This can be especially dangerous for those who have struggled with eating disorders in the past.
Noom has put systems in place for creating healthy habits, but it is important to note that like most other dieting programs; it is really not recommended for people with an eating disorder history.
The Overall Verdict
All and all we found Noom to be a good program for those looking to lose weight. At the end of the day Noom's program is still a dieting program, and results will depend on whether you are willing to put in the work or not. As with any dieting program, if you feel the foods list is starting to make you fear ingredients; or deter you from enjoying social activities, perhaps consider unsubscribing.
It is better for your mental health to take a break from the stress of dieting than force yourself to continue doing something that harms your happiness.