Meal Prep for Those Who Absolutely Hate Meal Prep
Let's face it. Meal prep is a great time saver, money saver, not to mention, the perfect way to stick to your diet or healthy eating plan.
But to be perfectly honest, for many of us, meal prep is a chore and a downright bore. We love having the meal ready for us; we just don't want to spend our Sunday's doing it!
We completely understand, which is why we are making this article to not only explain what it is, but how doing it so you don't lose your mind and, in doing so, make excuses lose your diet as well.
RELATED ARTICLES
The Basics: What is Meal Prep Exactly?
Contrary to what the word sounds like, meal prep does not mean chopping extra onions at home for that fast food burger you picked up. Meal prep is actually a short process that allows you to have meals (as many as you like) and snacks ready for you to eat during the following week.
Studies have shown that meal preppers were more likely to have a better diet, including a higher adherence with nutritional guidelines as well as an increased food variety. (1)
Meal prep can be broken down into four basic steps; Planning, Shopping, Preparation, and Cooking.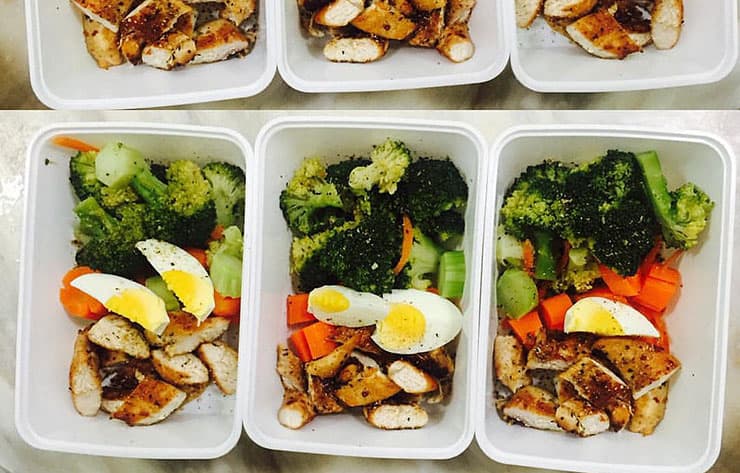 The Benefits of Meal Planning
There are a great many benefits to meal planning, including:
Helping to maintain a healthy weight
Saves you tons of money
Is a huge timesaver, especially for working parents
Can prevent you from cheating on your diet plan
Gives you incentive to try new foods or recipes
Gives you complete control over the ingredients in your meals- no more wondering if your food contains MSG, GMOs, or hidden sugar(s)
Offers peace of mind and less stress not wondering what you will eat or if you will have time to make a healthy meal
Removes unnecessary choices, meaning that you will be more likely to stick to your diet or meal plan and budget
Offers healthy, portion controlled meals that are far less expensive than meal delivery services, frozen meals, or fast food
Saves your energy – cooking once is certainly less taxing than cutting, cooking, and clean up 5 days each week!
Fewer dishes to wash or to scrape and put in the dishwasher
A Quick Note
We aren't doctors or nutritionists, so please use care when planning your meals. If you have an ongoing health problem or if you have any questions about whether certain meals might be OK for you, please speak with your doctor.
Step One: Planning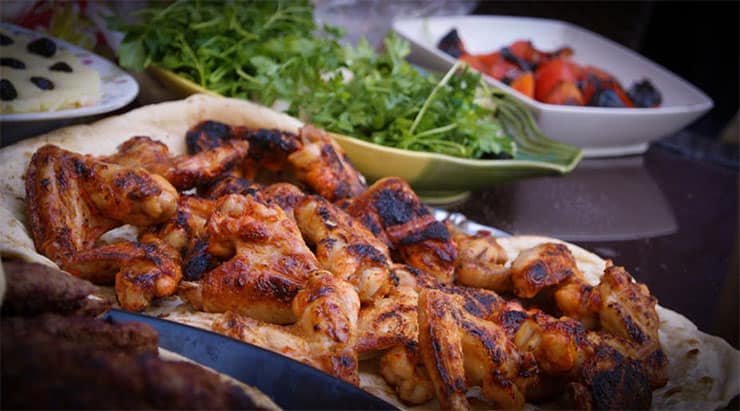 Choose your protein, starch and vegetable. Grilled chicken with vegtables.
This isn't as difficult as it might sound. Planning means figuring out what you want to eat for dinner or lunch for the following week. You can plan for two meals, three meals or just one, whatever suits your lifestyle.
For example, let's say you want to have dinner ready to reheat every day when you come home from work so you don't have to cook. That means you need to plan for 5 meals.
You can go all out and plan three meals plus snacks and dessert if you like, however, if you are a beginner, you might want to start with just one meal for the typical 5 day work week.
Each meal should contain a protein (chicken for example), a starch (rice or pasta) and a vegetable in order to have a balanced dinner. Meat based proteins, such as chicken or pork are better if you are meal prepping lunches as they keep better than fish or shellfish. Beef, fish, and shellfish should be cooked and consumed within 48 hours.
Protein, Starches and Vegetables
Of couse, you can also add a side salad if you like, but the basics are protein, starch, and veggie.
Here are a few examples to get you started:
Protein: Fish, chicken, beef, turkey, eggs, beans, tuna, salmon
Starches (carbs): Rice, potatoes, lentils, pasta, quinoa
Vegetables: Broccoli, cauliflower, peas, green beans, peppers, tomatoes
Now if you are on a low carb diet, then you will want to keep the starch, to a minimum and increase the vegetables. If you are on a vegetarian diet, then you would increase the starch and choose a protein such as beans.
For this article, we are going to focus on eating healthy, natural foods that would help maintain a person's healthy weight.
Planning in a Nutshell:
Decide your nutritional goal (vegetarian, low carb, low cal, etc.)
Decide what you want to eat (chicken, beans, fish, etc.)
Write out a grocery list of what you need
It really is that simple. Don't forget some of the extras you might need to cook your meals, such as coconut or olive oil, salt, vegetable broth, etc.
Don't Forget Containers!
If this is your first time doing meal prep, be sure you have plenty of containers on hand to store your meals. You can buy them almost anywhere, but some of the containers that work best are stackable and have dividers to keep foods separate so sauces or juices from meats don't intermingle.
You might think you have enough Tupperware to keep things going, but chance are that, unless you are a Tupperware fiend, you don't have nearly enough.
Consider that you will need at least 5 containers for each meal you plan to make (5 for breakfast, 5 for lunch, etc.), another container for salad, and still another large container or two for keeping salad greens and other vegetables separate, that means you will need approximately 12 containers just for yourself for one meal for one week. We haven't even talked about evening snack containers!
So consider buying some good quality containers that will stack in your fridge easily. For more about containers, this article spells it all out.
Step Two: Shopping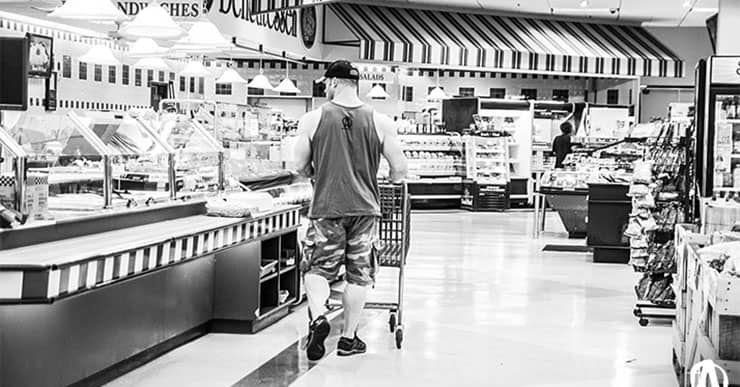 Take your list and go grocery shopping. Check out coupons and sales to help save money. Don't forget to buy organic and/or free range meats as often as you can afford.
Some of the best tips for saving money are:
Buy in bulk then repackage into smaller containers and/or freeze
Invest in a used freezer as these are well worth the extra money
Never be afraid to stock up on staples when these items go on sale: examples would be rice, flour, sugar, chicken or vegetable stock, honey, canned goods, quinoa, and beans. These items last for months or even years.
Buy cheaper cuts of meat, especially when they are on sale. Cut into smaller packages, label, and freeze. When kept in a well sealed container, meat will last as long as a year in the freezer.
Buy produce in season and look for sales, coupons, or store offers.
At certain times of the year, certain meats and poultry becomes very, very inexpensive (think turkey at Thanksgiving or ham at Easter) Consider buying one extra and freeze it for later use.
Don't forget to rotate the food in your pantry and check your fridge before shopping. Make plans to use up leftover food so nothing goes to waste.
Consider trying less expensive substitutions, such as using ground turkey in place of ground beef or using hot dogs in place of meatballs in your spaghetti.
Keep a mental list (or make one on your phone) of rock bottom prices so you become aware of what is a real sale and what isn't.
Consider the cost per ounce or per serving, especially with meat. Most markets will list a price "per serving" for meat, which is how much it actually costs you per one person serving, minus the fat and bones.
Cut and slice yourself. For example, a whole, uncut pineapple is $3.99 but a cut and bagged pineapple is $5.99. For half the cost, it will take you less than 5 minutes to cut it yourself.
Double check seafood labels! If it says Previously Frozen, you can probably find the exact same item in the frozen fish section for 30 to 40% less. Let it thaw at home!
Grow your own herbs and use them fresh or dry them, rather than buying them.
Invest in a slow cooker or an instant pot, as well as a dehydrator to dry your own fruit and make beef jerky, as well as cook up rice and slow cooker meals that will save you both time and money. We think this Instant Pot is the bomb!
Step Three: Prep
Look, you are halfway through! That wasn't so bad, was it? This part is perhaps the longest part, so put on some happy, feel good music and let's get to work.
Wash all the fruits and veggies and rinse the meats.
Peel, chop, and cut all the raw veggies and salad greens and put them in separate bowls for now. The same goes for fruit and meats.
Step Four: Cook
Start by cooking meats first. Try to use the oven as much as possible. This way, you leave the stove top ready to cook vegetables and starches. If you have vegetables that need to be baked, have them chopped, seasoned, and placed on their cookware so when the meat is done you waste no time putting them in the oven.
While the meat is cooking, it's time to get started with your carbs. If you need to cook rice, quinoa, or pasta, be sure to set timers so you don't forget them on the stove. You might want to write down times for certain foods or label your timers so you don't get confused!
Now, while the meat is in the oven and the rice is cooking down on the stove, this is the time to start getting your veggies ready. If they don't need cooking, such as a salad, simply cut them into the pieces you need and start placing them in their containers and move them to the refrigerator.
If the veggies will need to cook, have them cleaned, cut, and even put in a pot if you have one, so when the rice is done you can move those carrots right to the stove.
You might want to think about cutting a few extra veggies or salads and set them aside in other containers for snacking or for a late night salad or smoothie. You are far more likely to grab some veggies or fruit as a snack if it is clean, cutup, and ready to eat. This is where those containers are going to come in really handy!
As soon as your foods cool, you can start putting them into the containers. It will save time if you have everything ready to go into the oven or onto the stove. When the chicken is done baking, put that tray of vegetables to be roasted in the oven right away.
Meal Prep Tips
For salads and/or raw veggies, wash them, but let them dry completely before you store them in their containers and in the fridge. They will last much longer!
Sprinkle cut, fresh fruit with lemon juice to keep it looking fresh.
If you want to really save time and money, double your recipe plan for the week and freeze extras.
Consider making some foods do double duty. For example, if you plan on making chicken with rice, double the rice and consider making meals such as stir fry or fried rice.
If the thought of eating the same meal every night for a week sounds boring, you can still make this work. Use a basic meat, such as chicken, and make chicken fried rice for one night, a chicken with pasta meal for another night, chicken enchiladas for another night, and so on.
Make a large pot of soup and freeze it in single serving containers for easy to heat, soup to go that you can use as a meal or snack anytime!
You can make large casseroles and separate them into each container or freeze half and eat half during the week.
Don't forget your instant pot or crock pot! If you already have some roasted vegetables in the fridge or freezer and some cooked rice, adding some meat and sauces to your crock pot means that dinner is literally waiting for you when you get home!
Be sure foods are completely cooled before putting them in the freezer. If the food is still warm, it will condensate and make your meals soggy messes when you reheat them.
Put a small reminder on your phone so you remember not only what meal was planned for today, but any other little notes that you will need to remember, such as "Chicken stir fry and vegetable rice- reheat rice last"
Mason jars can be your best friend. You can fill them with salads, snacks, even soup and freeze or pack them to take with you. You can buy plastic lids that won't rust and wash up great by hand or in the dishwasher, or go with the classic metal lids, the choice is yours.
Don't stress about your meal prep! You should set a certain number of hours to do your meal prep and stick to it. Two or three hours should be more than enough time to prep meals for the upcoming week. If it takes more than that, consider giving yourself another two hours on Wednesday to do the remainder of the week. You will get faster and learn time saving tricks as you go along. Don't think of it as "work" think of it as your own personal creative fun time in the kitchen!
You can avoid boring meals by using different spices, sauces, or salsa to keep things interesting. For example, plain baked chicken can have BBQ sauce one day, Teriyaki sauce the next day, garlic and herbs spiced another day, and chipotle sauce covered chicken on yet another day. Don't be afraid to experiment!
Keep in mind that some things reheat better than others. Add a few drops of water to your meat before microwaving to prevent it from drying out and thicker cuts of vegetables will also reheat better than smaller pieces. Casseroles, soups, and crock pot meals are also good choices for reheating.
Frozen vegetables are a great choice as they reheat quickly without becoming mushy.
Don't forget to label your meals! Use different colored sharpie pens to designate what is in each container, "Eat By" dates, for different family members, etc. This is especially helpful for frozen foods.
Use crockpot liners for quick clean up!
Remember that moisture is your enemy. Fruits, vegetables, rice, and other food items should be dry before freezing. Don't put warm foods in the refrigerator so they do not form condensation. Wet foods rot faster than dry ones. Mix up sauces or salsas and keep in jars to add at the last minute.
Don't forget that the correct containers will make a huge difference. We have tried numerous brands and styles and found that these containers are the best deal.