The 2 in 1 Gourmet Meal Prep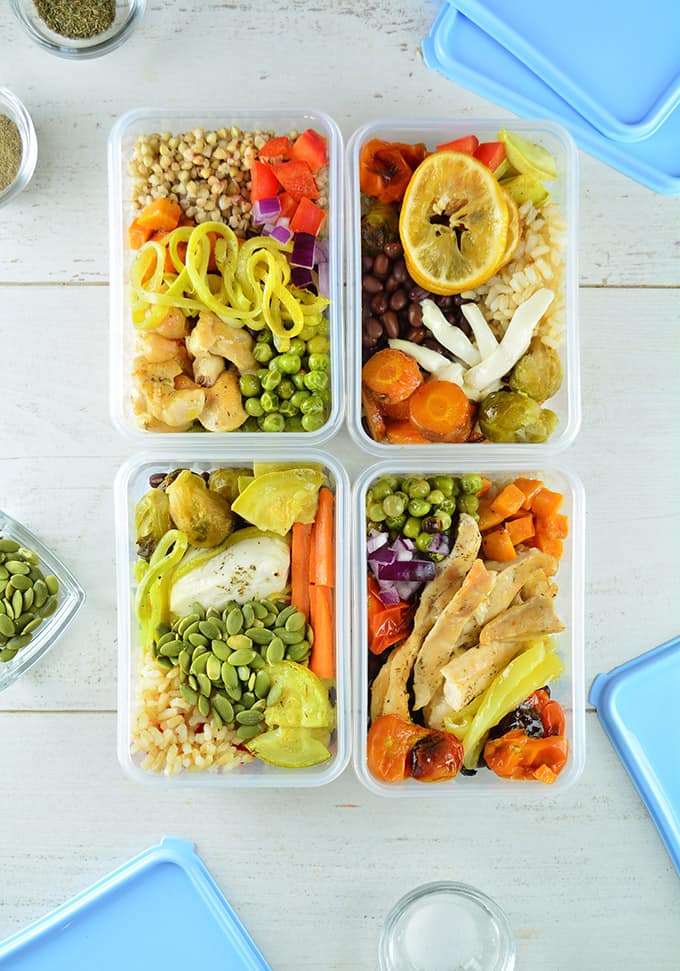 Having a good meal plan and preparing your food in advance is probably the best way to save time and to eat a nutritionally balanced meal every single day. The fact is that most of us don't have hours and hours to spend in the kitchen preparing a well-balanced and healthy meal.
A good diet, on the other hand, is about 80% of your weight loss effort and overall health improvement plan. A meal that contains some carbs and protein will help curb your hunger and provide your body with all the essential nutrients it needs to stay fit and healthy.
When planning your meals, always make sure to prepare a good balance of different food groups in order to get the most out of each. A healthy meal should always contain protein, a few carbs, vegetables, and healthy fats.
Although we have written about other meal prep ideas, this one is a big unique as it contains more gourmet ingredients and food items that aren't as common.
In this meal prep plan, you will be able to have 4 daily meals with two choices. Two meals contain chicken as the main source of protein and two contain cheese as the protein source. Each container has a nice portion of rice, adzuki beans, or green peas.
This recipe uses adzuki beans, which can take a long time to cook. If you have the time to cook these beans fresh, that would be great, it not, use canned beans which are already cooked and simply need to be reheated.
If you are looking for great containers for this recipe or any other meal prep plan, these containers are simply the best bargain ever. Don't try to balance those old margarine containers, these stack neatly in your refrigerator and are very inexpensive.
Serves: 4
Preparation time: 35 minutes
Cooking time: 30-40 minutes
INGREDIENTS:
2 halves chicken breast
1 cup adzuki beans
½ cup brown rice
½ cup buckwheat groats
1 medium red bell pepper, chopped
6-8 cherry tomatoes
2 tbsp pumpkin seeds
2 medium carrots
2 lemons
1 large zucchini
1 cup goat's cheese
2 green peppers
10-15 Brussel sprouts
½ medium sweet potato
1 purple onion
1 ½ cup green peas
Olive oil
Salt, pepper, dried thyme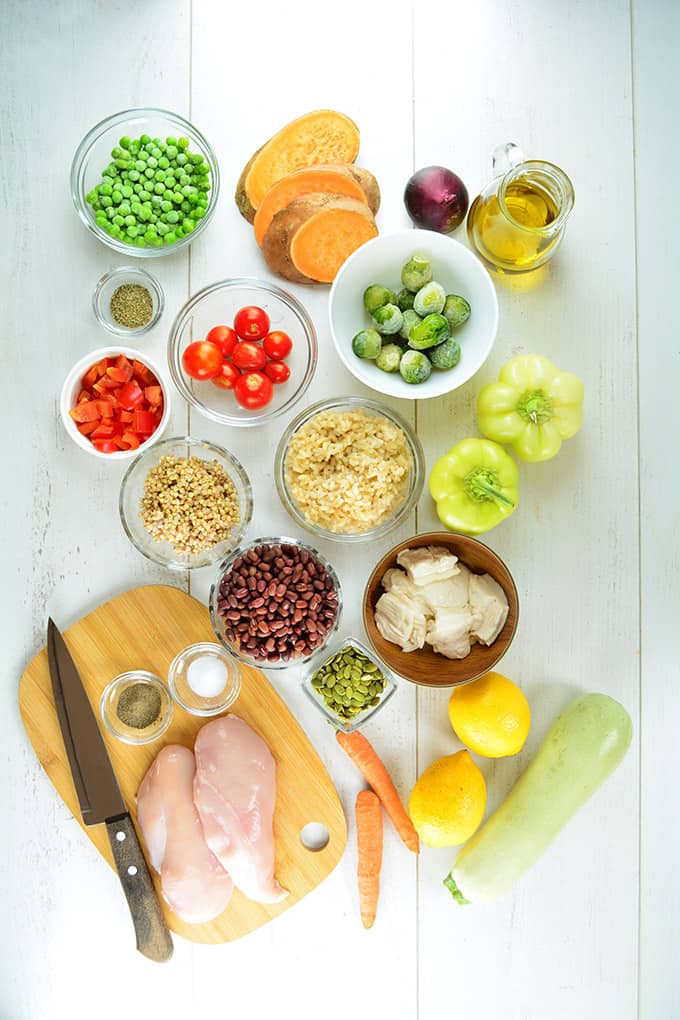 PREPARATION:
Rinse the chicken breast under cold running water and pat dry with a kitchen towel. Transfer to a cutting board. Using a sharp, cutting knife chop one half of the meat into bite-sized pieces and another half into strips. Sprinkle with some salt and set aside.
Rinse the vegetables thoroughly under cold running water and drain in a large colander. Cut peppers into strips and set aside.
Cut zucchini in half. Chop one half of the zucchini into bite-sized pieces and run the remaining half through spiralizer to get nice zucchini noodles. Set aside.
Chop one carrot into bite-sized pieces and another one into strips. Slice sweet potato into approximately ¾-inch thick slices and chop into bite-sized pieces. Set aside.
Peel and finely chop onions. Place in a bowl and sprinkle with some salt. Let it sit for a while and then rinse under cold running water.
In a small bowl, combine together about a ¼ cup of olive oil, salt, pepper, and dried thyme. Mix well and optionally, add some more herbs or spices to taste. You will use the mixture to prepare the vegetables and the meat so feel free to add some more smoked paprika, dried rosemary, chili powder, or anything else you like.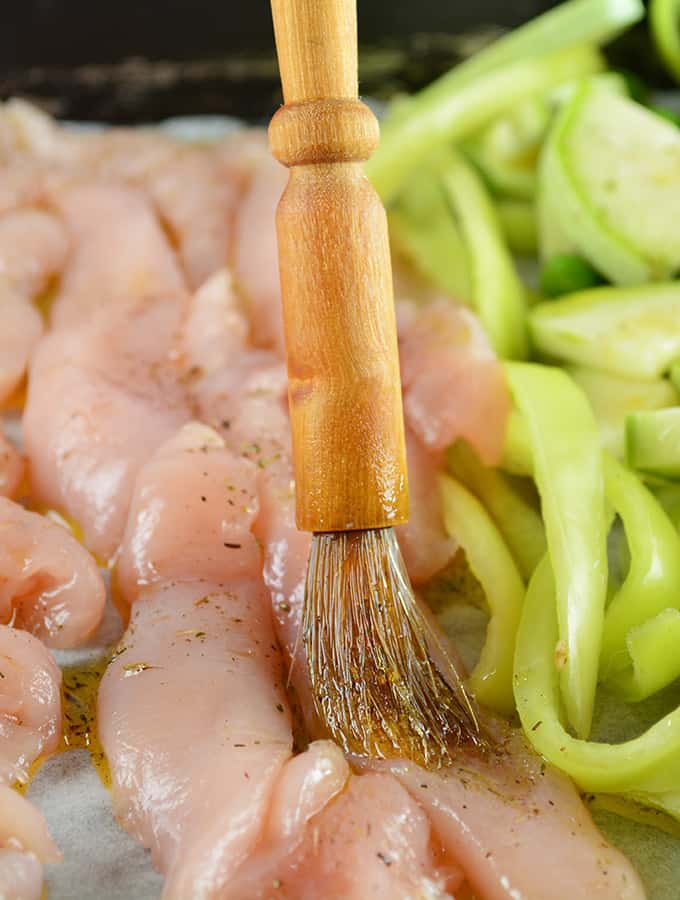 Line a large baking dish with some parchment paper and arrange Brussel sprouts, spiralized zucchini, green peas, chopped zucchini, and peppers. As for the Brussel sprouts, you can use fresh or frozen. I have personally decided to use the frozen ones as they were a bit out of season but that's completely up to you. The same goes for green peas – you can use frozen or canned green peas. If using fresh green peas, make sure to soak them overnight or to boil them until completely tender before baking. For this recipe, I have used frozen green peas and they turned out great.
Now add chopped potatoes, carrots, and cherry tomatoes in the prepared baking dish. Place the meat between these two batches of vegetables and generously sprinkle with the olive oil mixture. Using a kitchen brush, add some extra olive oil to the meat because you really want to get a nice and juicy pieces from the oven.
Top the meat and the vegetables with a couple of lemon slices and bake for 30-40 minutes at 400 degrees. The meat should be juicy on the inside and lightly golden brown on the outside. Carrots and sweet potatoes should be completely fork-tender.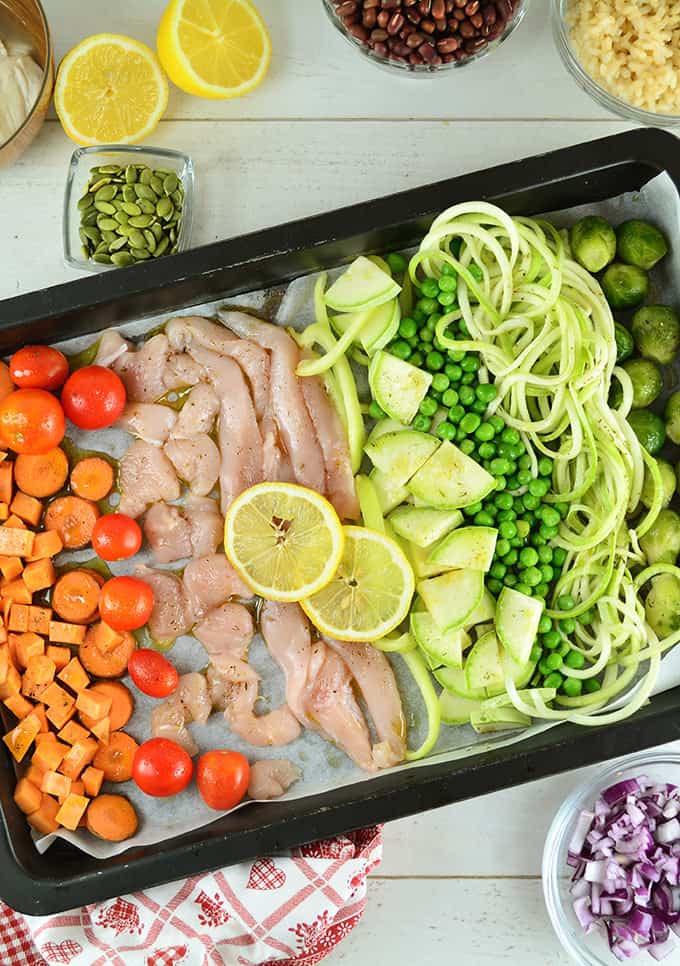 Meanwhile, while you're waiting for the meat and vegetables, prepare the rice, buckwheat, and adzuki beans. As for the beans, these take a lot of time to cook so it's probably the best to use the canned ones.
Place rice in a small, heavy-bottomed pot and pour in 3 cups of water. Sprinkle with some salt (and optionally some dried herbs) and bring to a boil. Reduce the heat to medium-low and gently simmer for 25-30 minutes or simply follow the package instructions.
Buckwheat is also relatively easy to prepare as they don't require a lot of cooking. Place them in a small saucepan and pour in enough water to cover. Sprinkle with some salt and cook until tender. I personally don't like to overcook my buckwheat groats because they can add a nice dose of crunchiness when combined with rice and beans. That, however, depends on your taste.
When the rice and the buckwheat are cooked, remove them from the heat and cool for a while. In the meantime, the meat and the vegetables should be done. Remove them from the oven and cool to a room temperature.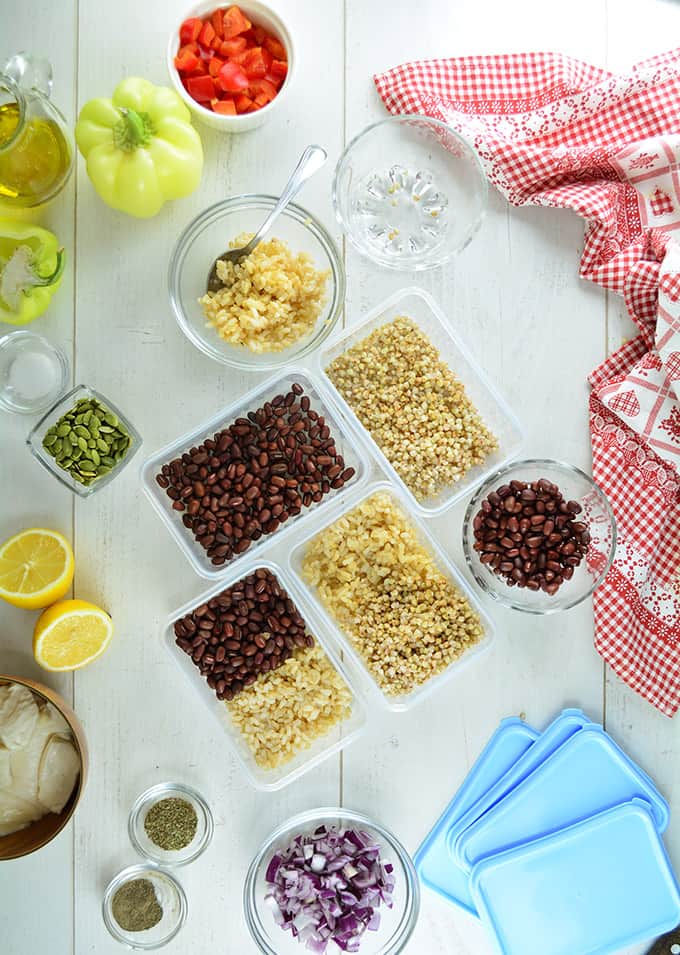 Prepare 4 airtight containers. Now, divide the ingredients among those four containers according to your taste. Make sure to keep the meals diverse and to add a bit of everything in each container – fresh vegetables; rice, beans, and seeds; and protein (the meat and goat's cheese).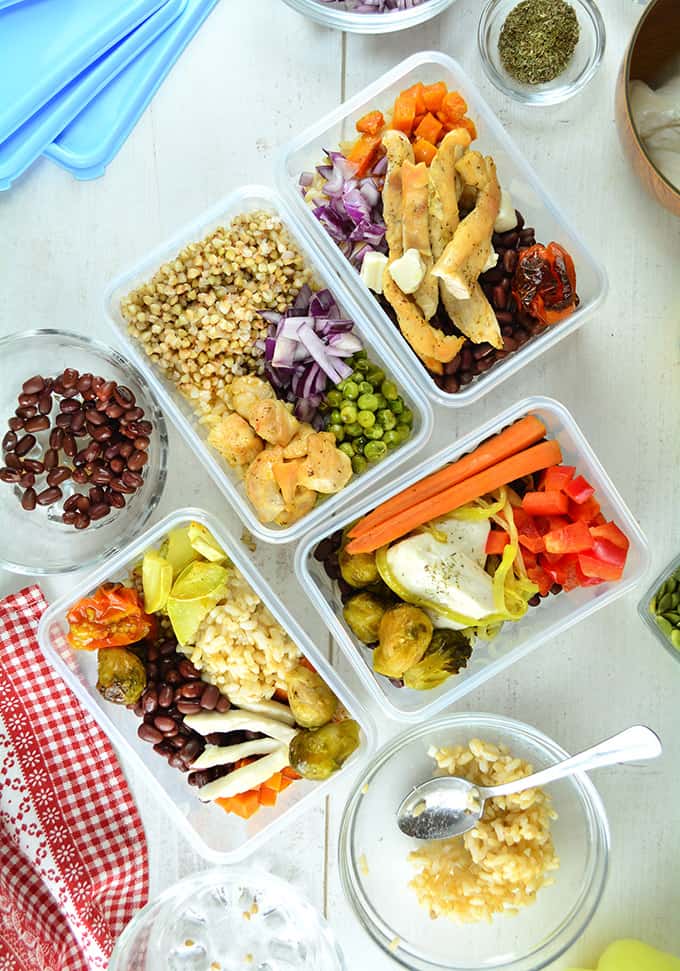 Sprinkle each container with freshly squeezed lemon juice and optionally add some more olive oil, salt, or pepper to taste.
Close with lids and store.
Nutritional information per serving: calories: 449, Protein: 29.9g, Total Carbs: 69.7g, Dietary Fibers: 14.5g, Total Fat: 7.5g
Weight Watchers Freestyle Smart Points: Meal with chicken breast: 2pts, Meal with goat cheese 9pts