How to Get Started
If you have been reading the tons of information on our page, as well as other websites, you might have been thinking that you would love to try a low carb diet, but… something keeps holding you back.
Changing how we eat can seem like a daunting task. Especially when so many of our meals in today's world include carbs and processed foods.
The great news here is that you don't have to flip a switch one day and go cold turkey. You can start by making little changes every week. Before you know it, you're eating low carb and it feels like the most natural thing in the world.
Getting Started
Don't be afraid to set a starting date! This will help to ease pressure and builds up excitement as you start thinking about how good you are going to look in a few weeks!
Getting started, however, is always the hardest part, so let's make things easier by taking little steps. To really get started, let's take a look at snacks. Chances are pretty good that you have snacks like cookies, crackers, Pop Tarts, granola, potato or corn chips, maybe even cake or ice cream.
Snacks are going to be the first thing you want to change.
Snacks
Start by stocking up on healthy, low carb snacks such as beef or turkey jerky (check the sugar content on the package) Epic brand makes very low sugar jerky. Nuts are another good choice, as well as nut butters, but NOT peanut butter. String cheese or hard cheeses, avocados, celery, a bag of mixed frozen berries or blueberries, eggs, and some low carb yogurt.
These should help you make a variety of snacks that will help to get you started, as well as helping you cut back on sugar cravings.
Week 1 - Breakfast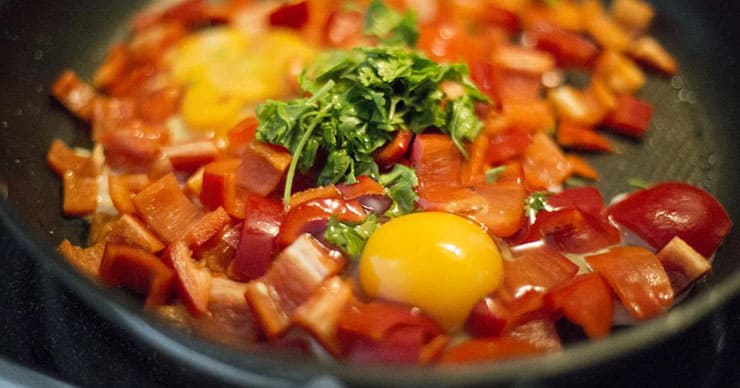 Now that you have snacks under control, let's start with breakfast. Some of the best choices for breakfast include menus like:
2 slices of bacon, 2 eggs any style
Low carb yogurt with a handful of berries, nuts, and coconut cream
Berry smoothie with coconut cream
Scrambled eggs with cheese and a glass of full fat milk
Low carb waffles with real whipped cream and/or butter
Omelets with cheese, spinach, and mushrooms or tomatoes
Green smoothie
There are hundreds of other recipes that you can find online to help you choose the options that work best for you.
Week 2 - Lunch
Lunch can be difficult if you are accustomed to fast food or sandwiches, but lunch is really only as complicated as you make it. Even if you like eating out for lunch, you still have plenty of options.
Almost every restaurant and even fast food places, offer salads. Simply remove any croutons and you are set! Imagine enjoying a huge cob salad every single day! With blue cheese dressing!
Last night's leftovers are always a top rated lunch time favorite!
Egg salads
Tuna salads
Fried chicken or fish (no breaded meats) and coleslaw
Hamburgers without the bread. In and Out serves burgers called "Protein Style" where they wrap the meat in lettuce, rather than bread.
Even your favorite sandwiches can still be eaten for lunch, simply ditch the bread. Pastrami, cold cuts with cheese, ham and Swiss with pickles, you name it!
Again, it takes a little practice to get the hang of eating low carb. Don't beat yourself up if you eat a few slices of pizza one day because of an office party. Just go back to eating low carb your next meal.
If you want your weight loss efforts to be even more effective, there is nothing like making your own lunches and prepping your future meals. Once you know you have food practically ready to eat, it makes you far less likely to cheat, which will not only save you some serious money, but will boost your weight loss efforts two fold!
Week 3 - Dinner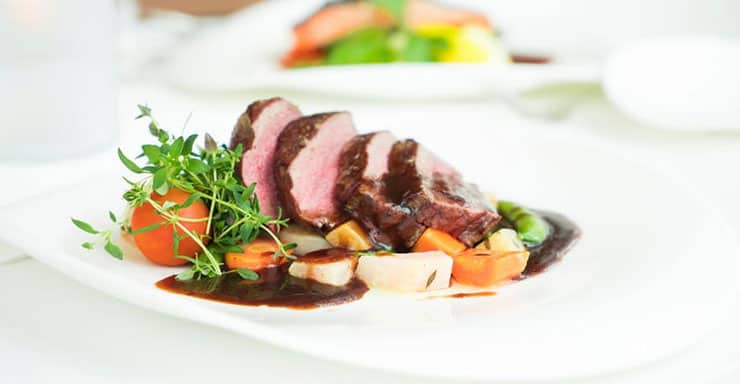 By now, you are getting the hang of it! Dinner might take a bit of planning, but once you get used to buying and cooking in bulk (don't forget that crock pot!) You will find it becomes second nature.
Consider doubling your batches and taking leftovers for lunch or freezing half and using it on a day when you are super busy and tempted to call for takeout. While there are thousands of recipes online, the following is a list to help get you started:
Chicken Lettuce Wrap "Tacos"
Spaghetti Squash with Meatballs
Flank Steak Salad with Avocado
Bacon Cheddar Cauliflower Chowder
Salmon BLT Stacks
Crock Pot Chili (no beans, but you won't miss them)
Shaksuka (if you haven't tried this egg dish, you must!)
Thai Beef Salad
Chicken, Bacon, and Asparagus Bake
Drinks and Desserts
What is life if you can't celebrate with a tasty dessert? You don't need to go for those carbohydrate and sugar laden treats, however. Get creative and check out some of the best low carb desserts on the planet (you can find recipes online):
Fresh Strawberry Frozen Yogurt
Fresh Berries with Real Whipped Cream
Chia Pudding
Cheese Platter
Coconut Pancakes
Classic Chocolate Mousse
Grilled peaches
There are lower carb dessert recipes online than you can shake a smoothie at.
Let's not forget beverages. Unfortunately, many beverages are laden with sugar or sugar-enhanced fruit. So let's take a look at some low carb or no carb drinks:
Water. Of course, this should be your first choice. A splash or squeeze of fresh lemon or lime juice will help to keep your water more interesting. Be careful of flavored waters as most of them have sugar.
Coffee and Tea. Both of these are acceptable as long as you don't add sugar. If you simply can't drink these without any type of sweetener, add just a dash of Splenda or Stevia. The good news here; use real, heavy cream!
Diet Sodas. Again, some people are against artificial sweeteners; if that's you, then don't use them, but for some people, diet sodas can be a life saver.
Thai Iced Tea
Cucumber Mint Infused water
Rosemary-Mint "Soda"
Sugar Free Ginger Beer
Strawberry and Lemon Infused Tea
Again, the internet is simply overflowing with creative, low carb and no carb recipes so you can enjoy tasty drinks without the sugar and carbs.
Cauliflower Is Your Friend
If we had to make a king of vegetables, cauliflower would be our choice. It's versatile and very low in carbs. In fact, cauliflower gets only about 5% of its energy from carbohydrates! Even those on ketogenic diets can freely enjoy cauliflower!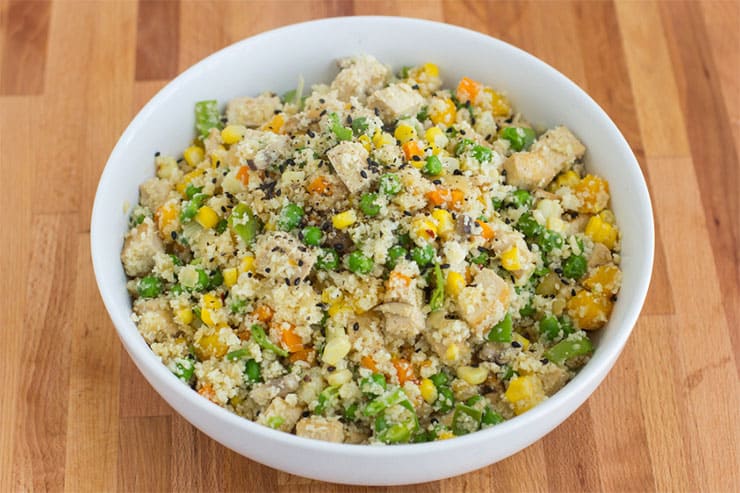 Cauliflower Fried Rice
What makes cauliflower so popular is that it has a very similar texture to potatoes, but without all the carbs. With more vitamin C than an orange, there are tons of reasons to eat more cauliflower!
If you've been doing low carb for a while you've probably heard about cauliflower rice and cauliflower mash, but how about cauliflower pizza, hash browns and lasagna?
Since cauliflower is flavour neutral, you can spice it up any way you like and come up with interesting new ideas! For example, cauliflower can be steamed and pureed with some butter or blue cheese to make a creamy, exciting alternative to mashed potatoes. You can also grate it into "rice" and sauté it with olive oil and/or other veggies to make low-carb "fried rice."
Let's Not Forget Condiments and/or Spices
Spices and sauces, such as Slap Ya Mama or Louisiana Hot Sauce, flavored salt, Tabasco sauce, black and red pepper, flavored vinegars and mustards, can turn a boring meal into a mouthwatering bombshell!
Don't forget check the ingredients before using for hidden sugars or unwanted carbs.
Low Carb in a Nutshell
To make things easier, we are making a short and to the point list of things you can eat and things you can't on a low carb diet. Keep this list handy!
Eat Lots of:
Meats (chicken, beef, and pork)
Fish (fresh and wild caught) unless you have a source for wild caught fish, try our first choice for seafood, Wild Planet (Wild Sardines in Extra Virgin Olive Oil).
Eggs
All vegetables that grow above the ground
Cheese (full fat varieties)
Cream (full fat, including whipping cream)
Full fat milk, sour cream, cream cheese
Berries
Healthy fats (butter, coconut oil, olive oil, avocados, lard)
Mayo and Mustard are OK
Organic Virgin Coconut oil is an indispensable tool for weight loss and for managing blood sugars (we recommend Viva Naturals Organic Extra Virgin Coconut Oil).
Ghee butter (we recommends Ancient Organics 100% Organic Ghee from Grass-fed Cows)
Bone broth – Make your own or use Beef Bone Broth by Kettle & Fire
Avoid:
Sugar, including sugar in drinks, sodas, jam, jelly, and fruit juice
Anything made with flour, including donuts, cakes, cookies, crackers
Most Fruit, including dried fruits. Choose berries and make other fruits a treat.
Wheat products including pasta, whole wheat anything, bread, bagels
Potatoes
Peanuts
Rice (including rice crackers and rice cereals)
Cereal
Low fat or diet anything
Ketchup and condiments containing sugar
In Moderation:
Tree nuts, such as walnuts or almonds, but no more than 1 ounce per day
Red Wine. No more than 2 or 3 glasses a week
Dark chocolate (at least 85% cacao). No more than 3 ounces a week
Apple Cider Vinegar (Bragg Organic Raw Apple Cider Vinegar)
Extra Tips:
Eat if you are hungry, but try an "overnight fast" by going at least 12 hours (13 is better) by skipping breakfast or dinner or that late night snack. There are tons of proven benefits to fasting for 13 hours each night
Don't forget water! You hear this from everywhere, but that doesn't make it any less true. Many times, people think they are hungry when they are simply dehydrated. Drink at least 1.5 to 2 liters of water each day, minimum. Drink more if you are exercising or if the weather is very hot.
There is no denying that low carb diets are the most effective eating plan for losing and maintaining weight. The hard part is getting started, but you can do it with a bit of preparation and planning.