Slimming World Syn Free Recipes
When you commit to the Slimming World, one of the first challenges is to find the 'perfect' recipes. The perfect recipe conforms to the Slimming World guidelines with minimum compromise on the taste.
This list of Syn free recipes breaks the myth that diet foods are boring and bland. From syn free KFC style chicken to steaks, you can enjoy foods from a variety of cuisines.
The good news is that you don't have to be a master of culinary skills to make them. The recipes are simple and whipped up with regular ingredients that are usually available in your kitchen cabinets.
Try these and let us know!
Spicy Chicken Skewers with Pineapple
Chunks of spiced up chicken, skewered with flavorful vegetables, and baked to perfection qualify to be the best finger foods or appetizers. Five Spice Chicken Skewers hardly requires any effort and adds a delicious Eastern spin to your Slimming World diet.
This recipe has an interesting ingredient - pineapples. Tried, tested, tasty.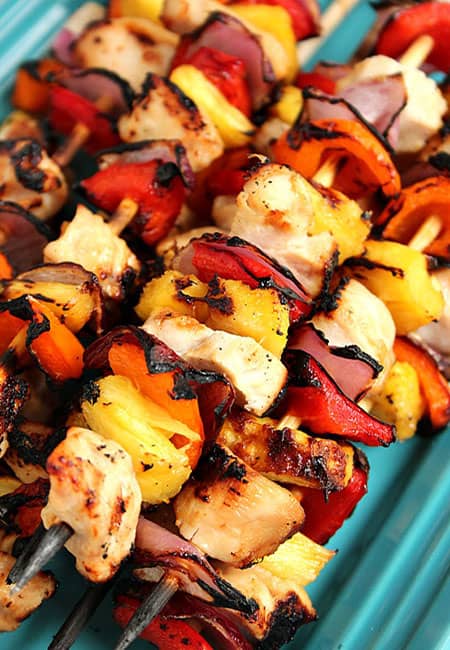 INGREDIENTS:
400g boneless chicken, cut into ¾ inch pieces (you can use breast or thighs)
250g pineapple chunks
1 onion, sliced into wedges
1 green bell pepper, cut into ¾ inch pieces
1 red bell pepper, cut into ¾ inch pieces
8-10 wooden skewers (soak the skewers in water to avoid burning)
Zero calorie cooking spray
For the marinade:
1 tbsp five spice powder
1 tbsp garam masala powder
1 tsp black pepper powder
2 tbsp soy sauce
METHOD:
Marinate the chicken pieces in all the spices listed for at least an hour. The longer you marinate the chicken, the better it tastes.
Thread a chicken piece, onion, bell peppers, and pineapple onto a skewer. Prepare the rest of the skewers and keep aside.
Preheat the oven to 180ºc.
Line a baking sheet with foil. Place the chicken skewers and drizzle with a teaspoon or two oil.
Bake for 20 minutes. Once the chicken is done, switch to Broil for a minute to give the chicken a tan.
Homemade KFC Chicken
One food item we always miss on a diet is fast food. Fast food isn't usually about taste but convenience. When you are on the run, you want something you can pick in a jiffy and move on with your day. Sometimes it's just about the temptation. Here is the perfect option of syn free fast food - our KFC-style chicken recipe.
Believe it or not, it can be a part of your weigh loss diet.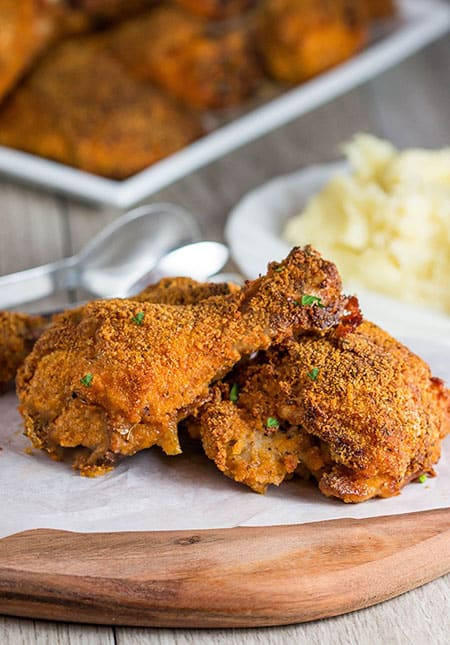 INGREDIENTS:
2 chicken breasts, cut in strips
2 tsp paprika powder
1 tsp black pepper
1 tsp dried oregano
1 tsp garlic salt
¼ tsp ground ginger
1 egg, beaten
Salt to taste
1 bread bun
METHOD:
Grind the bread and the spice powders to crumbs in a food processor.
Dip chicken pieces in the egg and coat each in the bread and spice mixture.
Preheat oven to 200C. Place the chicken pieces on a baking sheet.
Bake for 20 minutes. Turn the chicken pieces to the other side and bake for another 15 minutes.
Chicken and Spinach Pasta
All the wonders of the world are in this recipe - chicken, bacon, spinach, cheese, and pasta. This dish gives you the option of trying out some basic culinary skills by butterflying the chicken breast.
The bacon strips add crispiness to the dish and the garlic parmesan sauce enhance the overall taste. The health benefits of spinach need no introduction. Treat yourself to a complete, heavenly meal.
INGREDIENTS:
1 large skinless chicken breast
4 bacon strips
10 oz. penne pasta
1 cup cherry tomatoes, halved
2 cups spinach
1 tsp Italian seasoning (basil, thyme, and oregano)
2 tbsp vegetable oil
Salt/Pepper to taste
Garlic Parmesan Sauce:
2 tbsp all-purpose flour
1 1/3 cup half and half
2 cloves garlic, minced
1 1/3 cup shredded Parmesan cheese
1 tsp red pepper flakes
METHOD:
Open the chicken breast by slicing it horizontally using the butterfly technique. You will have 2 thin slices about 1 inch thick.
Season each side generously with Italian seasoning and desired amounts of salt and pepper.
Heat oil on medium heat and sear the chicken breast on both sides till they turn golden. The pan shouldn't be too hot since the chicken would brown before it cooks. Make sure the chicken is cooked in the center. Keep it aside.
Now add the bacon in the same pan. Cook on low heat till crisp. Keep aside and roughly break into small pieces. Leave at least 2 tbsp of bacon grease in the pan.
Prepare the pasta according to instructions on the package.
Add the minced garlic to the bacon grease and saute for a few seconds.
Add the flour gradually and give it a mix. Pour in the half-and-half and turn up the heat to medium-high and constantly stir.
Reduce the heat when the half-and-half starts to boil. Add in the parmesan cheese and mix well. You'll have a thick sauce.
Add the red pepper flakes, tomatoes, and spinach. Combine everything very well. Cook on low heat till the tomatoes have softened a little.
Add the cooked pasta to the sauce and mix to coat the pasta with the sauce.
Slice the chicken into strips and place it over the pasta. Sprinkle the top with bacon pieces.
Time to serve!
Chicken Chow Mein with Vegetables
Noodles are the identity of Asian cuisine and amongst the favorites across the globe. Toss it with different kind of sauces, vegetables, or meat and your dinner is ready. You can make this vegetarian or try other vegetables you like.
To keep this meal syn free, all you have to make sure is the quantity of oil and other sauces are as per the recipe.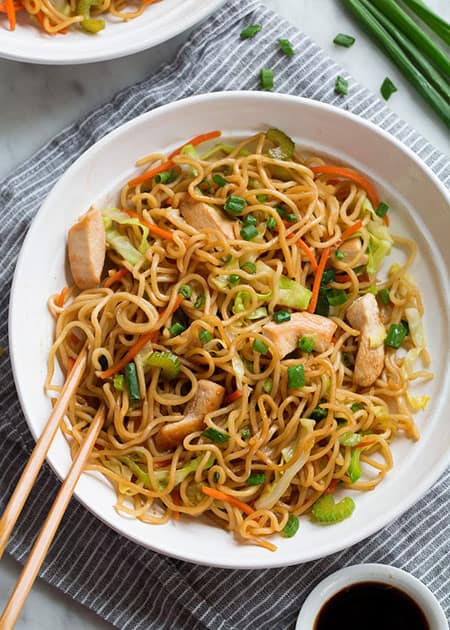 INGREDIENTS:
Chicken
8 ounces skinless chicken breast, slice into ½ inch strips
1 clove garlic, minced
1 tsp minced ginger
1 tsp soy sauce
½ tsp sesame oil
1 tsp vegetable oil
Noodles
6 ounces chow mein noodles
3 tbsp oyster sauce
1 tbsp soy sauce
1 tbsp vegetable oil
1 tsp minced ginger
1 tsp minced garlic
¼ cup unsalted chicken stock
Vegetables
1 cup green cabbage, roughly sliced
½ cup white onion, sliced
¼ cup carrots, thinly sliced
1 cup red cabbage, sliced ¼ inch thick
1 cup bean sprouts
¼ cup green onions, roughly chopped
METHOD:
Marinate the chicken in garlic, ginger, soy sauce, and sesame oil.
Heat the vegetable oil in a wok on medium heat. Add the marinated chicken and stir-fry till the chicken turns light brown. Make sure the chicken is cooked. Keep aside.
Cook the noodles according to packet instructions.
Whisk the chicken stock and soy sauce.
Heat the vegetable oil in a wok on high heat. Add the ginger and garlic till it sizzles.
Add in the vegetables - green cabbage, carrots, and onions. Stir fry for about 2 minutes.
Once the vegetables have softened, add the noodles and the sauce. Toss the noodles to combine the vegetables and the sauce. Use a fork to mix well.
Add the red cabbage, bean sprouts, and green onions. Stir-fry for a minute or till they are soft.
Add the cooked chicken. Give it a toss and a stir to combine everything well. Serve the Chicken Noodles while it's hot.
Spicy Chicken Tikka Masala
Add some spice to your Slimming World diet with this Chicken Tikka Masala recipe. Chunks of chicken infused with aroma and flavor and added to a tangy, tomato-based gravy, Chicken Tikka Masala can be paired with rice or oven-baked flatbread (tandoori naan).
Explore the Eastern cuisine with this syn free, wisely spiced up dish.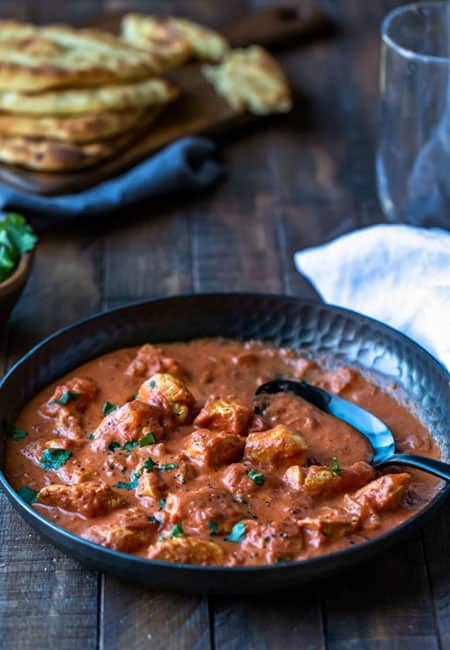 INGREDIENTS:
Marination:
4 chicken breasts, diced into equally-sized chunks
2 tsp paprika powder
1 tsp red chili powder
1 tsp coriander powder
1 tsp cumin powder
1 tsp garam masala powder
1 tsp turmeric powder
1 tsp ground ginger
1 tsp garlic granules or garlic powder
250 grams fat-free Greek yogurt
2 tsp salt
2 tsp finely ground black pepper powder
Juice of a half lemon
For the gravy:
3 tbsp tomato puree
400g canned tomatoes
1 big onion, chopped
2 garlic cloves, crushed
1 tbsp garam masala powder
4 tbsp coriander leaves, roughly chopped
2 tbsp zero calorie cooking oil
Salt to taste.
METHOD:
Chicken
Marinate the chicken in all the marinade ingredients. Cover and let it marinate in the fridge for at least 2 hours.
Heat oil in a frying pan. Drain the leftover marinade from the chicken. Fry the chicken pieces till golden brown on all sides.
Keep aside on kitchen towels.
Tikka Masala Gravy
Heat oil in a large skillet on medium heat. Add the onions and cook till soft and pink. Avoid browning the onions.
Pour in the tomato puree along with all the spice powders. Stir to incorporate all the spices. Simmer for 3-5 minutes.
Now add the canned tomatoes, cover and cook on low heat till everything has blended completely.
Place the fried chicken pieces in the gravy. Mix lightly, cover, and cook on low heat for 15 minutes or until the chicken is cooked. If the gravy appears to be drying out, add a few teaspoons of water.
Turn off the heat. Add in the chopped coriander and let it stand covered for about 5 minutes.
Serve with rice or tandoori bread.
Pepper Steak with Potatoes and Kale
Our best pick from the French spread is the steak au poivre, commonly known as pepper steak. Black pepper takes over the entire dish and adds flavor to all the ingredients. The steaks are covered in peppercorns to form a crust that is balanced by kale and fingerling potatoes.
A wholesome weekend meal, steak au poivre is a must-try especially if your diet needs a change of mood.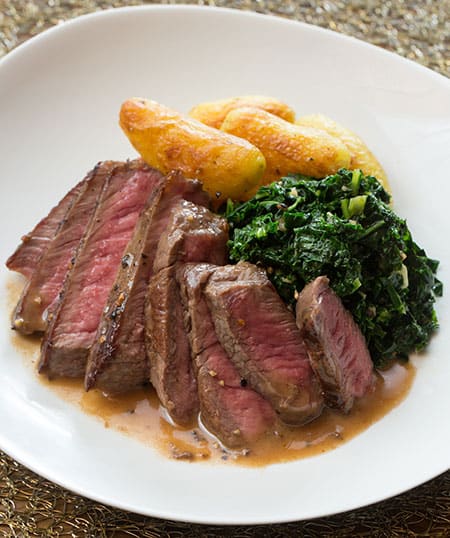 INGREDIENTS:
Steaks
2 sirloin steaks
½ tsp black pepper, coarsely ground
2 tsp olive oil
2 tbsp crème fraîche
1 tbsp butter
1 tbsp beef demi-glace
¼ cup of water
Sauteed Kale
1 bunch kale, de-stemmed and chopped
2 tsp olive oil
2 cloves garlic, minced
¼ cup of water
Salt and pepper to taste
¼ cup grated parmesan cheese
Fingerling Potatoes
¾ lb fingerling potatoes, boiled and peeled
2 tsp olive oil
METHOD:
Steaks
Season the steak with salt and pepper.
Heat the olive oil in a skillet on medium heat and cook the steak until browned on both sides. Turn the heat to low and cook until the desired degree of doneness.
Set the steaks aside to rest for 5 minutes.
Place the steaks on the pan again. Add the demi-glace, crème fraîche, black pepper, and water. Cook on low heat until the sauce has reduced. Stir occasionally.
Add the butter. Take spoonfuls of the sauce and pour over the steaks as they cook. Season with salt and pepper as per taste.
Thinly slice the steaks on a cutting board.
Kale
Heat the olive oil in a pan on medium heat. Add the garlic and season with salt and pepper. Stir frequently to avoid burning.
Add the kale along with the water. Cook while stirring continuously to avoid sticking to the bottom.
Cook until the kale has wilted and the water has dried out. Turn off the heat and add the parmesan cheese. Season with salt and pepper.
Fingerling Potatoes
In a pan, heat olive oil on medium heat. Fry the boiled potatoes. Turn frequently to brown on all sides.
Assemble the steaks, kale, and potatoes on a plate and serve.
Beef Roast
The name sounds like the dish is grand that can be tried only at a top-notch restaurant, but this simple, syn free roast beef gravy is going to give you a surprise. It may not be a quick fix but is unarguably an appetizing indulgence. You can add a few other vegetables if you please.
INGREDIENTS:
2 lbs lean beef joint
1 onion, finely sliced
1 carrot, finely sliced
2 potatoes, peeled and sliced
500 ml Water
2 bouillon of beef stock
METHOD:
Preheat oven to 350 F.
In a roasting tin, cover the bottom with the vegetables.
Season the beef with sea salt and black pepper powder.
Place the beef joint on top of the vegetables.
Pour the water into the tin so that the vegetables are covered.
Slide the tin in the preheated oven. If you want your beef to be rare, cook it for 40 minutes; if you want it medium-done, cook it for 50 minutes; if you want your beef well-done, cook it for an hour.
Use a meat thermometer to check the doneness beef joint. Remove the beef joint and keep it aside to rest.
Remove the vegetables and pour the stock into a fat separator. This helps to remove the fat from the meat stock which has Syns.
Once the fat is separated from the stock, pour the stock in a bowl and add the cooked vegetables along with stock bouillons.
Blend the vegetable mixture in a food processor. You can add a little water if it's thick. Stir well and serve alongside the beef joint.
Doner Kebab with Pita Bread
Kebab is the first thing that hits our mind when we think of Mediterranean food. Grill it or bake it, lamb doner kebab rules the Middle Eastern cuisine. A combination of succulent, lightly spiced meat dressed with salad and flavored yogurt, this dish adds soul to your diet routine and gives you a refreshing break.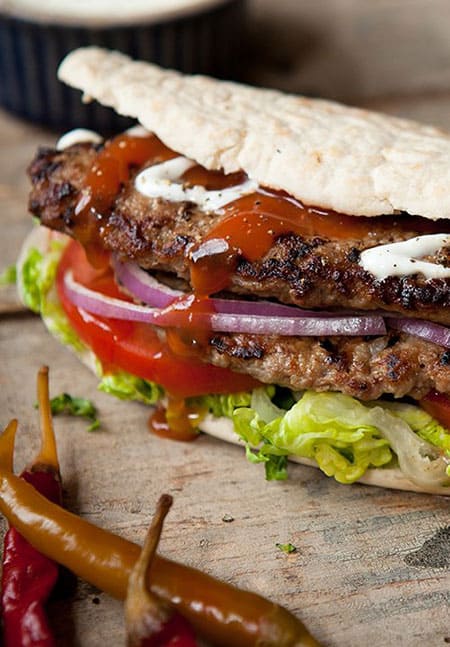 INGREDIENTS:
Kebab
400g lean minced lamb
1 tsp cumin powder
½ tbsp paprika powder
100g fat-free yogurt
2 cloves garlic, crushed
2 tsp ground coriander
Salad and Dressing
½ lettuce
1 tbsp fresh lemon juice
½ medium red onion, finely sliced
1 large tomato, chopped
¼ cucumber, thinly sliced
1 red cabbage, shredded
1 tbsp fresh parsley
1 tbsp roughly chopped fresh mint leaves
4 pita bread
METHOD:
Mix the minced lamb and spices in a bowl.
Place the lamb mixture in a greased oven tin. Level the mixture flat and bake for 25 minutes.
Remove from oven and cool for 10 minutes.
Topple the cooked lamb mixture on a cutting board and cut it into thin slices.
In another bowl, mix the yogurt and lemon juice.
Split the pita bread and fill each with the salad ingredients and a slice of the lamb mixture. Top it with the yogurt dressing, parsley, and mint.
Classic Spaghetti Meat Sauce
Spaghetti with meat sauce is a classic household dish. Spaghetti with meat sauce is a simple 4-step recipe, yet the dish is juicy and absolutely gratifying. Everything comes together effortlessly and fast making this perfect for busy weeknights. You can refrigerate the meat sauce for later use.
Feel free to substitute the vegetables with the ones you like.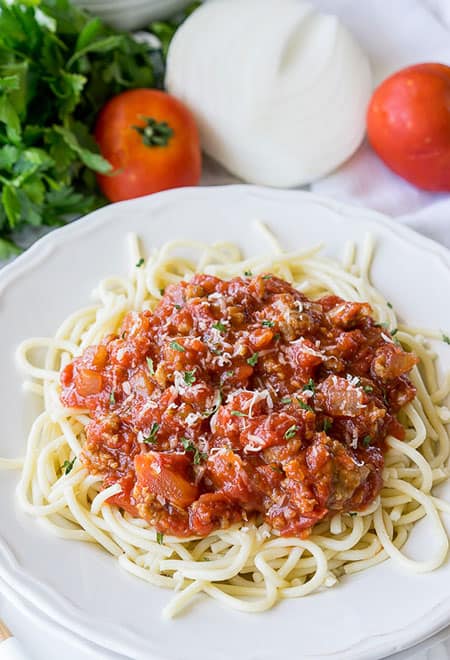 INGREDIENTS:
1 lb. lean minced beef
1 lb. spaghetti
1 can tomatoes
1 large onion, chopped
1 red bell pepper, roughly chopped
2 large carrots, roughly chopped
2 celery sticks, sliced
3 tbsp tomato paste
2–3 garlic cloves, minced
1 tsp. dried oregano
¼ tsp. crushed red pepper flakes
½ tsp. freshly ground black pepper
Fresh basil leaves, to serve
METHOD:
Add the ground beef in a skillet on medium heat and cook for 4-5 minutes until the beef is lightly browned.
Add in all the vegetables and spices. Mix well and cook till the vegetables have softened.
Add the tomato paste and canned tomatoes. Cover and cook the sauce on low heat for about half an hour. Stir occasionally. The sauce will gradually become thick.
Prepare the spaghetti according to instructions on the package.
Portion the spaghetti in separate plates while serving. Spread some meat sauce on the spaghetti. Garnish with basil and serve immediately.
Baked Salmon with Vegetables
The best way to cook fresh salmon fillets is to bake it. This recipe infuses the salmon fillets with the energy of fresh vegetables and vegetable stock. Simple herbs season the salmon and enhance the flavor and aroma of the dish.
You might not be sure about the butternut squash but give it a try before judging it's importance in making this one pot salmon a delight.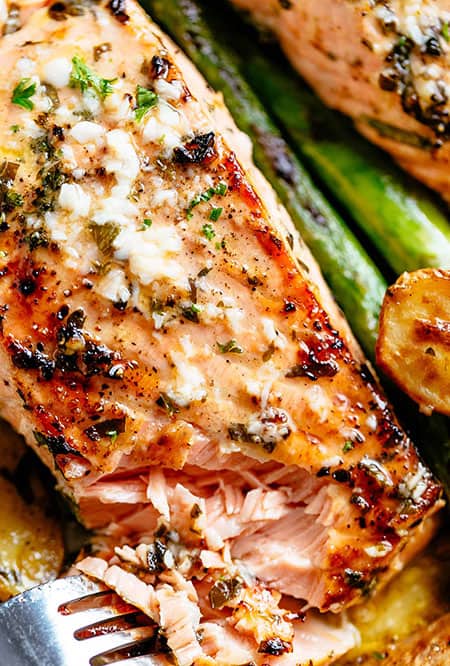 INGREDIENTS:
2 salmon fillets
2 garlic cloves, minced
2 tsp Italian herb seasoning
200ml vegetable stock
250g baby potatoes, halved
1 large red onion, roughly chopped
2 carrots, roughly chopped
1 yellow bell pepper, cut into chunks
1 red bell pepper, cut into chunks
1/2 butternut squash, roughly chopped
Salt and pepper to taste
METHOD:
Preheat oven to 420F.
Lightly grease a roasting tin. Place all the vegetables along with the minced garlic and pour in the stock. Bake for 15 minutes.
Remove the tin from the oven. Place the fish on top and drizzle some oil. Sprinkle with pepper and herb seasoning. Bake for another 15 minutes.