How I Lost More Than 100 pounds with No Cooking!
Right off I can see some of you shaking your head saying "How did she do that? Diet pills or surgery?" Actually, all I did was take the easy way out. Remember that Subway guy? I did something along those lines. Let me tell you about it.
First, let me say that I have had problems with my weight since I was about 10 years old. When I was younger than that, I was "too skinny", according to my mother. Fattening me up was no problem, but once I got "too fat", going the other direction seemed to be impossible.
I swear I have tried every diet possible, other than fasting. Yes, I know, I suppose I should have tried that, but when you literally start dreaming and daydreaming about food, even when you ARE eating, it just didn't seem to me that I would make it one day fasting.
Don't get me wrong, I would lose weight on some of the diets. I would lose it and then it would find me. I know you know what I'm talking about; otherwise, you wouldn't be reading this article.
It seems to me that the main problem was that if something changed or upset my routine, I would find that I "had to" drop the diet. I would tell myself it was "just this one meal" or "just this one day". One day turned into 2 days, which turned into a 4 day weekend and it was bye bye diet.
Let me tell you what I did instead that actually seemed to work for me.
Frozen Dinners and Meal Delivery Service
Don't shake your head again, keep reading for another minute.
If you are like me, you tried some of those so called "diet dinners" that come from the frozen food aisle and said "Never Again!" I know what you are talking about!
However, things have changed dramatically from those soggy pizzas and simply awful spaghetti meals. In fact, there is a company that caught our eye recently and, wow, was I ever surprised!
Eating Well Frozen Meals

Eating Well dinners are made from fresh, organic ingredients. I keep eating them and marveling at how they taste like home cooked food.
It's called Eating Well frozen meals. As of this writing, they only make what we would consider lunch and dinner entrees (unless you like pesto chicken for breakfast) but what I would do was make a sensible breakfast, and then eat one of these for lunch and dinner. I found that I had an instant weight loss plan with virtually no work (other than going to the store).
I didn't seem to have a problem eating a reasonable breakfast (two eggs and a piece of toast, for example) and I measured out 100 calorie bags of sensible snacks (such as celery and peanut butter or an apple with some cheese), and then enjoy lunch.
One of my favorites was Chicken and Wild Rice Stroganoff.
This frozen meal has only 290 calories and 30 grams of carbs, even though it has plenty of wild rice ( a healthy whole grain) Brussels sprouts and chicken breast in a delish sauce! I always had a second 100 calorie snack ready for the afternoon, but to be honest, after the first month or so, I found that I wasn't really hungry until dinner.
For dinner, I might choose something like Korean Inspired Beef. This yummy dish also has 290 calories and 35 grams of carbs, but packed into those skinny little 290 calories is fire grilled beef strips and vegetables, smothered in a sesame/garlic sauce. It tastes so good; I remember reading the box more than once to be sure I wasn't missing something.
I enjoy a little something sweet at night, so I would enjoy a 100 calorie serving of applesauce or one of those 100 calorie frozen fruit popsicles. Those were great because I always felt like I was "cheating".
I usually ended up consuming between 1200 and 1400 calories, including my snacks. Best part of all? No cooking! I occasionally made a green salad with just a tablespoon or so of dressing, but I wouldn't really call that cooking!
What more could you ask for?!
Meal Delivery Service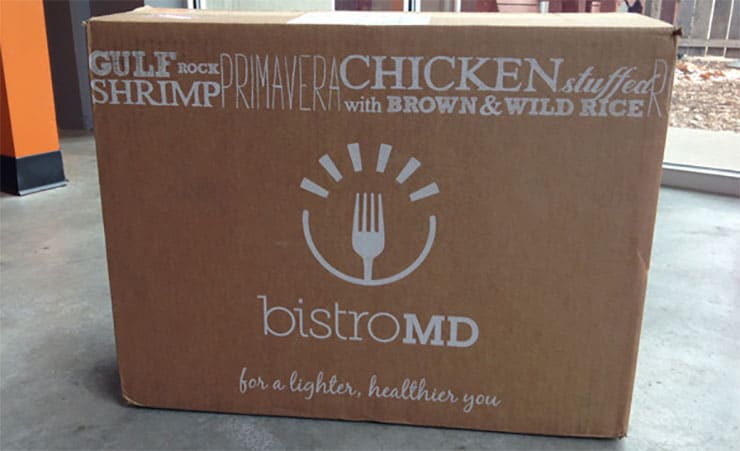 Each meal plan is designed by a dietician to ensure that you are eating perfectly balanced meals
I'll tell you what more you could ask for! DELIVERY!
The truth is that, no matter how easy frozen dinners are; they are still frozen dinners. Eating Well has completely changed my mind about frozen dinners, but sometimes even then, I didn't want to go to the store and stock up on food.
My entire "diet" life changed when I got pneumonia once. I was sick as a dog; let me tell you, and going food shopping? Forget it! Yes, I could have asked my friends to help me out, but I was actually thinking of having a grocery store deliver to my house. While browsing online, a headline caught my eye. "Low Carb Meal Delivery Service". Low carb had always appealed to me, but I thought it was just another flash in the pan diet.
BistroMD.Com Meal Delivery
I started with BistroMD.Com. I filled out a checklist of items, such as low calorie or low carb, but they also have gluten free or diabetic meal plans. I answered a few personal questions such as sex, age, weight, whether I wanted to lose weight or maintain my weight, lower blood pressure, lower my cholesterol levels, things like that.
Each meal plan is designed by a dietician to ensure that I was eating perfectly balanced meals that worked best for my body. They offer low carb, Paleo, and vegetarian meal plans. While you can order 5 or 7 lunches or dinners, I went the whole route 7 days of complete meals (3 meals per day) as well as order a healthy snack each day.
I was shocked to find meals such as Pork Tenderloin with green beans or Tilapia with smoky BBQ sauce in my package. I couldn't believe I was getting all these foods and, the icing on the cake? I lost more weight that week than I did in a month of low calorie eating.
You might think that this kind of personalization means big bucks, but surprisingly, you could get a full program of 5 breakfasts, lunches, and dinners for a little more than $100. Shoot, I easily spent that on groceries alone!
I lost my first 50 pounds or so within a year by choosing Eating Well frozen dinners and sticking to a reasonable breakfast. I lost the next 50 pounds in about 6 months by using BistroMD's low carb option. Best of all, I did it with virtually no "cooking", meal planning, diet pills or surgery.