Top 10 Delicious Ways To Make A Burger WITHOUT Bread
It seems like everyone is going low carb or Keto these days, and with good reason! Keto is one of the fastest, and for most of us, easiest way to drop weight fast! However, whilst this may be the case, the Keto diet is not a diet that should be followed for more than a few months at a time.
For most people, the keto diet means never having to say you're sorry to almost anything, but bread isn't one of them.
Are you dying for a burger but want to avoid the bun? Yes, In N Out serves them "protein style" (and we think they should change the name to Keto Style!) but what if you aren't near an In N Out?
We hear you, burger lovers, and we have 10 great ideas just for you! Go full out Keto and enjoy your burger too with our top 10 ideas to go bunless.
1. Mama Mia! Keto Bread
This one tastes so good; your mouth will think you are cheating! Made from almond flour and psyllium husk powder, this is as close as you can get to the real thing. Each bun is 1 serving and has only a tiny 2 grams of net carbs.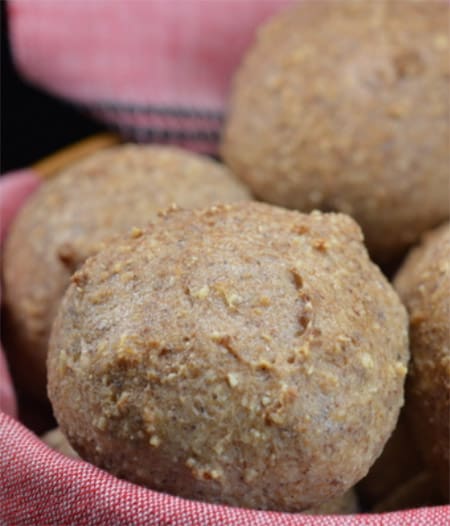 INGREDIENTS:
1 1/4 Cups of almond flour
5 Tablespoons of psyllium husk powder
2 Teaspoons of baking powder
2 Teaspoons of apple cider vinegar
1 Teaspoon of salt
1 Cup of boiling water
3 Egg whites
2 Tablespoons of sesame seeds (optional)
INSTRUCTIONS:
Preheat oven to 350 degrees
In a large bowl, mix together all the dry ingredients
In a small pan, bring the water to a boil and add the vinegar and egg whites
Add the water/egg mixture to the dry ingredients and beat the mixture with a hand mixer for about 30 seconds or until it resembles Play-Doh
Lightly grease your hands and make 6 equal pieces of dough, shaped like a hamburger bun
Place the buns on a greased cookie sheet and bake on the lowest rack of the oven for 55-60 minutes
Sprinkle with sesame seeds if desired
2. Cool Cloud Bread
You might have seen or heard many people raving about "cloud bread" and wondered if they meant that they were eating air to stay on their diet. Actually, cloud bread is the light and airy bread made from eggs and a bit of cream cheese. We think this is the best recipe around and at only 0.6 of a grams of carbs per slice, you can enjoy this bread at every meal!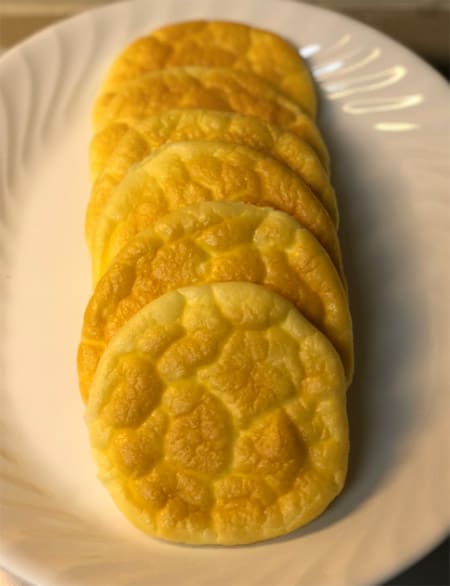 INGREDIENTS:
4 Large eggs separated
2 Ounces of cream cheese
½ Teaspoon of cream of tartar
1 Teaspoon of Italian herb seasoning
½ Teaspoon of salt
¼ Teaspoon of garlic powder
INSTRUCTIONS:
Preheat the oven to 300 degrees
Line two baking sheets with parchment paper
Separate the egg whites and yolks
Put the whites in a standing mixer and use the whip attachment
Add the cream of tartar and beat on high until you get firm peaks
In another bowl, place the cream cheese and use the mixer to beat on high until it is soft
Add the yolks to the cream cheese one at a time until smooth. Scrape sides if needed
Beat in the remaining ingredients into the cream cheese mixture
Fold in the egg whites into the yolk and cream cheese
Try to leave the whites as fluffy as possible so bread will be light and airy
Spoon ¼ cup sized portions onto the baking sheets and make 4-inch circles
Bake for 30 minutes or until bread is firm and golden colored
3. Submarine Unwich
We like to think of these as "unwiches" rather than sandwiches since they are sans bread, but you could also simply think of them as lettuce wraps. In this example, we are going to make a roast beef unwich, but you can use any meat/cheese/fish combo that you like. The trick is to roll this up as tight as you can, so it doesn't fall apart in your lap.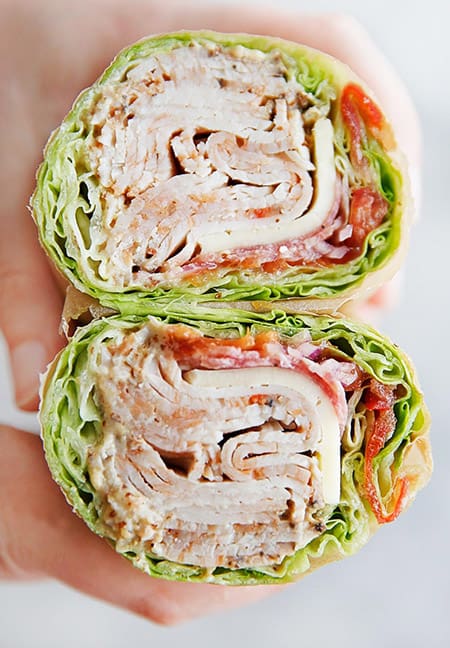 INGREDIENTS:
2 Large romaine lettuce leaves
4-6 Ounces of thinly sliced roast beef (or ham or turkey or whatever)
2 Ounces of swiss cheese sliced
1 Tablespoon of mayo
Pepper to taste
A spritz of vinegar (optional)
INSTRUCTIONS:
Lay a paper towel or two on the counter and put the lettuce leaves on top
Spread each leaf with the mayo, sprinkle a bit of pepper and the vinegar, if you are going to use it
Divide the meat and cheese on each leaf
Put the two lettuce leaves together near the edge of the paper towel
Roll the paper towel around the leaves so it stays together
Simply peel away the paper towel as you munch away!
4. Ripe and Ready Burgers
These are a terrific way to get in a ton of veggies and still enjoy your burger. Make smaller patties so they will fit on your tomatoes and you are good to go. They can be a bit messy, but taste so awesome, you won't mind a bit.
Each burger is only 330 calories and has only 13 grams of carbs.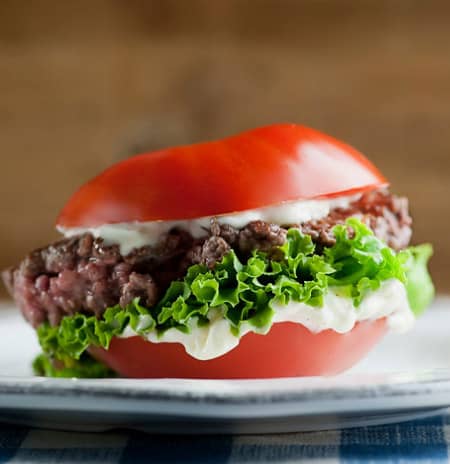 INGREDIENTS:
4 Large, ripe tomatoes (the bigger the tomato, the bigger your burger will be)
1 Pound of lean ground beef
¼ Teaspoon of black pepper
1 Teaspoon of chili powder
¼ Teaspoon of salt
1 Ripe avocado
2 Tablespoons of plain Greek yogurt
1 Tablespoon of mayo
2 Teaspoons of lime juice
¼ Teaspoon of ground cumin
A handful of alfalfa sprouts or finely shredded lettuce
INSTRUCTIONS:
Cut the tomatoes horizontally. Scoop out most of the seeds and membranes into a bowl and set aside
In a small bowl, place half of the avocado and mash until smooth with a fork
Add the yogurt, lime juice, mayo, tomato insides, and cumin to the avocado and stir
Dice up the other half of the avocado and sprinkle it with salt. Add it to the mashed avocado and stir gently to combine
Put the ground beef in a bowl and add the chili powder, a dash of salt, pepper, and mix well
Divide into 4 burger patties
Put a skillet under medium high heat and grill for about 3 minutes each side or until meat reaches desired doneness. (you might need to add a tablespoon of olive oil to keep meat from sticking)
While burgers are cooking, lightly grease another skillet with a bit of olive oil and heat over medium high heat. Cook the tomato halves, face down, for 2 or 3 minutes or until they just start to turn brown. Flip and cook on the other side for another minute
Put the lettuce or alfalfa sprouts on the bottom half of the tomato, add the patty on top, then put about 2 tablespoons of the avocado mixture on the patty, add more sprouts or lettuce if desired, then top with the other half of the tomato.
5. Butternut Burgers
These grain free, super low carb "buns", made from butternut squash and coconut flour, taste so good, you might make them just to enjoy as snacks! These are chewy, not flaky, and make a terrific substitution for toast in the morning as well as fantastic buns for your hamburgers. This recipe will make about 6 pieces of "bread."
If you have never cooked butternut squash before, cut it in half, remove the seeds, and bake for about 20-25 minutes at 350 degrees.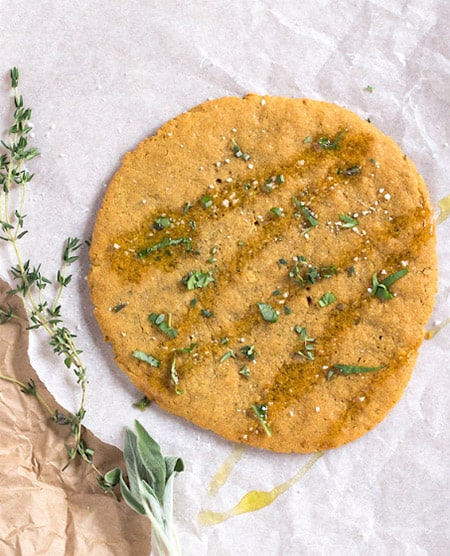 INGREDIENTS:
2 Tablespoons of coconut flour
2.5 Teaspoons of unflavored gelatin
¼ Cup plus 2 Tablespoons of cooked, mashed butternut squash
2 Tablespoons of butter or coconut oil
2 Eggs at room temperature
¼ Teaspoon of salt
INSTRUCTIONS:
Preheat the oven to 400 degrees
Line a baking sheet with parchment paper
In a bowl, stir the gelatin and coconut flour together
In a separate bowl, stir the butter and squash together until smooth
Mix the coconut flour into the bowl with the squash
Stir in the eggs and salt and mix until well combined
Spoon 6 rounds on to the baking sheet (you can make 8 thin ones or 4 thicker ones if you prefer)
Bake for 12 minutes then remove from the oven
Flip the rounds carefully and then bake for another 5 minutes (if you made thicker ones, they will take another few minutes. If they are thinner, they will take a few minutes less to cook)
If you eat them warm, they are more prone to breaking, so handle carefully
6. Cool Cauliflower Buns
Is there anything that can't be made from cauliflower?? There is rice, pasta, and now, buns for your burger. Cauliflower is super low carb and gluten free, which makes it a good choice for keto lovers.
This recipe makes 5 buns, so you should probably double it because you are going to want to share this with everyone. Each bun has only 115 calories and has 4.4 net carbs, so you can get your burger craving satisfied right here!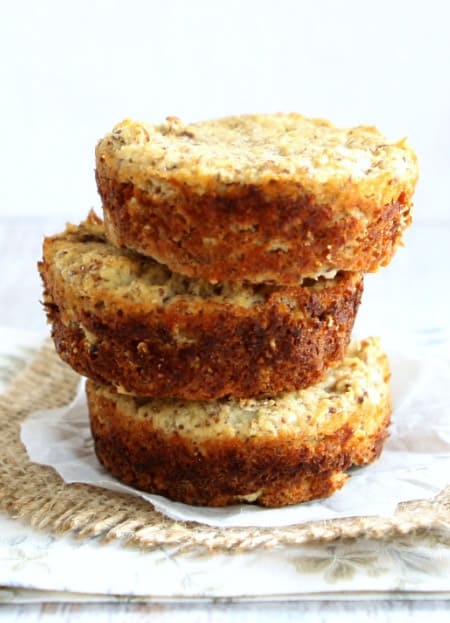 INGREDIENTS:
3 Cups of finely riced raw cauliflower florets
2 Large eggs
½ Cup of Parmesan cheese shredded
2 Tablespoons of almond flour
2 Tablespoons of coconut flour
½ Teaspoon of baking powder
½ Teaspoon of dry Italian seasoning blend
1 Teaspoon of sesame seeds (optional)
INSTRUCTIONS:
Preheat your oven to 400 degrees
In a large bowl, combine the eggs, cheese, cauliflower, almond and coconut flour, baking powder and Italian seasoning.
Mix with a large spoon. The mixture should be wet, but not runny
Lightly grease a muffin tin
Measure out ½ cup of the cauliflower mix and dump into the muffin tin
Press down slightly with your hand or knuckles to remove air
Sprinkle with sesame seeds if desired
Bake for 20-25 minutes or until tops are golden brown
Cool slightly before removing from the pan
7. Easy Keto Buns
If you are looking for a super easy recipe that doesn't take much time, this is the bun for you! 31 minutes from bowl to finish time and 26 of those are cooking minutes!
This needs no special equipment or separate mixing bowls, just put the wet ingredients in a bowl first, then the dry and mix. You can also put these in the blender. How easy is that?
This recipe makes 6 buns and each one has 230 calories and 3.8 grams of net carbs.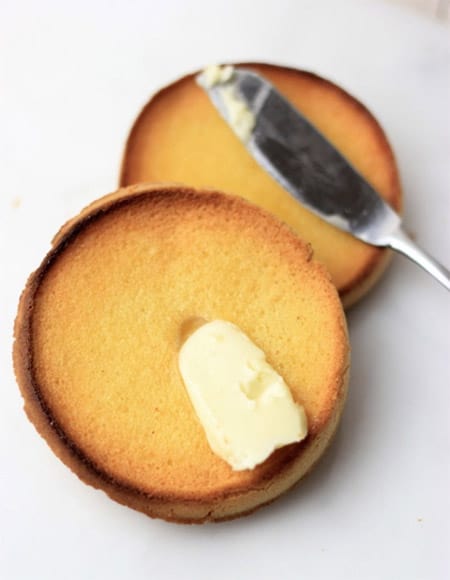 INGREDIENTS:
4 Eggs
4 Tablespoons of melted lard or butter
½ Teaspoon of salt
3 ounces of almond flour
1 Tablespoon of dried rosemary
1 Tablespoon of white sesame seeds
1 Tablespoon of black sesame seeds
1 Teaspoon of onion flakes
INSTRUCTIONS:
Preheat your oven to 425 degrees
Put the liquid ingredients together in a bowl, first, then top with the dry ingredients
Mix well or pulse your blender a half dozen times or until everything is well mixed
Pour into 6 jumbo sized muffin tins (silicone works great)
Sprinkle some extra sesame seeds on top if you wish
Bake for 25-26 minutes if you are using a silicone muffin tin, otherwise 18-21 minutes
Allow to cool completely before removing or cutting
8. Crazy Coconut Flour Keto Bread
Why do we call this crazy bread? Because it tastes crazy good! Now, this is meant to be bread, such as for sandwiches or French toast, but it also works great for burgers.
This recipe uses a loaf pan and makes 14 slices. Each slice has 122 calories and only 1 gram of net carbs. We told you that you would go crazy for this bread!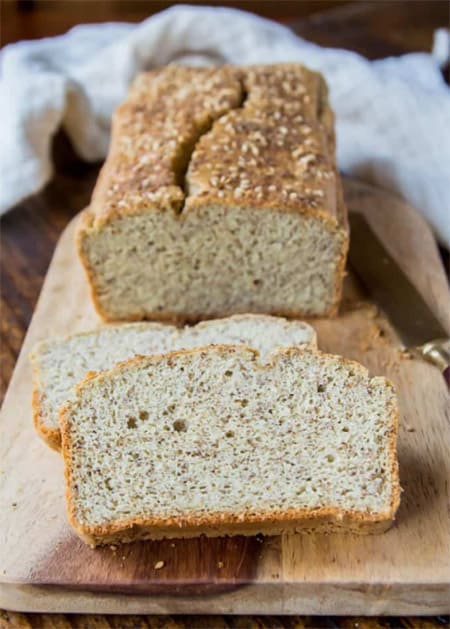 INGREDIENTS:
6 Eggs (1.25 cups total)
1/3 Cup of olive oil or coconut oil
1/3 Cup of water
½ Cup coconut flour
½ Cup of ground flaxseeds
2 Tablespoons of Swerve or other type of artificial sweetener
1 Tablespoon of baking powder
1 Teaspoon of xanthan gum
½ Teaspoon of salt
1 Teaspoon of cinnamon
INSTRUCTIONS:
Preheat your oven to 375 degrees
Using a stand type mixer, place the eggs, oil, and water in a bowl and blend
Add the remaining ingredients and blend well
Line an 8X4 inch loaf pan with parchment paper
Pour batter into pan and bake for 40-45 minutes or until toothpick comes out clean
Cool for 20 minutes, then remove from pan
Cool completely before slicing
9. Keto Burger Rounds
This recipe is a bit of a twist on the cauliflower crowd, it uses carrots! These don't have a carroty taste, however, and they are super easy to make.
This recipe makes about 4 rounds, depending on the size you choose to make them, so double up and freeze some for later use.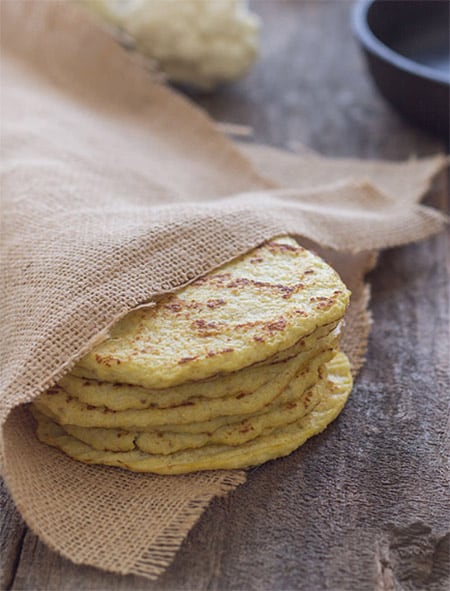 INGREDIENTS:
¼ Cup of coconut flour
2 Medium carrots finely chopped
¼ cup of almond milk
2 Eggs
Salt and pepper to taste
Herbs or seasoning if you like
Sesame seeds for sprinkling on top (if desired)
INSTRUCTIONS:
Preheat your oven to 400 degrees
Line a baking sheet with parchment paper
Put the carrots and coconut flour in your blender and blend on high for 30 seconds. It should look like crumbs
Add everything else to the blender and blend until smooth, about 1 minute
Make 4 even rounds on the baking sheet and sprinkle with sesame seeds if desired
Bake for 15 to 17 minutes until dry on top and lightly brown on the bottom
Turn and bake for another 3-4 minutes
Cool for 5 minutes before eating
10. Sweet Patootie Buns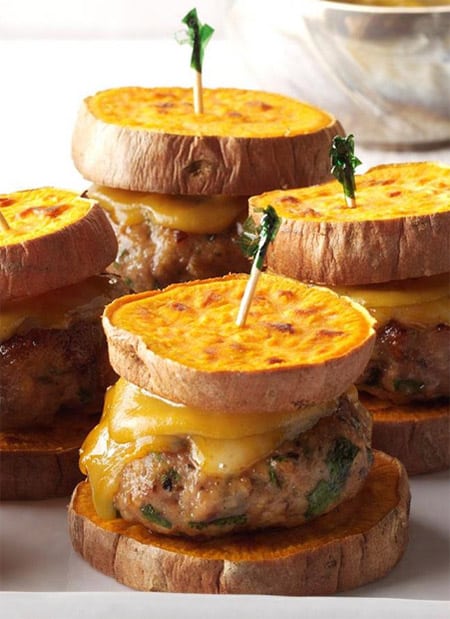 Since it seems like every other vegetable under the sun has gotten their 15 minutes of fame as a hamburger bun substitute, why not sweet potatoes?
A sweet potato will make for smaller burgers to be sure, but that just means you can eat a couple of them, right?
You can make these with sweeter tasting burgers and make a smash at your next BBQ. Think Buffalo meat or bacon and BBQ sauce burgers. Am I making you hungry?
To make these, all you need is to pick out a round, thick sweet potato. We used Japanese sweet potatoes because they have white flesh, but any sweet potato will do.
Preheat your oven to 400 degrees and slice the sweet potato into ¼ inch thick rounds. Put them on a baking sheet and brush or spray them with a bit of olive oil. Sprinkle with salt and pepper.
Bake for 25 minutes, then flip and bake for another 15 minutes. If you have a grilling pan, you can grill the slices for a few minutes to get those lovely little grilling lines. You can also just pop them into your BBQ grill if you have one going.
That's it! Add your meat and toppings and go to town!