Weight Watchers Simple Start Review
[Update: Weight Watchers latest program is WW Freestyle]
The Weight Watchers Simple Start program is a two week plan to help you get into the swing of the Simply Filling Weight Watchers technique. It's a well thought out, comprehensive plan with lots of choice, and opportunities to learn how to understand your own body's hunger signals. Weight Watchers participants can learn about the program in meetings, using the program guidebook or using the Weight Watchers Simple Start app.
The Simple Start Program
In line with the Simply Filling Technique, Simple Start offers a long list of Power Foods available to participants, which can be incorporated into their diets. Fruits, vegetables, whole grains, legumes, lean meats and low fat dairy and soy products are all included. Any of them are allowable at any time and in any quantity for those participating in the simple start and simply filling program, as long as participants are not allowing themselves to become overfull.
The Simple Start program is as its name suggests, simple. There is no having to measure, weigh or count anything you eat. You just need to follow the pictures, recipes and choices outlined in the booklet, on the app or on the Weight Watchers website.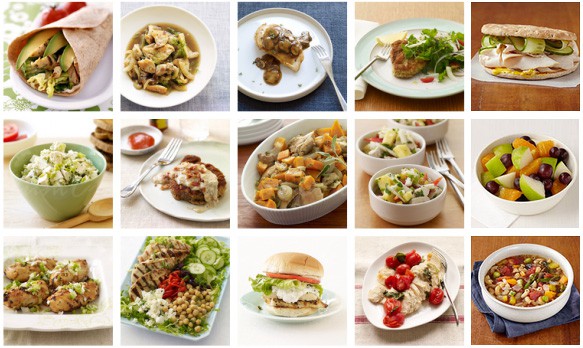 Choose from the many pre-set meal plans provided by Weight Watchers using the Power Foods.
The Weight Watchers Simple Start program gives participants choices for each meal, providing them with recipes for breakfast lunch and dinner that use foods from the Simply Filling lists of Power Foods. Alternately participants can use the highly visual guide or app to create their own meals, choosing options to put together from the Simple Start lists. For example, the lunchtime Simple Start lists give participants appropriate options to create a sandwich; first choose the type of bread, choose a protein, add salad vegetables, choose a sauce or flavouring. It also gives participants options for side dishes to compliment the sandwich.
These pre-set menus and meal lists are what sets the Weight Watchers Simple Start program apart from the Simply Filling technique. While both programs use only the foods listed on the Weight Watchers Power Foods lists, the Simple Start program's reduced options give participants an easy way to ease into the Weight Watchers Simply Filling program without feeling overwhelmed by choice.
Because the Simple Start plan is on a two week cycle, participants can choose to follow it for two or more cycles without getting bored. Or they can jump to the Simply Filling or PointsPlus program
The Simple Start program makes way for those little indulgences that make "dieting" bearable and sustainable. By giving participants a set allowance of 49 points per week using the Weight Watchers PointsPlus system, they are able to indulge in a treat of their choice, as long as it fits within the allotted points. These Weight Watchers PointsPlus points do not roll over into the next week if they aren't used. Participants have to use them…. Or lose them.
Power Foods
Power Foods which are the basis of the Simple Start program and Simply Filling technique are widely available, and are largely clean wholesome foods which, when they make up the bulk of a diet, contribute to good health. This is in contrast to many "diets" that focus purely on weight loss, with no concern for the overall health of the participant, containing highly processed foods.
When eating from the Power Foods list participants find they feel full faster, and satisfied longer. The clean wholefood focus of the Power Foods list, coupled with the importance placed on listening to the bodies hunger signals, help participants avoid foods that lead to overindulgence.
Simple Start Indulgences List
These are just a small sample of the indulgences you can have on the Simple Start program. You can eat or drink anything you like, as long as you stay below your 49 PointsPlus points per week.
Cup ice cream, 1/2 cup, vanilla - 4 points
Chocolate, 1 oz - 4 pts
Bread, regular, 2 slices - 4 pts
Wine, 5 fl oz; Light beer, 12 fl oz; Liquor, 1 jigger - 4 pts
Cheese, regular - 3 pts
Peanut butter, 1 tbsp - 3 pts
Hummus, 1/4 cup - 3 pts
Guacamole, 1/4 cup - 2 pts
Jam, 1 tbsp - 1 pt
Butter, 1 tsp - 1pt
Honey, 1 tsp - 1 pt
Simple Start Book and App
Along with recipes, meal options, snacks and ideas and points values for those all-important weekly 49 indulgence points, the Simple Start book and app have lots of information and visual prompts for recognising appropriate portion sizes and hunger recognition.
The portion sizes are based easily accessible visual measurements, rather than measuring cups and scales, giving participants guidelines that can be used easily on the go when eating out, at a friend's house, or just in the mid-week dinner rush. This, in addition to the Power Foods list, is part of the Weight Watchers strategy to help participants learn long term, sustainable techniques for maintaining their weight.
Weight Watchers members receive the 40 page Simple Start guide book at meetings. Alternatively, members can download the Weight Watchers Simple Start app for free from either itunes for apple or Google play for android.
Does It Work?
Strict followers of the Weight Watchers Simple Start plan can expect to lose around 2lbs per week. Research into weight loss programs and strategies, have shown that a strong start to a weight loss journey is an important indicator of a participant's success.
The Simple Start program is particularly appropriate for new participants and those who may need to restart their weight loss or motivation. It gives plateauing participants the opportunity to step back from what can be an obsession with counting points on the PointsPlus program, and refocus on the basics of healthy eating and portion control.
The Simple Start program gives participates an easy way to begin the difficult journey to a healthy weight, to learn the principles of the program, and of the healthy lifestyle that Weight Watchers aims to promote.