Weight Watchers Personal Coaching and 24/7 Expert Chat Review
Weight Watchers Personal Coaching and the 24/7 Expert Chat functionality are the two newest offerings from a weight loss company that continues to innovate in the area of community and support and participant success. Building on the age old Weight Watchers philosophy of support networks, accountability and reflection, the new Weight Watchers Personal Coaching and 24/7 chat services take these values to the next level.
In addition to their Points and Meeting program, members of Weight Watchers Personal Coaching have, for the first time ever, access to a fully trained dedicated weight loss coach of their choice.
Traditionally Weight Watchers has focussed on long term sustainable weight loss. It's hard to maintain a healthy lifestyle, and Weight Watchers emphasises long term changes in behaviour to promote healthy eating and exercise. With the addition of Personal Coaching, Weight Watchers has created an opportunity for members to design an individual weight loss program that works in the long term complete with goals and action steps.
New Weight Watchers Personal Coaching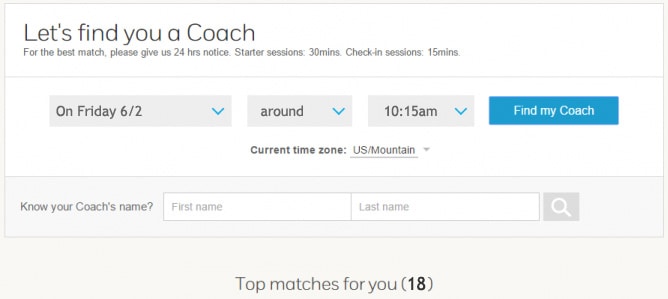 Select a time that fits into your schedule and pick a coach that best suits you
The Weight Watchers Personal Coaches are all successful Weight Watchers participants who have lost weight, and have maintained their new weight.
Members of the Weight Watchers community who sign on for Personal Coaching receive;
1:1 phone consultations
An initial questionnaire used to provide background and a focus point for your Weight Watchers Personal Coach. This is also a great opportunity for member to reflect on challenges, support networks, opportunities and goals for their weight loss journey.
The opportunity to choose their own Personal Coach, work through their questionnaire and create a personalised action plan.
An initial 30 minute phone conversation with the coach of your choice and 15 minute follow up sessions.
Unlimited access to your Coach to develop personalised goals, celebrate your successes, discuss your challenges and work through new ideas.
New On-Demand 24/7 Expert Chat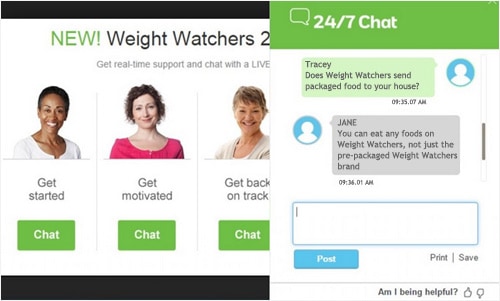 The New On-Demand 24/7 Expert Chat
In addition to Personal Coaches who are available to their registered participants, a further service of a general pool of fully trained Weight Watchers coaches is available through a 24 hour, seven days a week mobile or web chat application. They can help with motivation, creative ideas and getting back to the program when things go wrong. They are also a great resource for developing an understanding of the basics of the program.
For those participants who choose to use the online program, rather than attend the face-to-face meetings, the online and mobile chat (available for all mobile devices) with Weight Watchers coaches can help with those difficult initial questions, creative ideas for weight loss plateaus and motivation to continue, when it feels like you're going it alone. The experience and training these thousands of Weight Watchers coaches have received make them an invaluable resource available to all participants.
Weight Watchers Plans
OnlinePlus - Includes New On-Demand 24/7 Expert Chat - $19.95/Month + $20 Starter Fee
Weight Watchers completely online. Includes the new 24/7 Expert Chat feature. 24/7 access to a pool of coaches online or through the Weight Watchers mobile chat app. Suited to those with about 10-20 lbs to lose.
Includes;


24/7 Expert Chat - Unlimited access to a general online coach 24/7 by email and phone.
Video series - An eight week video program to motivate, teach and support.
PointsPlus® plan
Recipes and customized meals - Access to a database with hundreds of delicious recipes and points values.
A community of support
Seamless activity tracking - A connection to online tracking for your activity. Weight Watchers online plus connects with fitness devices, and automatically calculates the points values of your daily activity making it easy to keep track of bonus points.

Meetings + OnlinePlus - $44.95/Month
Face-to-face meeting with coaches, the foundation to Weight Watchers success and perhaps the most proven weight loss tool in the industry
New Weight Watchers Personal Coaching + OnlinePlus - $54.95/Month + $20 Starter Fee
For the first time, our members can access a dedicated Weight Watchers-certified personal coach
Is Weight Watchers Personal Coaching Worth It?
One of the issues that comes up in Weight Watchers meetings often is how to stay motivated. With a personal coach, members have access to a supportive, interested person who understands and has successfully lost weight through the Weight Watchers program. They have ideas, tips, information and encouraging words. They work with members to develop individual goals and strategies that match the member's lifestyle and motivation.
Registering for the Weight Watchers Personal coaching is also a smart financial move. In order to have the same kind of support from a life or personal coach can cost around $200 per hour. They also all have personal experience and specific training in motivation and support for individuals on the Weight Watchers program.
Weight Watchers has taken the brave move of an honest campaign to highlight the truth of weight loss; that it's difficult, it takes time, and that short term fixes and fad diets will often end with disappointing results, frustration, guilt and anger. It focuses on the power of community, support and the value in creating long term change in participants' lifestyles.
The popular and successful international weight loss program of Weight Watchers, continues to innovate and evolve according to the needs of its participants and potential participants. The new Weight Watchers Personal Coaching program & 24/7 Expert Chat, along with constantly updated online resources, an extensive range of food, publications and other products and programs, is an incredible step into creating a personalised weight loss program that works, for its thousands of members.