Top 10 Skinny WW String Cheese Snack Ideas You Aren't Using
If you're a cheese lover, then this article is for you. Even if you are simply looking for some new snack ideas for your WW plan, this article is for you too.
String cheese has got to be one of my favorite snacks and now that I've discovered that Weight Watchers has their own Light String Cheese, I've been going nuts creating and looking for new ways to enjoy this terrific, 1-point snack.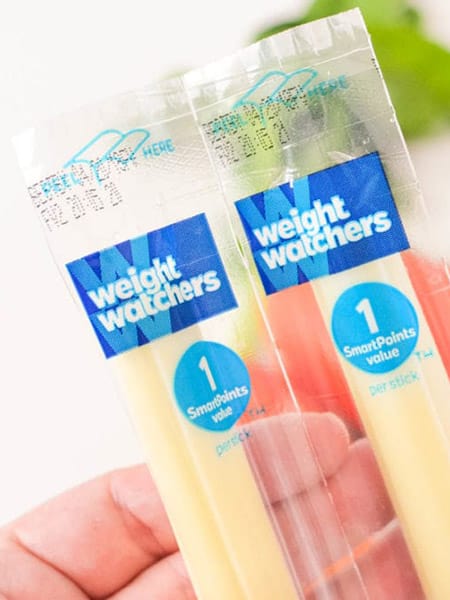 One of the great things about WW string cheese, besides being 1 SmartPoint, is that they are also only 50 calories and are low in fat. These taste so good; my kids and spouse eat them! That says a lot!
Some of the easiest snacks involve tossing a package of Weight Watchers String Cheese in a zip loc bag along with some other zero-point foods like grapes, apple slices, a handful of almonds or a few slices of turkey pepperoni. I usually put these together on a Sunday afternoon, so they are in the fridge and ready to just grab and go the rest of the week.
Oh, did I mention that my kids love these too? Yeah, I usually make double the amount of snack bags I would normally make because I know they are going to snag a few themselves.
Anyway, on the weekends or evenings, I sometimes want something a little complex, you know what I mean? Something really tasty and chewy and different…something I wouldn't have time to make in the mornings.
Check out these super cool string cheese snack ideas that will keep you skinny but taste like you're putting on weight!
1. Baked and Faked "Mozzarella" Sticks
If you love those fried mozzarella sticks, they serve in restaurants but can't deal with the price or the calories, this is a terrific alternative. This recipe calls for 12, but this is because I have to share them with my family, so feel free to cut this in half single ladies!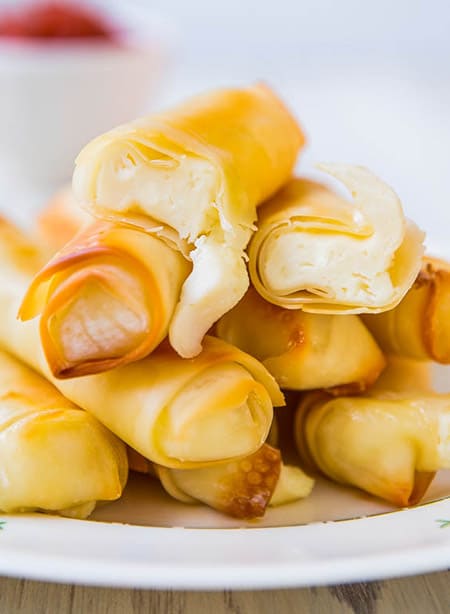 INGREDIENTS:
12 Weight Watchers String Cheese individual packages
12 Eggroll wrappers (look in the refrigerated section near the tofu)
1.5 Tablespoons of olive oil
Garlic powder or garlic salt to taste
A bit of water
INSTRUCTIONS:
Preheat the oven to 400 degrees
Lightly brush a baking sheet or cookie sheet with olive oil
Lay the egg roll wrappers on the sheet and lightly brush with a little water
Lightly sprinkle each wrapper with garlic powder or garlic salt. Some prefer plain old salt and pepper. Use whichever one sounds best to you. Personally, I prefer garlic powder.
Place the string cheese diagonally on the wrapper and cover both ends
Hold the ends in place and wrap the cheese stick with the wrapper
Add a touch of water to seal the end
Lightly brush the tops of the egg roll wrappers with olive oil and sprinkle them with garlic powder or whatever spice you are using
Bake for 8-12 minutes. If cheese begins to melt out the sides, remove from the oven
Serve with marinara sauce if you like
2. Easy Salami String Cheese Sticks
I love these because they take only about 10 minutes to make and let me tell you, they are pure crispy, gooey goodness! I use turkey salami, but you could use any type you like. How much salami you need will depend on how big the slices are.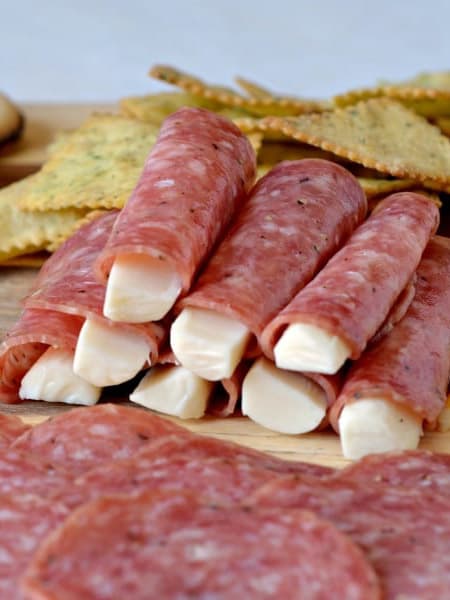 INGREDIENTS:
6 Weight Watchers String Cheese individual packages
Turkey or regular salami, very thinly cut
INSTRUCTIONS:
Warm a non-stick skillet over medium heat- no oil is usually needed
Wrap two or more pieces (however many pieces you need to cover) of salami around the cheese stick.
Place seam side down on the pan. This seals the salami, so they won't unravel
Cook for about 1 minute on each side or until the salami just starts to turn crispy
Drain on a paper towel
Eat as is or dip in marinara sauce
3. String Cheese Stuffed Mini-Bell Peppers
As much as I love cheese, sometimes I really want something crunchy. This little snack fits the bill and only takes about 25 minutes from start to finish.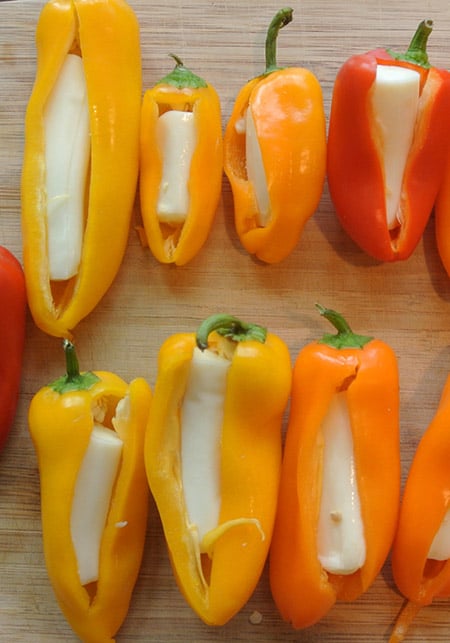 INGREDIENTS:
6 Baby Bell Peppers (whichever color you like)
3 Weight Watchers String Cheese individual packages
A spritz of olive oil or no-calorie cooking spray
INSTRUCTIONS:
Preheat your broiler
Spritz a baking sheet with olive oil or a no-calorie cooking spray
Cut each piece of string cheese in half width wide
Make a cut on one side of each pepper just big enough to remove the stem and seeds
Put one of the cut pieces of string cheese inside each pepper
Place on the baking sheet and broil on low for about 10-12 minutes
Allow to cool for a minute or two, then enjoy!
4. Stuffed Italian Chicken Breast
When you want a little more than a snack or for those times you want something really tasty, but you don't want an entire meal, this is an easy to put together chicken meal that uses only 4 ingredients.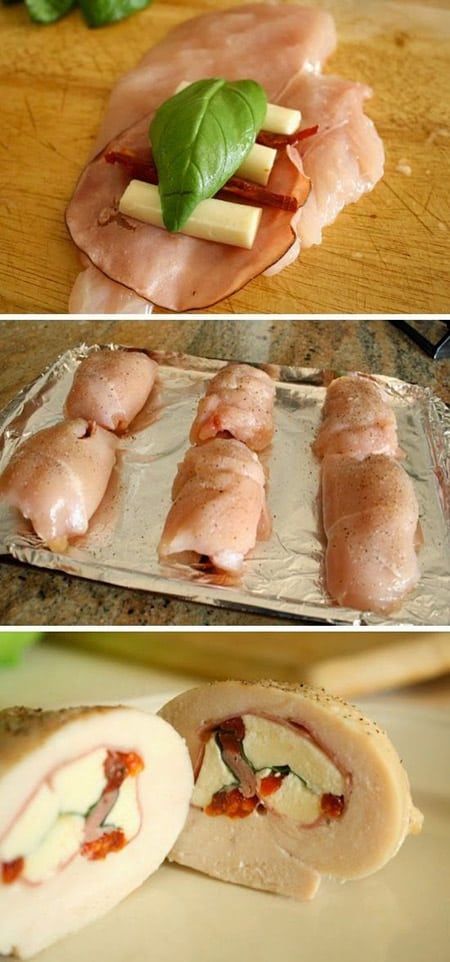 INGREDIENTS:
4 Boneless, skinless chicken breasts (4 ounces each)
4 Roasted red bell pepper strips (about the size and length of your index finger)
20 or so baby spinach leaves
4 Weight Watchers String Cheese individual packages
A bit of light Italian Dressing for basting
INSTRUCTIONS:
Preheat an indoor or outdoor grill to medium high
Butterfly the chicken breasts
Place 4 or 5 spinach leaves in the middle, slightly off to one side
Add the red pepper and string cheese on the other side, on top of the spinach
Roll up like a cigar (add a toothpick to hold it together)
Baste one side and place on the grill
Grill for 5 minutes, then turn, baste again, and grill another 5 minutes
Check for doneness and grill an additional 5 minutes or so until finished
Serve as is or slice in half to check for doneness
5. Pretzels and Cheese Sticks
This is not your average bite-of-pretzel-bite-of-cheese thing. You can go all out and use these for Halloween or just make them because they are fun and taste good.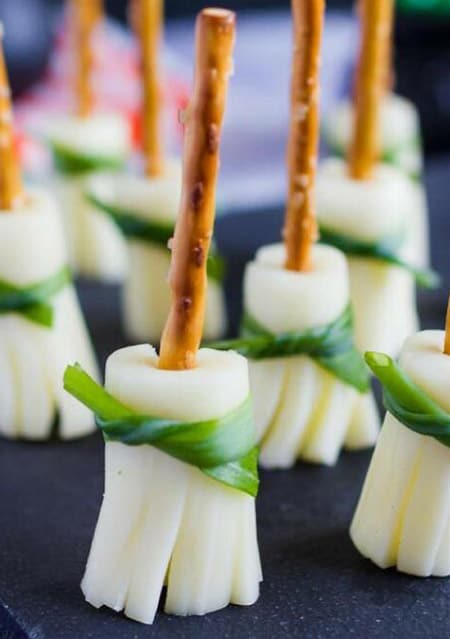 INGREDIENTS:
3 Weight Watchers String Cheese individual packages
Bag of straight (not twisted) mini-pretzels
A few chives
INSTRUCTIONS:
Cut the string cheese into 2-inch pieces (if you want to make this a Halloween treat, make multiple slices across one end in a crisscross fashion)
Insert a pretzel into the end that is not cut
Tie a small piece of chive around the middle of the cheese
6. Antipasto on a Stick
If you love the taste of antipasto but can't afford the points, this is a great way to get all that flavor without running up your point count for the day.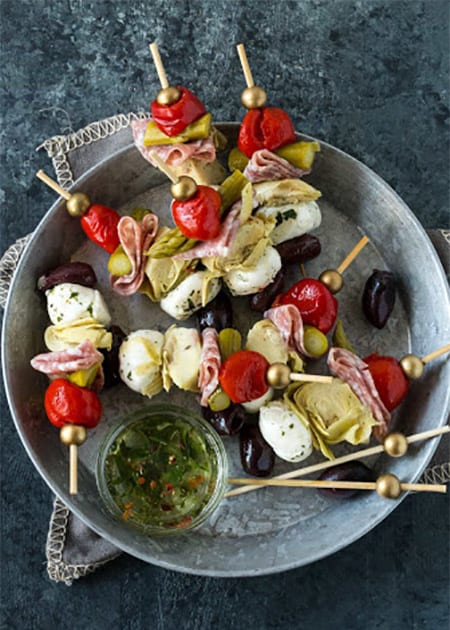 INGREDIENTS:
1 Weight Watchers String Cheese individual size
2 Spanish olives (with pimento!)
2 Black pitted olives
1 Teaspoon of olive oil
1 Tablespoon of crushed basil
1 Slice of turkey pepperoni
3 Fresh cherry tomatoes
1 Piece of sun-dried tomato
5 Toothpicks
INSTRUCTIONS:
Cut the string cheese into 6 pieces.
Cut one cherry tomato and the sun-dried tomato in half (leave the other cherry tomato whole)
Take the first toothpick and place one black olive, one small piece of the turkey pepperoni, one piece of cheese and half of the sun-dried tomato.
Make another one exactly as you did above
With the third toothpick, put one Spanish olive, one half of a cherry tomato, one piece of cheese and then the other half of the cherry tomato
Make another one exactly like you just did
With the last toothpick, start with a piece of string cheese, add the whole cherry tomato, end with another piece of cheese
Place them in a dish, sprinkle with the olive oil and basil
You can mix these up in any order you like, of course!
7. Easy Cheesy Tomato Bites
These are a neat little way to eat your string cheese when you don't want to hold anything (such as when you are typing out recipes!) Just pop this in your mouth and it's instant goodness!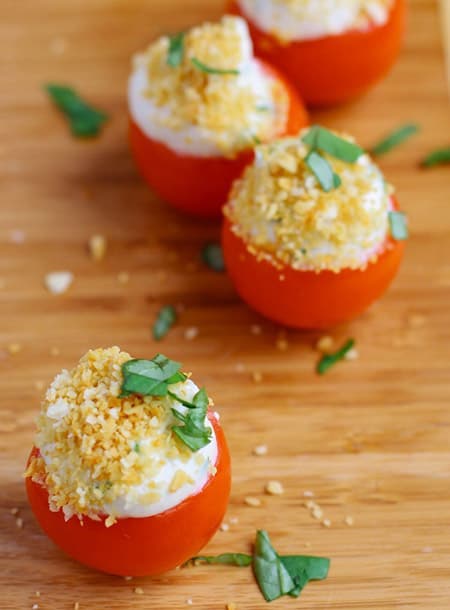 INGREDIENTS:
12 Fresh basil leaves (you could also use cilantro leaves if you like)
12 Cherry tomatoes
3 Weight Watchers String Cheese individual packages
INSTRUCTIONS:
Cut the top off of the cherry tomatoes and slice them about half way down on both sides
Cut each piece of string cheese into 4 pieces
Place one basil leaf (or cilantro) into the tomato, then push a piece of string cheese into the tomato
You can sprinkle with salt, pepper, or a drizzle of olive oil if you like
8. Mini Fruity Cheese-Bobs
If you like combining different fruit flavors, this is the snack for you! You can use whatever you have in the fridge as long as you love the flavor!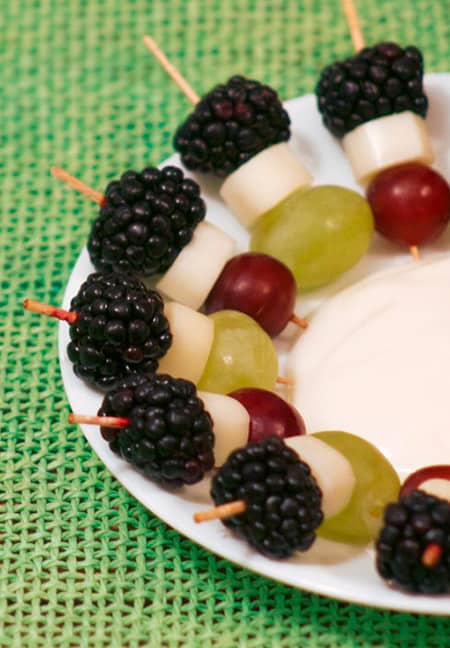 INGREDIENTS:
2 Weight Watchers String Cheese individual packages
½ Cup of grapes (any color or multiple colors)
½ Cup of blackberries
Some toothpicks
INSTRUCTIONS:
Cut up the string cheese into several pieces
Alternate in any order you like the cheese, grapes, and blackberries
Try dipping these into some Greek yogurt for extra yummy goodness!
9. Decadent Delish Delight
Alright, I'm going to be upfront with this one- it will cost you 8 points to make this one, but it is so good that when you want a treat- you will turn to this every time. Three pieces of bacon will set you back 5 Smartpoints and 3 pieces of string cheese another 3 but…you could share this and use only 4 Smartpoints but you probably won't.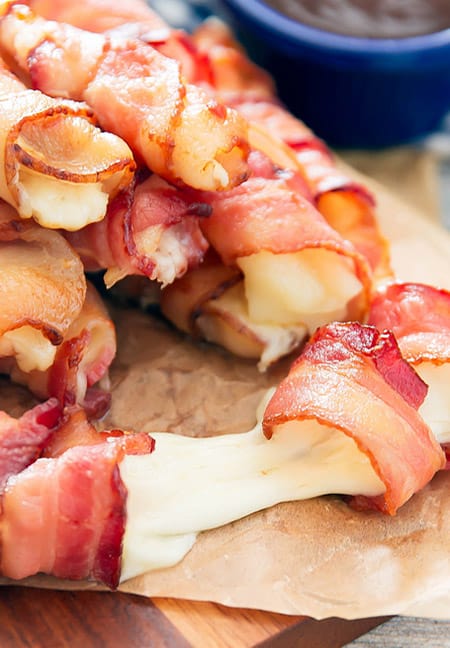 INGREDIENTS:
3 Weight Watchers String Cheese individual packages
3 Pieces of uncooked bacon
INSTRUCTIONS:
Freeze the string cheese for at least several hours
Wrap the bacon around the string cheese and secure with a toothpick
Fry these until they are crispy and golden
Let them cool for a minute before biting into them!
10. Easy Cheesy Crispy Cheese Chips
Ok, I promise, no more talk about bacon. Or at least not for another sentence or two.
These are so easy, you will wonder why you didn't think of it first! Don't be afraid to experiment here as there are almost limitless combinations you can use including salsa, garlic powder, bacon bits (ops), paprika, lemon pepper, you name it!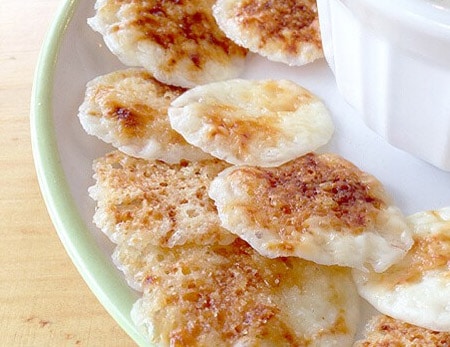 INGREDIENTS:
1 or 2 Weight Watchers String Cheese individual packages
Flavoring of your choice
INSTRUCTIONS:
Cut up the cheese stick into small, thin pieces, about 10 per stick, like potato chips
Place each piece on a plate or silicon mold
Microwave on high for about 30 seconds
Sprinkle on your spices
Microwave again at 15 second intervals until light brown
At first, they will be chewy, but after they cool, these are tasty crispy treats
Try dipping them in Greek yogurt, salsa, or whatever strikes your fancy
11. Beef Cheese Roll Ups
I like these because they take just a few minutes to make but they really satisfy when you are craving something bigger like a sandwich. You could also use other types of deli meat if you prefer, like turkey breast or ham. Sometimes I dip these into Dijon mustard or mash a bit of avocado and use that as a tasty dip.
INGREDIENTS:
4 Slices of extra lean roast beef
4 Weight Watchers String Cheese individual packages
Mustard or salsa for dipping
INSTRUCTIONS:
Wrap up one string cheese stick in one slice of the roast beef
Enjoy!