10 Best Weight Watchers Freestyle Turkey Recipes (All ZERO Points)
Now that Weight Watchers has come out with their list of more than 200 foods that cost you zero points (on their Weight Watchers Freestyle Program), recipes for what is essentially "free" food, are cropping up everywhere!
This doesn't mean all recipes are the same, however. Not many people would be interested in beet soup, let's be honest! Mention the word turkey, however, and that's another story!
If you liked our original Top 10 Zero Point Meals, you will love this one!
Nothing beats the flavor and satisfaction of a good turkey dinner! That's why we have created this list of what we think are 10 of the most delish turkey recipes that will cost you ZERO points.
We have been picking and choosing, only the best recipes! If just reading it makes our mouths water, then that's a recipe worth sharing.
Keep reading and discover some of the most delish recipes that will cost you ZERO points!
1. Super Skinny Nacho Boats
Whether you use these as a snack, as a meal, or as a side dish, we can almost guarantee that you will be making this recipe again and again!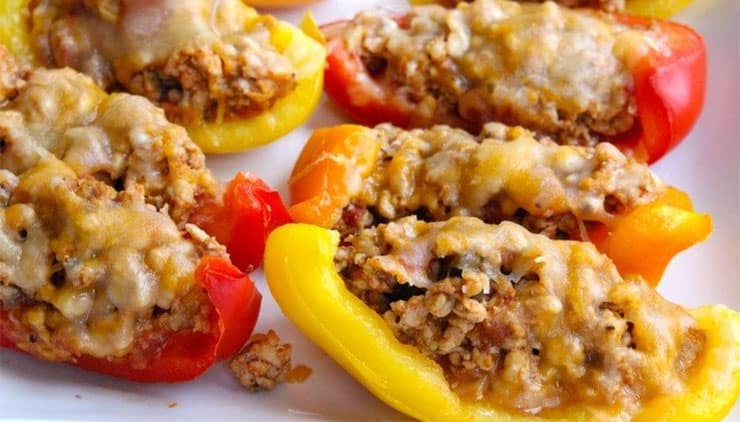 INGREDIENTS:
1 pound lean ground turkey
1/2 cup grated cheddar cheese, low fat
3 bell peppers, any color (try all three colors for a unique taste
1 teaspoon chili powder
1 teaspoon cumin
¾ cup of fat free, sugar free salsa
½ teaspoon pepper
¼ teaspoon salt
DIRECTIONS:
Remove the seeds, core, and membranes from the bell peppers
Slice each one into 6 vertical slices, so they look like little boats
Place them on baking sheet and set aside
Cook the ground turkey, breaking it up as it cooks. Drain.
Preheat oven to 375
Add spices and salsa to the turkey
Add the turkey mixture to the bell pepper boats
Top with cheese
Bake for about 10 minutes, or until cheese is melted. You can add some sliced green onion to the top or even a bit of jalapeno if you like things a bit spicy.
2. Soul Satisfying Turkey Soup
Sometimes, all you really want is some warm, comfort foods. Turn to this heartwarming jewel because at zero points, you can indulge in a big bowl and not feel guilty! Make a double batch and freeze half for those busy days.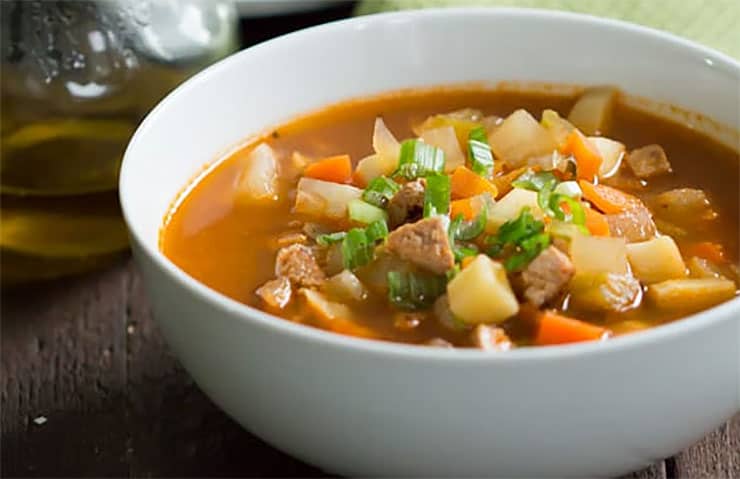 INGREDIENTS:
1 pound of ground turkey
Olive oil spray
1 teaspoon of minced garlic
1 teaspoon Italian seasoning
½ cup of diced red onions
1 cup of diced carrots
1 cup of diced parsnip
¾ cup of diced celery
½ cup of canned or fresh crushed tomatoes (no sugar, low salt)
1 tablespoon chopped green onion tops
6 cups of chicken broth (no added sugar, low salt)
Salt and pepper to taste
DIRECTIONS:
Liberally spray the bottom of a large soup pot with olive oil spray
Add turkey, garlic, salt, pepper, and Italian seasoning to pot.
Cook until turkey is done, about 8 minutes on medium flame
Add red onions, carrots, celery and parsnip to pot
Cook another 5 to 7 minutes
Add broth and tomatoes
Bring to a boil, then reduce heat and allow to simmer for 10 to 15 minutes
Garnish bowls with chopped green onion tops
3. Green Beans with Turkey Skillet Dinner
This recipe tastes so good, but is so simple to make, you will actually be embarrassed to tell anyone the secret to this. If someone asks for the recipe, just tell them it's your grandmother's secret and you can't tell!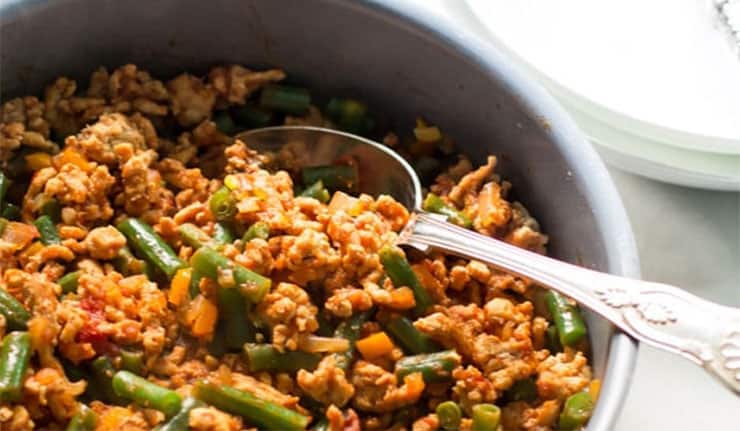 INGREDIENTS:
1 pound lean ground turkey
1 tablespoon olive oil
1 minced garlic clove
½ cup diced onions, any color
½ cup diced yellow or red bell pepper
1.5 cups chopped green beans
¾ cup tomato sauce (no sugar, low salt)
Salt and pepper to taste
Pinch of crushed red peppers (optional)
DIRECTIONS:
Heat oil over medium flame in large skillet
Cook turkey until barely pink, then add onions and garlic
Cook until onions are soft brown
Add green beans, bell peppers, and tomato sauce
Cover and cook until all vegetables are tender (about 10 minutes)
Add salt and pepper (and red pepper if desired
Mix well and serve!
4. Terrific Thai Turkey Cups
These little cuties might just become your favorite new turn to snacks! Don't overfill them or the lettuce will tear! If you can't find butter lettuce, you can use the soft, green portions of Romaine lettuce leaves instead.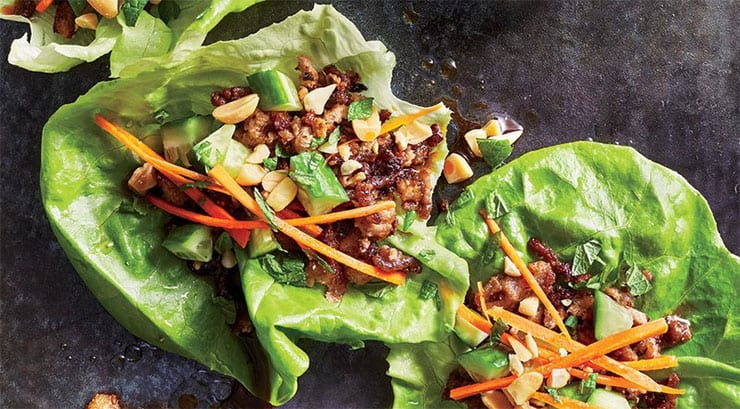 INGREDIENTS:
1.5 tablespoons of olive oil
3 tablespoons of reduced sodium soy sauce
2 tablespoons of rice vinegar
2 tablespoons of Stevia
1 pound of ground turkey
12 butter lettuce leaves
1.5 cups of chopped cucumber
1 cup of carrot sticks, match size
¼ cup of chopped, roasted, unsalted peanuts
2 tablespoons of chopped fresh mint
DIRECTIONS:
Combine ½ tablespoon of oil, soy sauce, Stevia, and vinegar in a bowl, use a whisk to combine
Heat 1 tablespoon of oil in a large nonstick pan
Add the turkey and cook until lightly brown, about 7 minutes
Add half of the soy sauce mixture and cook until liquid is absorbed, about 4 minutes
Place 3 tablespoons of the turkey on each lettuce leaf
Top with cucumbers, carrots, and peanuts
Drizzle with remaining soy sauce mix
Sprinkle with mint
5. Turkey and Zucchini Pasta
Get your Spiralizer out because you are going to want it for this one. Don't have a Spiralizer? Pick up this beauty right here! This is a super tasty dish that easily passes for spaghetti, but has zero points!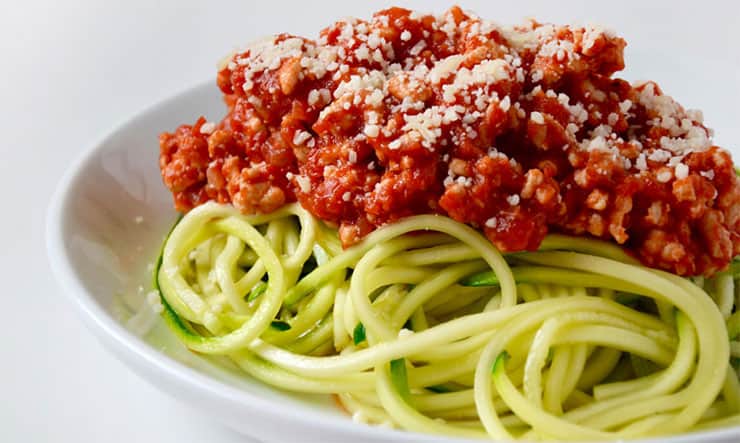 INGREDIENTS:
1 pound lean ground turkey
6 medium zucchini
½ medium white onion, chopped
1 stalk of diced celery
3 cloves of garlic, minced
28 ounce can of crushed tomatoes, no sugar added (or make your own)
1 tablespoon of no sugar added tomato paste
14.5 ounce can of no sugar added diced tomatoes
1 tsp Stevia
1 tablespoon of olive oil
1 tablespoon of dried oregano
2 tablespoons of fresh basil, chopped
1 tablespoon of low fat Parmesan cheese, shredded
¼ teaspoon of red pepper flakes
Salt and pepper to taste
DIRECTIONS:
Heat a bit of olive oil in a skillet and add turkey, onion, celery, red pepper flakes, salt and pepper
Sauté until the turkey is cooked, about 10 minutes
Add garlic and sauté for another minute
Add all the tomatoes, oregano, and Stevia
Bring to a boil, then lower heat and simmer for 20-25 minutes
Add basil and stir
While pot is simmering, prepare your zucchini using your Spiralizer
Add 1 tablespoon of olive oil to another skillet and cook the zucchini over a medium flame for about 3 minutes, stirring every minute
Put zucchini on plates, then cover with the tomato/turkey mixture
Garnish with Parmesan cheese and serve
6. Turkey Burgers with Apple
If you thought a burger is a burger is a burger, you haven't tried this one! It might sound a bit strange, but we guarantee that you will love this!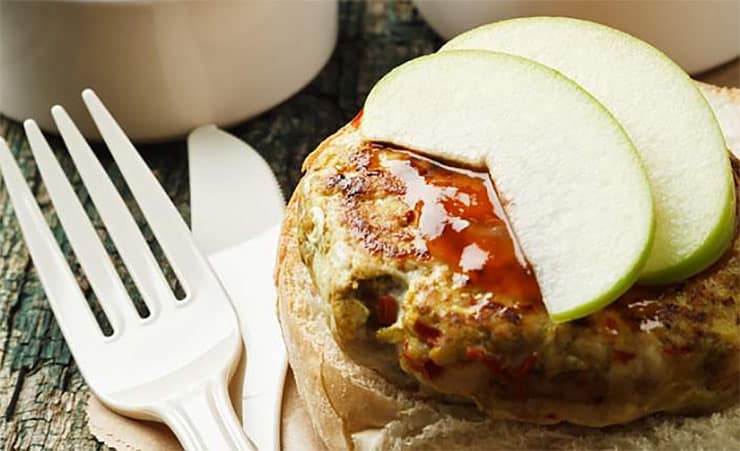 Remove the bread for 0 points
INGREDIENTS:
2 green apples
1 pound of lean ground turkey
1 tablespoon sage, dried or minced
2 teaspoons Dijon mustard
¼ teaspoon garlic powder
¼ teaspoon onion powder
Salt and pepper to taste
1 teaspoon olive oil or nonfat spray
DIRECTIONS:
Grate half of the apples, then thinly slice the remaining half
Add the grated apple, turkey, and all other ingredients into a bowl
Mix with your hands and form into patties
Brush the top of the patties with oil or spray pan with nonstick, nonfat cooking spray.
Cook 4 to 5 minutes on each side until turkey is no longer pink in the center
Top with sliced apples
7. Grilled Turkey Kebabs
Try out this recipe for your next BBQ. This meal has fantastic Mediterranean flavor and the grill adds just the right amount of summer time flavor!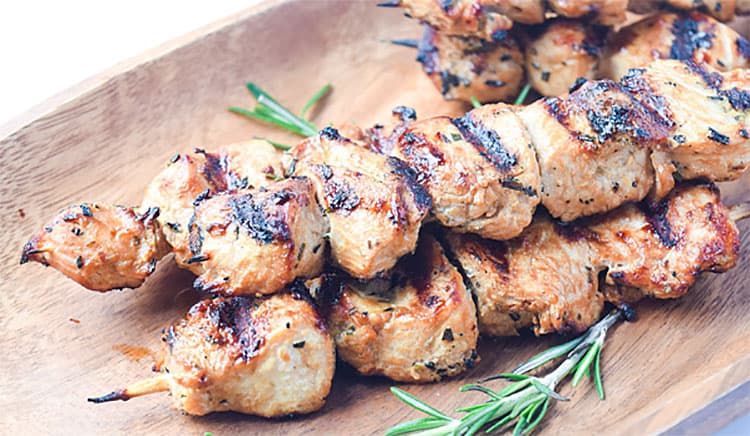 INGREDIENTS:
1.25 pounds of lean ground turkey
1 Egg
½ cup of minced onion
2 garlic cloves, minced
¼ cup of chopped fresh parsley
½ teaspoon of cumin
½ teaspoon of garlic powder
½ teaspoon coriander
½ teaspoon of paprika
Salt and pepper to taste
DIRECTIONS:
Mix all ingredients by hand, just until combined. Don't over mix as this will cause the turkey to become tough
Press the meat around wooden skewers to make kabobs. If it is difficult to stick together, refrigerate for about 10 minutes and try again
Refrigerate your kabobs for 3 minutes
Grill for 4 to 5 minutes on each side or until meat is thoroughly cooked
Serve with side salad
8. Instant Pot Super Salsa Turkey
Talk about taking it easy! With an Instant Pot pressure cooker, you don't even have to think about cooking this recipe! (By the way, if you don't have one, we highly recommend this incredible pot right here.) You can eat this delicious Mexican inspired turkey right out of the bowl or use it to make salads, tacos, or burritos. This recipe costs you zero points, so be careful what you add as it will probably increase your points!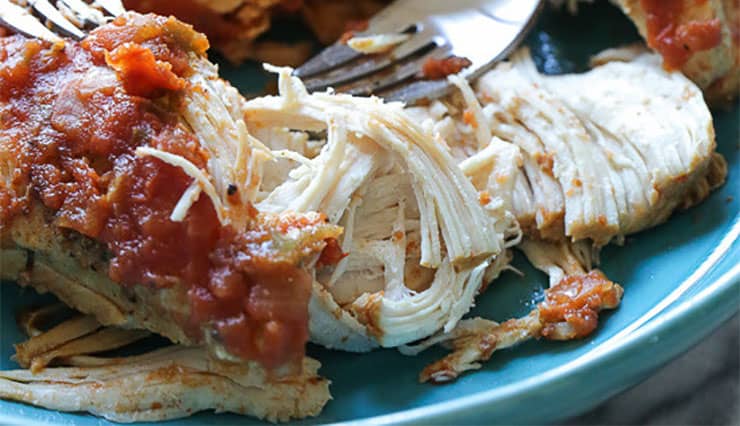 INGREDIENTS:
1 pound of ground turkey
1 cup chunky salsa, no sugar added
½ teaspoon of salt
¾ teaspoon of cumin
A pinch of oregano
Pepper to taste
DIRECTIONS:
Put ¼ cup of salsa on the bottom of the pot
Put turkey in the pot and add all other ingredients, including salsa
Cover and cook for 20 minutes. Natural release.
Eat as is or serve however you wish
If you use a slow cooker, cook on low for about 4 hours.
9. Turkey and Pumpkin Chili
This is perhaps one of our favorite lunchtime recipes. Make a double batch and freeze it for later use when you have hectic days or no time to make lunch.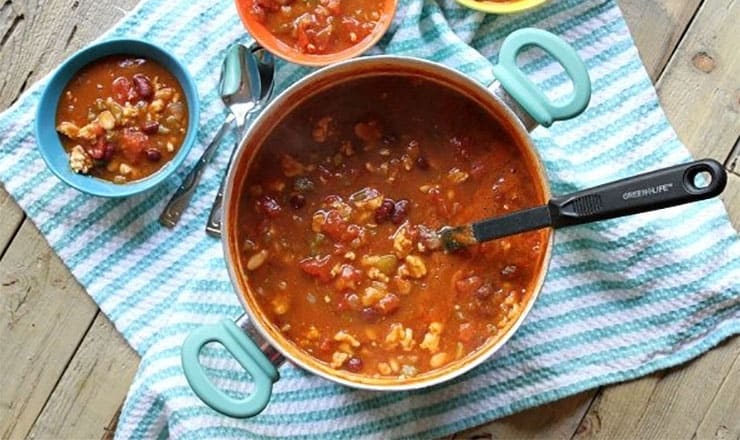 INGREDIENTS:
1 pound of lean ground turkey
2 cans (14.5 ounces each) diced tomatoes (keep the liquid)
1 can (15 ounce) pumpkin puree (unsweetened)
1 can (15 ounces) kidney beans (keep the liquid)
1 can (15 ounces) great northern beans (keep the liquid)
1 can (15 ounces) tomato sauce (no added sugar)
1 can (4 ounces) diced green chilies
¾ cup chopped white onions
½ cup chopped green bell peppers
2 cloves of garlic, minced
2 teaspoons ground chili powder
½ cup of water
1.5 teaspoons of cumin
1 teaspoon salt
½ teaspoon pepper
1.5 teaspoons oregano
DIRECTIONS:
Brown turkey in large pot. Place meat on paper towels to drain fat
Sauté bell pepper, onion, and garlic until tender
Add meat to the pot and all remaining ingredients
Simmer over medium heat for 30 to 45 minutes
If chili is too thick, add a bit more water
10. Turkey and Cabbage Soup
This interesting combination will leave you feeling full and satisfied for hours! With only ingredients, you will love how simple it is to make this zero point favorite. This makes 4, one cup servings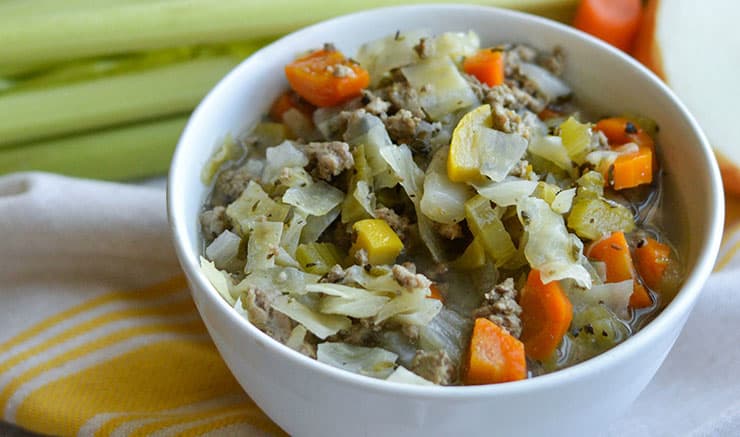 INGREDIENTS:
4 cups of vegetable stock
10 to 12 ounces of shredded cabbage
Half a pound of ground turkey
DIRECTIONS:
Spray nonstick pan with nonfat cooking spray and brown turkey (about 10 minutes) Drain and set aside
Boil vegetable stock in large soup pot
Add cabbage
Let simmer under medium high flame for 10 to 14 minutes or until cabbage is well cooked and soft
Allow to cool for a bit, then using a hand blender or food processor and make a puree
Add turkey and stir gently, allowing the turkey to break up into medium sized pieces
Serve hot or cold, as you prefer