Weight Watchers Freestyle Zero Point Breakfast Ideas
As a working person, you most likely aren't fond of breakfast. Who is? Getting up early, getting yourself, your partner, and your kids out the door so no one is late is bad enough, but finding time to cook a breakfast that is zero points? Ridiculous!
Until now. We are going to show you how you can eat, eat well, and not spend hours cooking breakfast AND do it all for zero points. Sound crazy? It's not as hard as you might think.
We are going to list 7 WW Freestyle breakfasts that are easy to make and have no points. This means a few extra points for lunch, right? Unless you decide to go zero points for lunch as well!
1. Hard Boiled Eggs
It doesn't get much easier than this!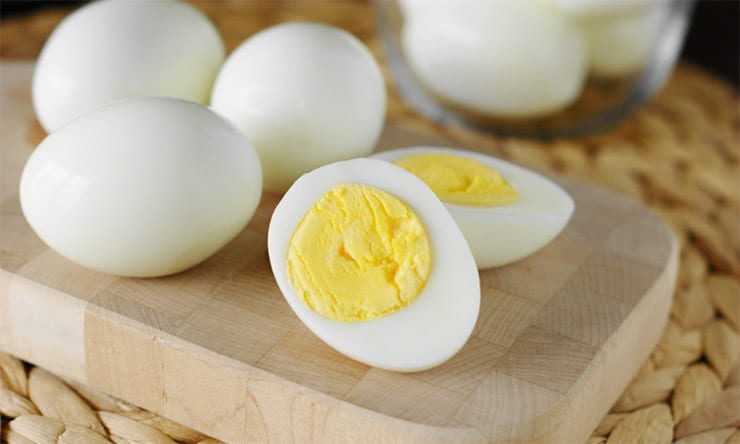 INSTRUCTIONS:
Sunday night, boil the number of eggs you will need for the number of people in your house times 2. For example, two people in the house would mean 4 eggs (2X2=4). This way, they are ready for Monday, for example. You can put your eggs in a small container, along with a 4 ounce package of non-fat Greek yogurt and some salt. Tasty and simple and 100% zero calories!
2. Zero Point Banana Pancakes
If you have a bit more time, you can whip up these pancakes in no time flat! We admit that we were skeptical when we first heard of these, but we are skeptics no longer! Try them out this weekend and we bet you will be won over as well!
This recipe makes 4 pancakes.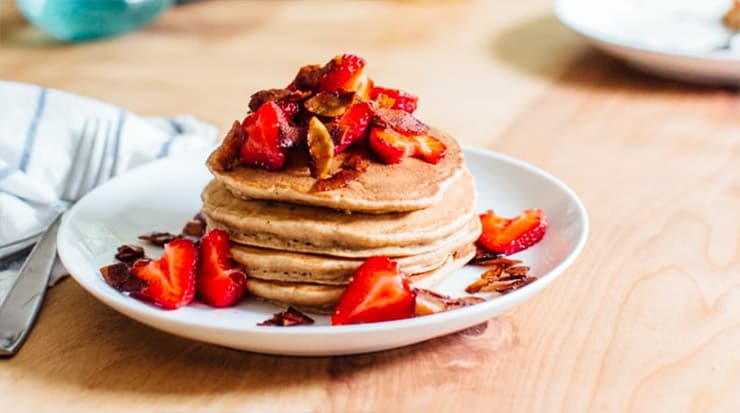 INGREDIENTS:
2 large eggs
1 large banana, well mashed
½ teaspoon of baking powder
1 teaspoon of vanilla
¼ teaspoon of cinnamon
INSTRUCTIONS:
Preheat your pan or griddle and spray with a zero calorie cooking spray
Put all ingredients in a blender and mix until smooth
Pour onto griddle and cook until bubbles form on the top (about 2 to 3 minutes)
Flip and cook another 2 minutes
Serve with non-fat whipped dairy dessert (such as Cool-Whip Free) and slices of fruit (bananas, strawberries, blueberries, whatever you like best)
Extra Bonus: Super Easy Zero Point Waffle Mix
We couldn't pick between the pancake recipe or the waffle recipe so we are giving you this one as an extra bonus. Why? Because with one little change, you can turn this into a waffle mix!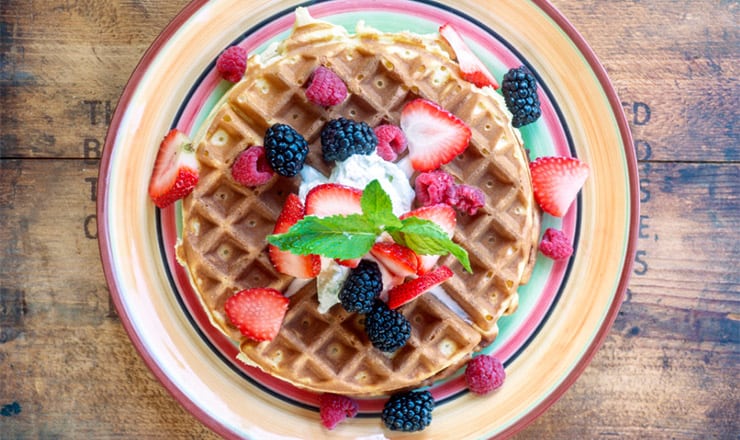 Seriously, who doesn't love crispy, crunchy waffles topped with bananas or blueberries and some non-fat diary topping like Cool Whip Free?
This recipe is the same as above, but for waffles, simply add two tablespoon of flour. If you have a large waffle iron, this might only make 2 waffles.
3. Fried Egg Turkey "Sandwich"
These are another time saver as, if you want, you can make the night before and put them in zip lock bags. If you like these hot, reheat in the microwave (minus the lettuce).
This recipe makes 1 "sandwich".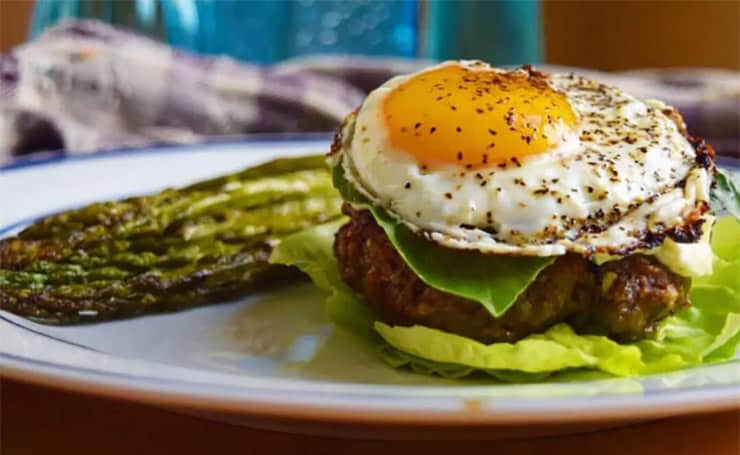 INGREDIENTS:
2 or 3 ounces of ground turkey
1 large egg
Romaine lettuce leaves
Salt and pepper to taste
INSTRUCTIONS:
Liberally coat a large skillet with zero calorie cooking spray
Make two small, thin patties out of the ground turkey
Fry the patties on both sides until brown (about 3 minutes on each side)
Spray the pan again and fry the egg, turning once
Put the egg in the middle of the patties, along with salt, pepper, and any other spice you might like to add.
Wrap in romaine lettuce leaves just before eating.
4. Marvelous Muffins
These are one of our favorites because we can eat them hot in the morning, and then bag a couple to take to work for an afternoon snack. Of course, you can always make these the night before and pop them into the toaster oven or microwave later on.
This recipe is for 6 muffins.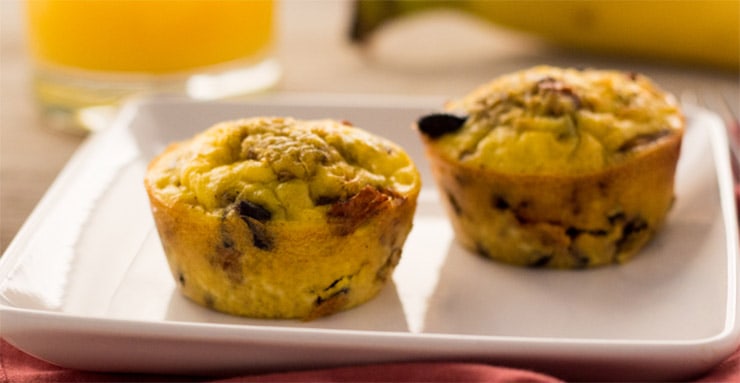 INGREDIENTS:
6 large eggs
Pick one half cup of two or three of the following (all veggies should be chopped) for a total of 1 to 1.5 cups of veggies, kale, baby spinach, onions (any color), peppers (any color), mushrooms, tomatoes, basil, zucchini, peas, broccoli, or cauliflower.
INSTRUCTIONS:
Preheat oven to 350 degrees
Spray a muffin tin with a zero calorie spray (butter flavor is nice but not necessary)
In a large bowl, whisk the eggs well
Put your vegetables in the muffin tins. You can mix them up or make single veggie cups, whatever you like
Pour the egg mixture on top, leaving about ¼ inch from the top
Bake for about 20 minutes or until a knife or toothpick comes out clean
To remove, simply use a knife to go around the edge of the tin.
If you want to freeze these for later, wait until they have completely cooled.
5. Berries and Yogurt
This is another super easy breakfast that takes about 1 minute to make!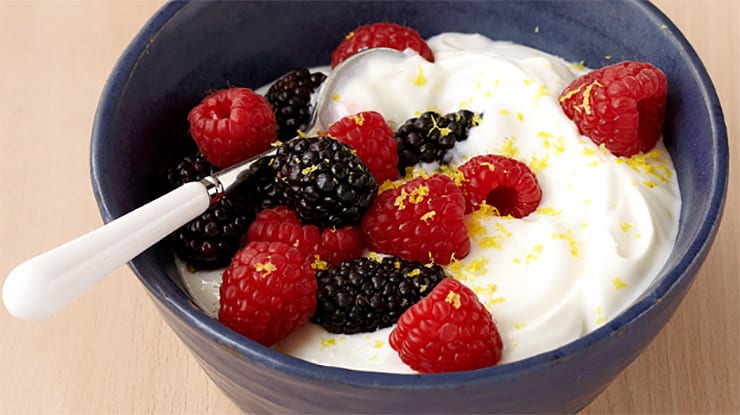 INSTRUCTIONS:
Simply add about 1 cup of fat free plain Greek yogurt to a bowl, then mix in about ½ cup of fresh berries. You can use strawberries or blueberries, or even a mix of berries! For a slightly different taste, try adding a teaspoon of lemon zest or just a squeeze of lime juice over the top.
6. Spicy Bell Peppers with Eggs
This recipe takes about an hour, but if you have the time, it is so worth it! Otherwise, make it on the weekend or make it the night before!
This recipe serves 6.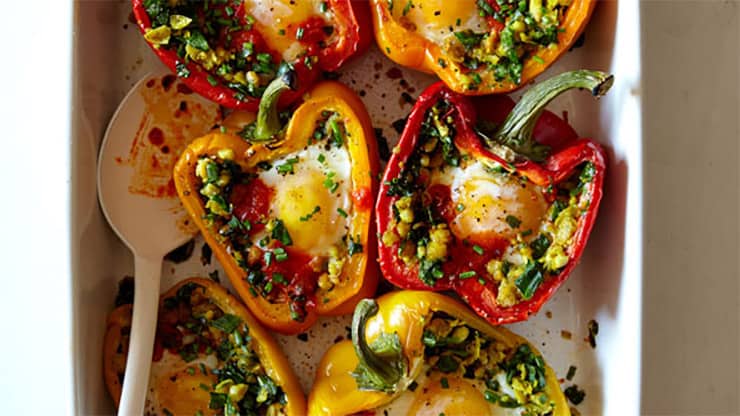 INGREDIENTS:
6 medium sized bell peppers, any color (or mixed colors)
1 medium red onion, diced
3 cups of baby spinach, chopped
¾ cup of chickpeas, drained, rinsed and slightly smashed (use a fork)
6 large eggs
6 teaspoons of chives (or cilantro)
¾ teaspoon of salt
½ teaspoon of pepper
½ teaspoon of ground turmeric
½ teaspoon of garlic powder
¼ teaspoon of cumin
¼ teaspoon of cinnamon
6 Tablespoons of Harissa paste (mild or hot, your choice)
INSTRUCTIONS:
Preheat oven to 425 degrees
Line a baking sheet with foil and spray with zero calorie cooking spray
Slice each bell pepper in half, lengthwise, making a boat. Keep the bottom and half intact
Scoop out seeds and membrane using a teaspoon
Place on baking sheet, cut side up, and cover lightly with aluminum foil
Bake for about 15 minutes
Dice the other half of the bell peppers, removing seeds and membranes
Spray a large skillet with zero calorie cooking spray and add the diced peppers, onions, salt, and pepper
Cook until tender, about 5 to 7 minutes
Add the spinach and chickpeas, along with the other spices
Toss to combine and mix well for perhaps another minute, then remove from flame
Remove bell pepper boats from oven and lower heat to 375 degrees
Place pepper boats in a baking dish and divide the chickpea mixture into the 6 boats
Crack one egg into each bell pepper
Bake uncovered for another 20-22 minutes
Sprinkle the top with chives or cilantro and spoon the Harissa paste on top
7. Italian Baked Egg Cups
These are so simple; all you need is 10 minutes to put them together. Pop them in the oven while you are getting dressed and they are ready in 20 minutes! Of course, you could always cook them the night before, and then reheat in the microwave. We like these to take to work as snacks!
This recipe serves 4.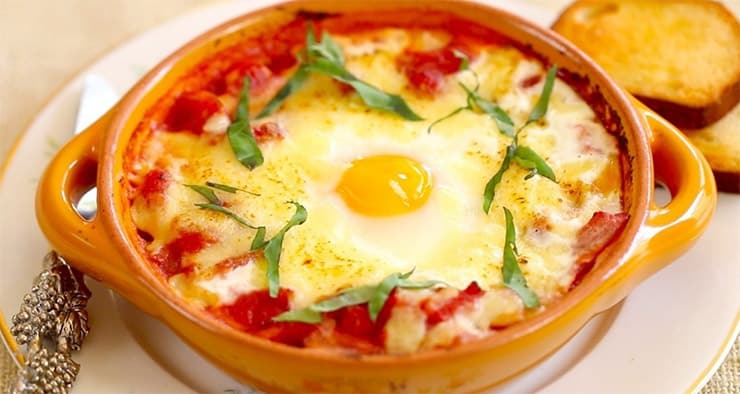 INGREDIENTS:
1 large eggs
2 cups of sugar free marinara sauce
¼ cup of fresh basil
¼ cup of parmesan cheese (grated)
Salt and pepper to taste
INSTRUCTIONS:
Preheat oven to 350 degrees. Make sure rack is in center position in oven
In a square baking dish (8X8) pour in the marinara sauce and level it out
Sprinkle with basil, then make 4 "wells" in the sauce using the back of a spoon
Crack one egg into each well
Sprinkle with parmesan cheese and salt and pepper
Bake for 18 to 20 minutes
Serve each egg in a small bowl with a generous helping of sauce
Extra Credit
We decided that we just had to add one more recipe to keep eggs from being the focal point of this article. This is so good, it almost tastes like candy, but it's actually filled with healthy goodness and, of course, zero points.
Strawberry FroYo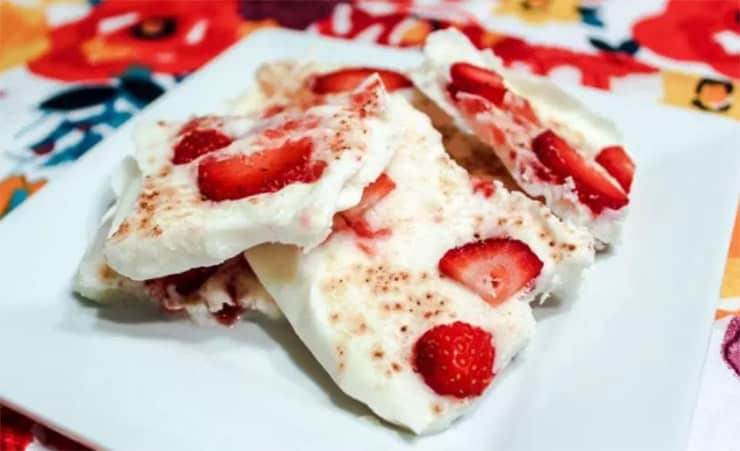 INGREDIENTS:
1 cup of non-fat, plain Greek yogurt
4 to 6 fresh strawberries
2 packages of Splenda (or Stevia)
1 teaspoon of vanilla extract
1 tablespoon of cocoa powder (optional)
INSTRUCTIONS:
In a medium bowl, mix the yogurt, vanilla, and Splenda (or Stevia)
Line a small 8X8 baking pan with parchment paper
Pour the mixture into the pan and spread out evenly
Cut the strawberries into slices and poke them into the yogurt mixture
Using a mesh strainer, shake the cocoa powder on top
Freeze for two hours, then cut or break up the frozen yogurt