Weight Watchers Freestyle Zero Point Dinners
Chances are that you clicked on this article because you either blew it on your diet and you are hoping to repair some of the "damage", or you are simply looking for some easy recipes to keep your losing streak (weight wise) going!
We have rounded up some of the best zero point WW Freestyle dinner ideas. While many of these do not contain side dishes, you can always add cauliflower rice or cauliflower mashed potatoes or even zucchini pasta to these dishes to make them taste and feel like a full fat, full calorie meal.
Try these recipes out on your family as well. Don't mention anything about "diet food" and we are betting they won't know either!
1. Crock Pot Stuffed Cabbage Rolls
If you have a large family to feed for dinner, here is one way to do it; cabbage! This is so easy to prep the night before, and then pop the crock pot into the cooker on your way out the door. This will fill your house with delicious scents, while filling your belly with flavor!
This recipe serves 6.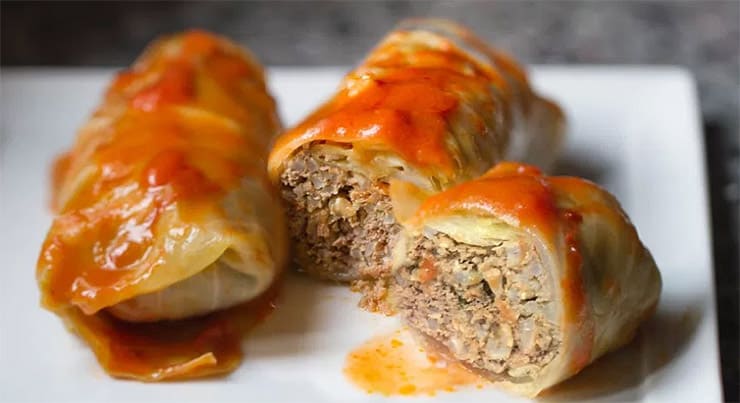 INGREDIENTS:
For the Sauce:
1.25 Teaspoons of salt
1.25 teaspoons of pepper
1 Can of tomato sauce, no sugar added (15 ounces)
2 Tablespoons ketchup, no sugar added
1 Teaspoon of Worcestershire sauce
1 Teaspoon of paprika
2 Tablespoons of lemon juice
2 Tablespoons of Stevia or Splenda
½ Teaspoon of dried thyme leaves
For the Rolls:
12 Large cabbage leaves, washed
1 Cup of cauliflower rice
1 Large egg, beaten
¼ Cup of non-fat milk
¼ Cup of chopped onion, any color
1 Large clove of garlic, chopped
1 pound of lean ground turkey (uncooked)
INSTRUCTIONS:
In a large pot, bring salted water to a boil over high heat
Boil the cabbage leaves for 2 minutes only
In a medium bowl, whisk together the Stevia, tomato sauce, lemon juice, salt, pepper, and ketchup
In another bowl, combine the egg, milk, cauliflower rice, onion, garlic and turkey meat. Add ¼ of the sauce from the other bowl and mix well
Scoop about ¼ cup of the turkey mixture and place in the center of each cabbage leaf Roll up the leaf and tuck in the ends. Place in the crock pot
When all rolls are in the crock pot, cover with remaining sauce
Cook on low for 8 hours or on high for 4 hours
2. Black-eyed Salmon
OK, so we are trying to be cute with the name here, but what is no joke is just how terrific salmon is for you! Loaded with healthy omega 3 fatty acids and no trans-fats, you have to admit that bears really know what they are doing when they pull these fish out of the water one right after the other! This recipe is a nice change of pace from the usual grilled salmon, so enjoy!
This recipe serves 4.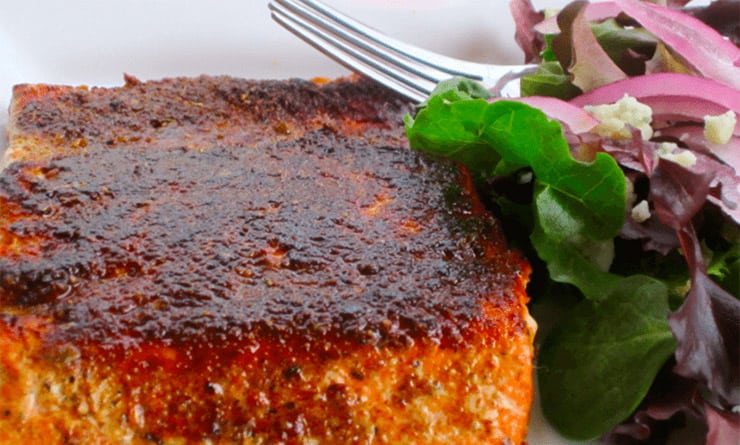 INGREDIENTS:
4 Sockeye Salmon fillets, 3 ounces each
Zero calorie cooking spray
1 Teaspoon of cayenne pepper
2 Teaspoons of garlic powder
1 Tablespoon of oregano
1 Tablespoon of paprika (smoked paprika is also good)
1 Tablespoon of black pepper
Salt to taste
INSTRUCTIONS:
Combine all spices in a small bowl and set aside
Spray both sides of each fillet with some oil
Evenly distribute the spices on each side of each fillet
Spray a large skillet with zero calorie cooking spray and cook the fillets for 5 to 6 minutes per side
Serve hot
3. Crock Pot Paprika Chicken
We recommend making some cauliflower rice with this one, so you can pour the chicken and sauce over it. Set things up the night before and just turn on the crock pot in the morning. When you get home – dinner is served! This tastes really good and, best of all, zero points!
The recipe serves 6.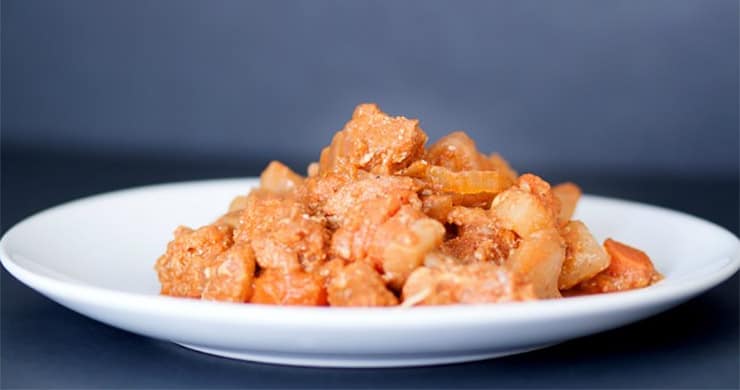 INGREDIENTS:
1 Pound of boneless, skinless chicken breast, cubed
1 Onion, any color, sliced
1 Chicken bouillon cube
½ cup of hot water
3 Medium carrots, chopped
1 Teaspoon of Worcestershire sauce
1 Tablespoon of Splenda or Stevia
1 Lemon, juiced
½ Teaspoon of pepper
1 Teaspoon of salt
2 Tablespoon of paprika (you can try smoked paprika for a nice change)
INSTRUCTIONS:
Dissolve bouillon cube in the water, then add to your crock pot
Add all remaining ingredients to crock pot and mix well
Cook on low for 6 hours or on high for 4 hours
Serve over zucchini noodles or cauliflower rice
4. Easy Asian Chicken Salad
When we saw this recipe for a crunchy Asian salad, we couldn't resist adding it here. This recipe is super easy, super healthy, really satisfying and if that weren't enough – Zero points!
This recipe makes 4 big bowls, so invite some friends!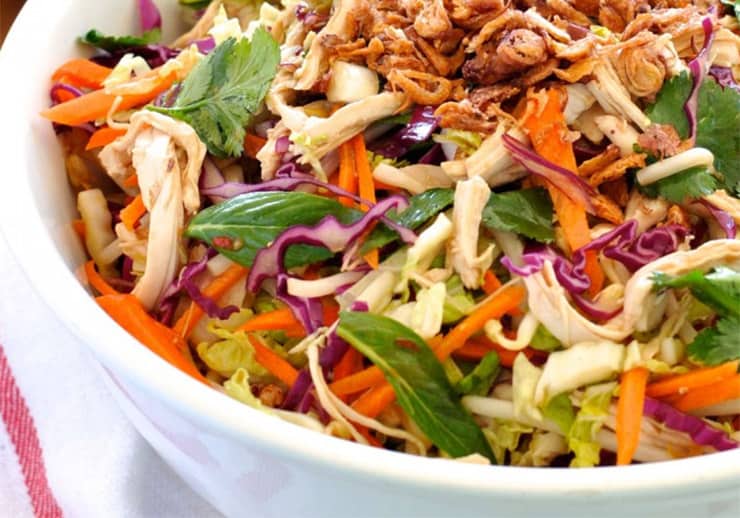 INGREDIENTS:
The Dressing:
3 Tablespoon of soy sauce (low salt)
3 Tablespoons of rice vinegar
3 Tablespoons of fish sauce
2 Tablespoons of lime juice (or lemon juice)
1.5 Tablespoons of Stevia or Splenda
½ birds eye chili, diced
2 Cloves of garlic, minced
The Salad:
2 Cups of shredded cooked chicken breasts, no skin
3 Cups of Chinese cabbage, shredded (or any type of green cabbage)
3 Cups of red cabbage, shredded
2 Large carrots, peeled and julienned
3 Cups of fresh bean sprouts
3 Scallions (green onions), finely sliced
¼ Cup of packed coriander leaves
¼ Cup of packed mint leaves
¼ Cup of Asian fried shallots (as a garnish) optional
INSTRUCTIONS:
Combine all the dressing ingredients in a jar and shake well
Combine all salad ingredients in a large bowl (except for the Asian fried shallots)
Pour dressing over salad and mix thoroughly
Divide into 4 bowls and top with Asian Fried Shallots
5. Fat Blasting Baked Fajitas
Is there anything better than Mexican food night? Fajitas have got to be an all-time favorite, right? One little known secret is that fajitas are actually a zero point friendly food Just don't add the stuff that is fattening, like tortillas and sour cream, but do add cauliflower rice or salsa to these beauties!
This recipe serves 4.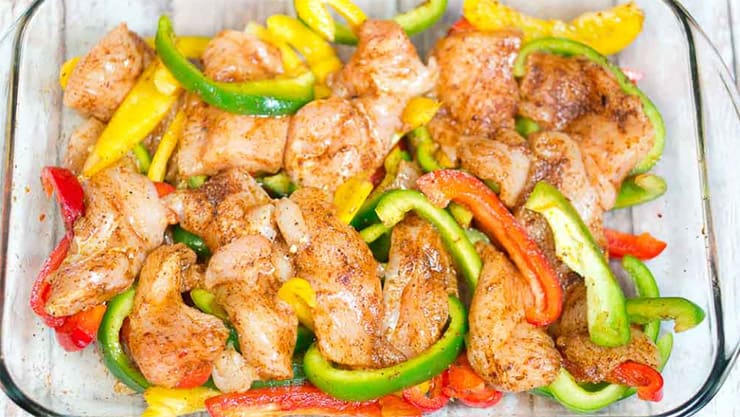 INGREDIENTS:
1 Pound of boneless, skinless chicken breasts, cut into finger size strips
1 Medium onion, any colors, sliced
1 Ripe tomato, sliced
1 Bell pepper, any color, sliced
2 Teaspoons of garlic powder
1 Tablespoon of cumin
1 Teaspoon of onion salt
1 Teaspoon of black pepper
½ Teaspoon chili powder (to taste)
INSTRUCTIONS:
Preheat oven to 375 degrees
Spray a medium sized casserole dish with a zero calorie cooking spray
Mix all seasonings in a small bowl
Coat chicken strips in seasoning mix
Place in a single layer on the bottom of the casserole dish
Place vegetables on top
Cook for 35 to 40 minutes or until chicken is cooked all the way through
Serve with cilantro, lettuce, and salsa, if desired.
6. Crazy Quiche
Some people think of quiche as a breakfast food, but if you love eggs and cheese as much as we do – then it's time for some Crazy Quiche over dinner too! This one has lots of flavor and we bet you start making it on a regular basis. Try adding some salsa on the side or maybe a cup up jalapeño pepper for a little extra kick.
This recipe serves 4.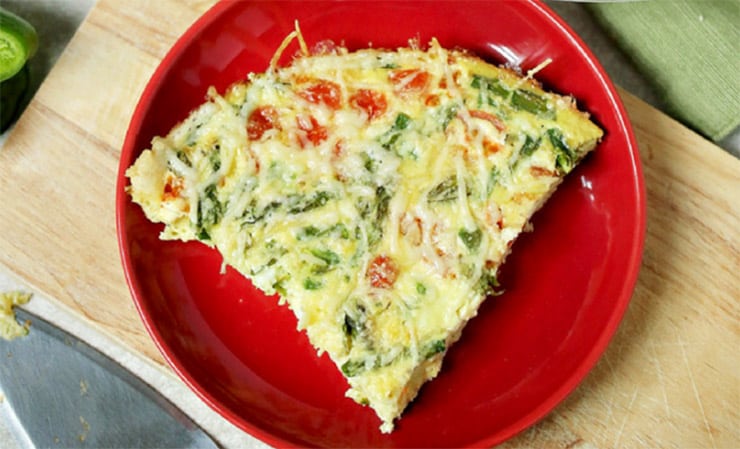 INGREDIENTS:
4 Egg whites
3 Whole eggs
2/3 cup of asparagus (or zucchini)
5 Cherry tomatoes, quartered
1/3 Cup of diced bell pepper (we use green, but you can use any color)
¼ Cup of diced onions (any color, but we like red)
¼ cup of Parmesan cheese
Salt and pepper to taste
INSTRUCTIONS:
Preheat oven to 350 degrees
In a large bowl, whisk eggs and egg whites together until smooth
Put all vegetables in the egg bowl and mix well
Add the Parmesan cheese into the egg mixture
Spray a pie pan with a zero calorie cooking spray
Pour in the egg mixture and bake for 35 to 40 minutes
7. Spicy Black Pepper Chicken
This easy to make, one pot dish is both spicy yet flavorful. This will remind you of stir fry dishes, but with more oomph to every forkful. Try pouring this over some cauliflower rice and a side dish of cool cucumber salad for a quick dinner worth zero points!
This recipe serves 6.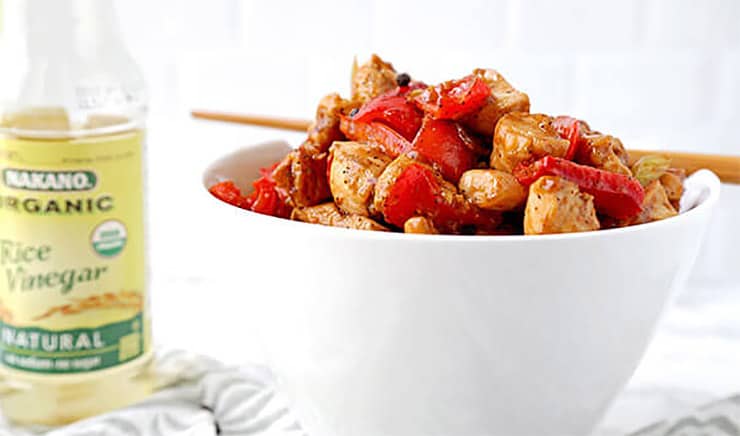 INGREDIENTS:
1.5 Pounds of boneless, skinless chicken breasts, cubed
1 Red bell pepper, seeded, veins removed, and cut into strips
1.5 Teaspoons of black pepper (freshly ground is best)
1 one inch piece of fresh ginger root, peeled and chopped
2 Large garlic cloves, minced
3 Tablespoons of soy sauce (low salt) divided into three portions
3 Tablespoons of white vinegar, also divided
1 Tablespoon of Splenda or Stevia
Zero calorie cooking spray
INSTRUCTIONS:
In a medium bowl, mix half of the soy sauce and half of the vinegar and Stevia (or Splenda)
Add the chicken and mix to coat. Allow to sit in the fridge for 30 minutes to one hour
Spray a large skillet with zero calorie cooking spray and turn on flame to medium low. Add garlic and ginger, stirring for about 30 seconds to 1 minute
Add the chicken strips (and juices) to the pan and cook for 3 to 4 minutes
Add the remaining soy sauce and vinegar, bell peppers and black pepper
Cook for another 10 minutes, stirring frequently until peppers are soft and chicken is cooked through
Spoon over cauliflower rice
EXTRA RECIPE
Easy Black Bean Chili
If you love beans but don't want to spend hours cooking them, this is the easiest recipe around. You can even add ground chicken or turkey to it if you like meat in your chili or eat is just as it is. Try adding a few different veggies as well (such as sliced carrots) to add a little crunch to it.
This recipe serves 10.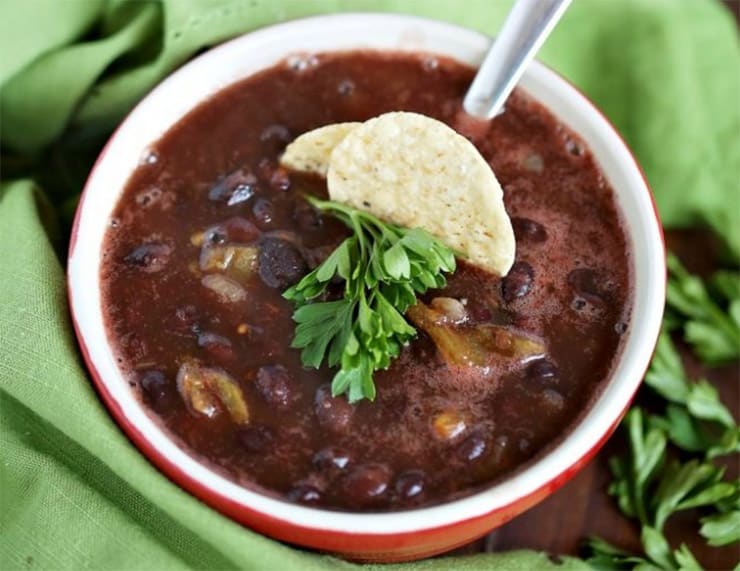 INGREDIENTS:
2 Cans of black beans
1 Jar of mild or hot salsa, no added sugar
1/3 of a cup of vegetable stock
½ Tablespoon of minced garlic
¼ Teaspoon of cumin
Red pepper flakes to taste (optional)
½ of a Chopped red onion
INSTRUCTIONS:
Put all ingredients except onion into a large pot
Cook on medium high until hot and bubbly (but don't boil it) about 15 minutes
Garnish with a tablespoon or so of chopped onions
Serve hot