Weight Watchers Freestyle Zero Point Lunches
We love the new WW Freestyle program! It makes so much sense and allows you to eat so much more than you ever imagined possible!
Not only that, but have you noticed that with the Freestyle plan you don't even remember that you are, technically, dieting?
No one wants to eat the same old thing over and over, do they? This is why we have come up with 7 terrific lunch time recipes that will fill you up, but cost you ZIPPO when it comes to points.
Do you want to really make your body a fat blasting machine? Try exchanging that boring old hamburger or celery sticks with these scrumptious lunch time favorites.
1. Easy Chicken Gyro
We saw this recipe and simply could not resist adding it here. This recipe makes two servings out of one piece of pita bread. If you eat both pieces, it costs you 1 Freestyle point. If you eat half, it's ZERO points! Add a salad and use another tablespoon of the dressing and you have a terrific zero point lunch!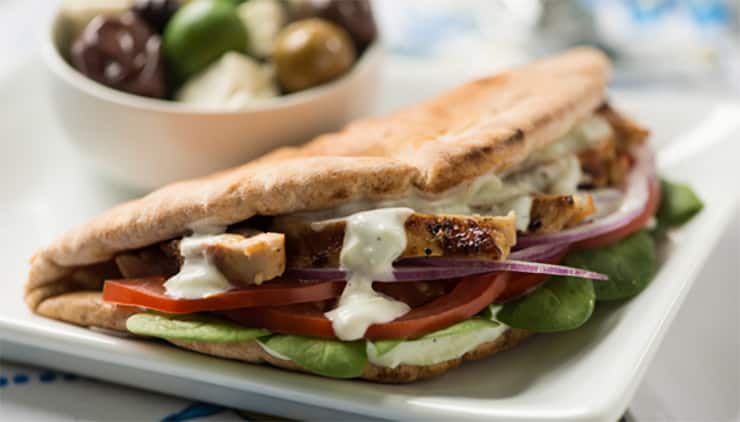 INGREDIENTS:
Sauce/Dressing:
1 Cup of non-fat plain Greek yogurt
1 Tablespoon of lemon juice
½ Clove of garlic, minced
1 small English cucumber, diced
1 Teaspoon of salt
1 Teaspoon of fresh dill
Mix all ingredients in a blender or food processor. Set aside
Gyro:
4 Boneless, skinless chicken fingers
¼ Cup of yellow onion slices
A dash of rosemary, cumin, coriander, and oregano
1 Joseph's brand Pita bread, cut in half
Optional
Red onion, sliced
Cucumber, chopped or sliced
Tomatoes, chopped or sliced
INSTRUCTIONS:
Spray a skillet with a zero calorie cooking spray
Add the onions and cook until carmelized
Add the chicken fingers and other spices
Cook until the chicken is no longer pink
Heat the pita on the griddle or in a toaster oven
Mix 2 Tablespoons of dressing into the chicken and onions
Serve half of the chicken in each half of the pita bread
Serve hot!
2. Zero Point Chili
Sometimes, all you want is something warm, comforting, and filling. This chili recipe really hits the spot on those cold days. This recipe uses chicken, but you can also use turkey if you prefer; just be sure that it is 99% fat free to make your chili zero points. You can use your crock pot, but we actually found that this Instant Pot makes it so much faster!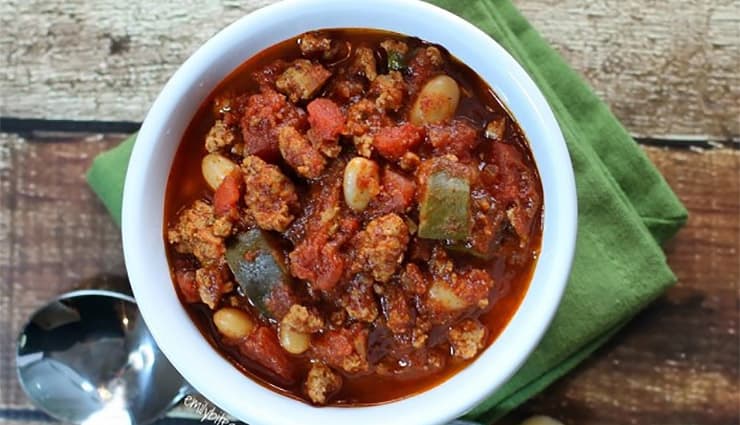 INGREDIENTS:
1 pound of lean ground chicken
2 cans of kidney beans (15 ounce cans) drained and rinsed
2 can of black beans (15 ounce cans) drained and rinsed
2 cans of pinto beans (15 ounce cans) drained and rinsed
3 cans of diced tomatoes with green chilies (1 ounce cans)
1 can of tomato sauce (15 ounce can)
1 onion, any color, diced
1 lime, quartered
½ teaspoon of cumin
½ tablespoon of oregano
1 tablespoon of chili powder
3 cloves of garlic, minced
INSTRUCTIONS:
Spray a pan with zero calorie cooking spray
Under medium high heat, sauté the diced onion for two minutes
Add the chicken to the pan and cook until brown
Add the meat, juices, and onion into your crock pot
Put all other ingredients into the crock pot (except for the lime)
Squeeze the juice from the lime into the pot and throw away the rinds
Cook on high for 4 hours
Serve hot!
Instructions for an Instant Pot:
Put the meat in the pot and use the "brown" or "sauté" button to cook your meat
Put everything in the pot except for the limes
Squeeze the juice from the lime and add it to the Instant Pot
Select the Meat/Stew option (or the Beans/Chili option, depending on the model)
Be certain the pressure valve is closed
Cook for 20 to 30 minutes
Release the pressure valve and serve hot
3. Grilled Shrimp with Smoky Sauce
This recipe is for all you seafood lovers out there! Make this one the night before and you will have everyone at the office pea green with lunch envy. This recipe serves four, so if this sounds like too much, you can cut it in half.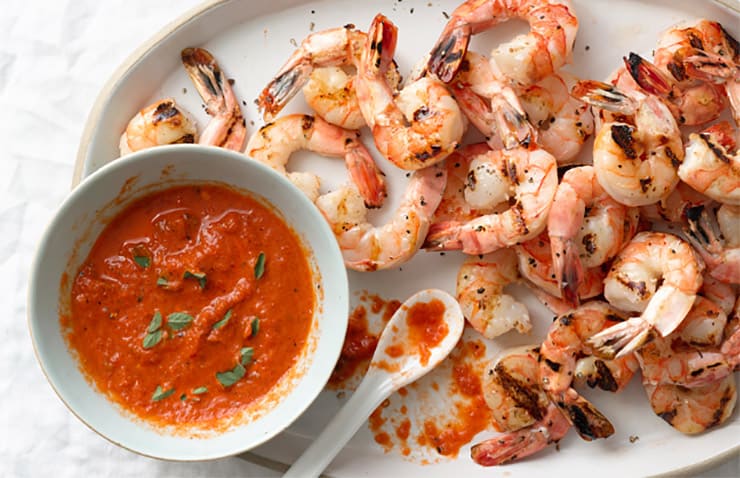 INSTRUCTIONS:
1 cup of roasted red peppers packed in water (not oil!) drained, rinsed and chopped
2 pounds of uncooked shrimp (deveined and peeled)
2 teaspoon of sherry vinegar (or red wine)
1 tsp of minced garlic
½ teaspoon of salt
¼ teaspoon of pepper
1 teaspoon of smoked paprika
½ teaspoon of cumin
1.5 tablespoons of freshly squeezed lemon juice
1 teaspoon of powdered garlic
Zero calorie cooking spray
INSTRUCTIONS:
Using a blender or food processor, process the peppers until they have a smooth, paste like texture
In a large bowl, mix the shrimp, oil, lemon juice, garlic and salt
Use your hands to coat the shrimp well
Allow shrimp to marinate at room temperature for 30 to 45 minutes
Coat a grill pan (or grill) with zero calorie cooking spray
Heat to high and grill shrimp until lightly charred (about 3 minutes each side)
Serve shrimp drizzled with sauce or put sauce in bowl to dip shrimp
4. Pineapple Chicken
For those of you who love pineapple on your pizza or sweet and sour sauce, we have a winning recipe for you here! It takes just minutes to make in your Instant Pot so you can make it before breakfast or, even easier, make it the night before to take to work the next day!
This serves 6 so if you are a single person, cut the recipe in half.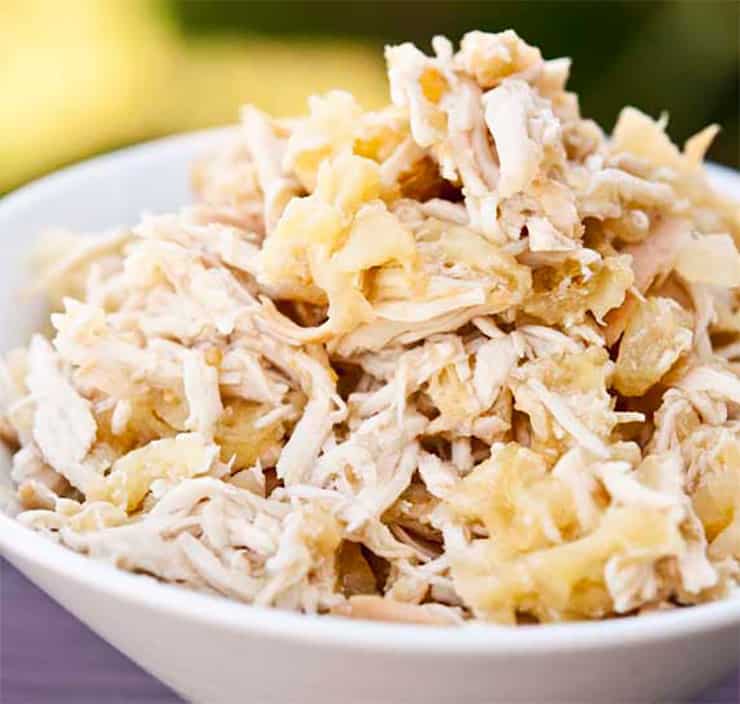 INGREDIENTS:
3 pounds of boneless, skinless chicken breast
1 jar of pineapple salsa, no sugar added (12 ounces)
2 cans of pineapple chunks (save the juice) each can should be 20 ounces
1 teaspoon of salt
¼ teaspoon of hot sauce (your choice) optional
INSTRUCTIONS:
Place all ingredients in your Instant Pot (be sure the liner is in the pot!)
Lock the lid and turn the vent to the "closed" position
Place on High Manual Pressure for about 12-14 minutes
Once depressurized, open the vent fully
Pull out the chicken and shred it with two forks
Return chicken to the pot and mix well
Serve hot
5. Spicy Chicken Salad
The salad that everyone loves and relies on just got a nice little kick added to it! Easy to make and easy on the waistline, this new favorite has moved up to Zero Point status!
This recipe serves 4.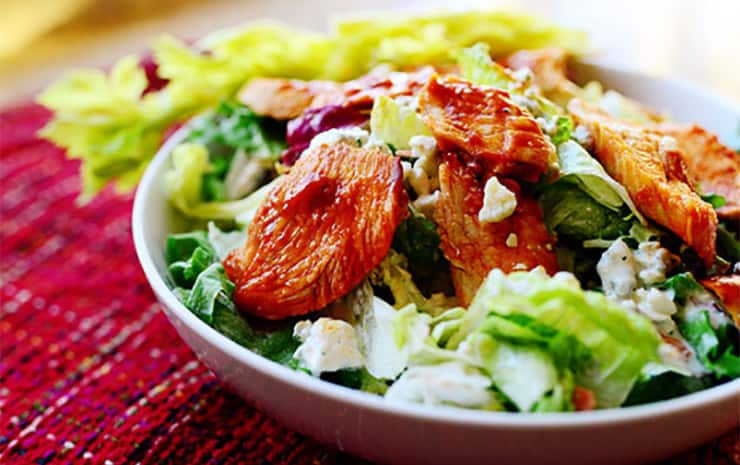 INGREDIENTS:
1 pound of boneless, skinless chicken breast
½ cup of no sugar added hot sauce (your choice of brand and level of hotness)
1 tablespoon of white vinegar
¼ teaspoon of celery seeds
¼ teaspoon of Tabasco sauce
¼ teaspoon of red pepper flakes
¼ teaspoon pepper
¼ teaspoon of cayenne pepper
¼ teaspoon of Worcestershire sauce
4 cups of mixed salad greens
Two ripe tomatoes, quartered
INSTRUCTIONS:
Cut the chicken into finger sized strips
Bring water to a boil in a large saucepan. Boil the chicken until cooked through
In another saucepan, mix all other ingredients together (except lettuce, tomatoes, and chicken) and allow to simmer over low heat while chicken is cooking
Drain chicken when cooked thoroughly and put back into pot
Pour sauce over chicken and stir until covered
Cut the tomatoes into quarters and divide among 4 bowls
Put one cup of salad greens in each of the 4 bowls and divide the chicken mixture evenly.
6. Teriyaki Salmon
This lunch time favorite is so good; our mouths are watering just typing out the recipe! This recipe serves 4, so cook it the night before for dinner, and then take the leftover for lunch the next day.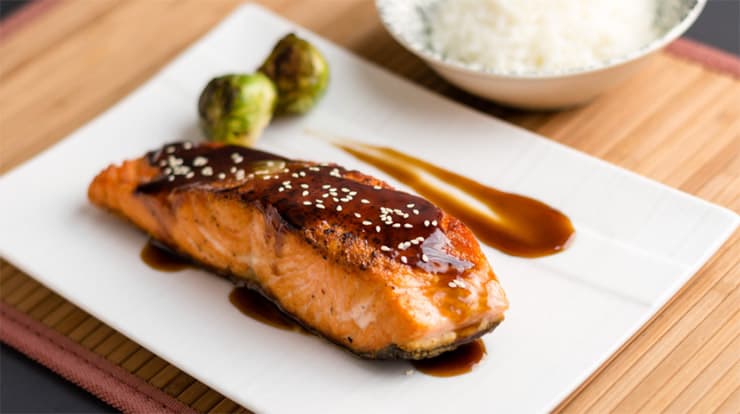 INGREDIENTS:
1 tsp red wine (or dry sherry)
¼ cup low sodium soy sauce
½ Tablespoon of Stevia or Splenda
1 Tablespoon of rice wine vinegar
1 Teaspoon of garlic powder
½ Teaspoon of black pepper
⅛ Teaspoon of ginger
1 pound (16 ounces) of skinless filet of salmon (about 1 inch thick)
INSTRUCTIONS:
Combine the red wine (or sherry), soy sauce, Splenda or Stevia, vinegar, garlic powder, pepper and ginger in a shallow dish, such as a baking pan.
Add the salmon and marinate for 30 minutes to 1 hour, turning once
Spray a grill pan or grill with zero calorie cooking spray
Over medium high heat, cook fish, turning after about 5 to 7 minutes (save the marinade)
Place the marinade in a small pan and bring to a boil. Boil for about 5 minutes or until the marinade is syrupy
Pour marinade over the fish and serve hot
7. Vegan/Vegetarian Two Bean Salad
For those who are vegetarian or vegan or for those who want to cut back on meat, we have a great tasting bean salad that will really satisfy. This serves 4, but with beans being on the Freestyle list of zero points, you can feel free to eat two servings!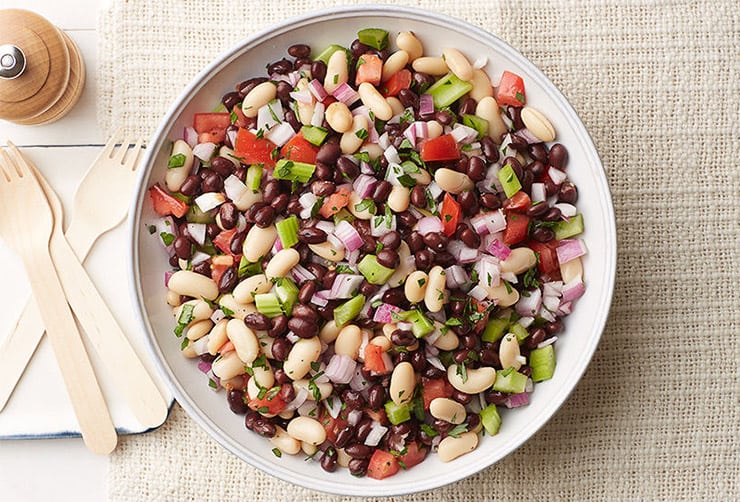 INGREDIENTS:
1 Cup of canned white beans, rinsed and drained
1 Large tomato, diced
1 Small onion, any color, diced
1 Large rib of celery, diced
3 Tablespoons of fresh parsley or basil
2 Tablespoons of white wine vinegar (or red wine vinegar)
⅛ Teaspoon of salt
⅛ Teaspoon of pepper
INSTRUCTIONS:
In a large bowl, combine the tomato, beans, celery and onions.
Gently stir in the vinegar
Sprinkle with the basil or parsley
Add salt and pepper. Adjust to taste
EXTRA RECIPE
Souper Filling Soup
Don't you just love soup? It's warm, it's comforting, and it slims down both the waistline and the wallet! This one really fits the bill all the way around.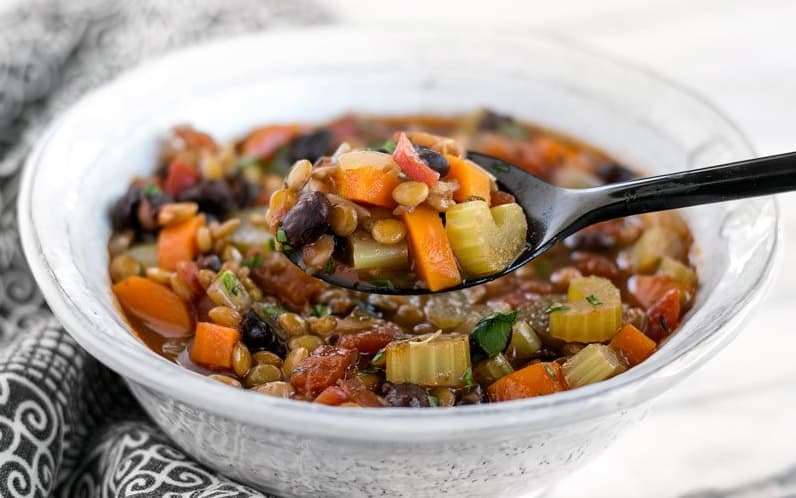 INGREDIENTS:
4 Cups of fat free broth (your choice of flavor, but we like vegetable broth)
1 Cup of zucchini, chopped
1 Cup of chopped baby spinach (or kale)
1 Cup of chopped cabbage (any color or a mix of colors)
1 Can of diced tomatoes, 14.5 ounces (or two cups of freshly diced tomatoes)
½ Cup of onion, chopped (any color or a mix of colors)
½ Cup of carrots, chopped
½ Cup of celery, chopped
2 Cloves of garlic, pressed
½ Teaspoon of basil
½ teaspoon of thyme
½ teaspoon of pepper
A handful of chopped basil, parsley or chives for garnish (optional)
INSTRUCTIONS:
Spray a large soup pot with zero calorie cooking spray
Add the onion, carrots, and celery
Cook over low heat until the carrots have softened
Add the garlic and cook for another minute or two
Add everything except for the zucchini and bring to a boil
Lower heat and simmer for 15 to 20 minutes
Add the zucchini and cook an additional 3 to 5 minutes
Stir in the basil, parsley or chives just before serving, if desired