Weight Watchers Freestyle Zero Point Snacks
Update - WW (Weight Watchers) has updated their Freestyle program. The new program is the MyWW (Green, Blue & Purple) Program. We have updated all our recipes on this website to include the myWW SmartPoints for all 3 plan options.
Are you loving the Weight Watchers Freestyle Program? We know we certainly are! By the way, if you've missed our previous articles for Zero Point Desserts and other Zero Point Recipes
Let's face it. Sometimes, you seriously need a snack! We mean a crunchy, sweet, cheesy, or salty snack that hits the spot! We've all been there! Thanks to the Freestyle program, we are now freed from the boredom of celery and carrot sticks!
The following are 10 of the most delish snacks you could ever hope for, and all of them have ZERO points!
1. Sweet and Sour Grapes
Chances are you already freeze seedless grapes as snacks. There is something really tasty about these snacks, almost like candy, but try this hack and see if your taste buds don't go WOW!
Although any flavor Jell-O will work, we think lime is best. Try some different flavors and find your favorite. Don't forget to use sugar free Jell-O!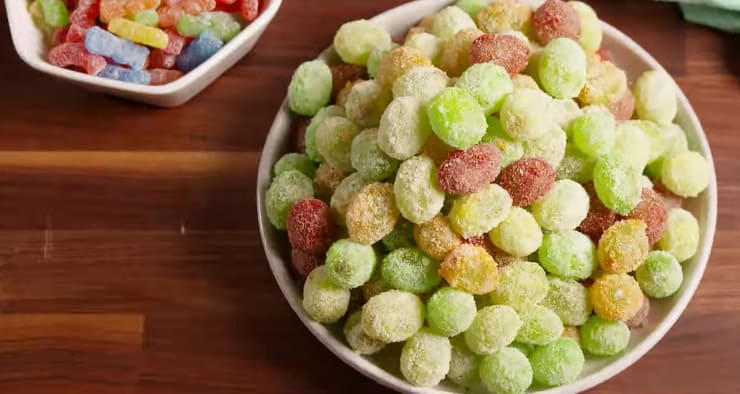 SmartPoints myWW Green: 0 Pts, myWW Blue: 0 Pts, myWW Purple: 0 Pts
INGREDIENTS:
One large bunch of seedless grapes
1 Package of lime Jell-O (sugar free)
DIRECTIONS:
Pour the Jell-O into a large bowl
Wash the grapes and give them a shake, but leave them really wet!
Pull the grapes off the vine and drop them into the bowl of Jell-O
Roll the grapes around in the bowl until they are coated
Put into Ziploc bags and place in the freezer until completely frozen (about 2 to 3 hours)
Enjoy!
2. Grilled Fruit Sticks
This one is so simple and decadently sweet, we wonder why we never thought of it before! Grilling fruit might sound strange, but once you taste it, we guarantee you will be going back for more. This recipe serves one seriously snack hungry person, or 4 if you are willing to share.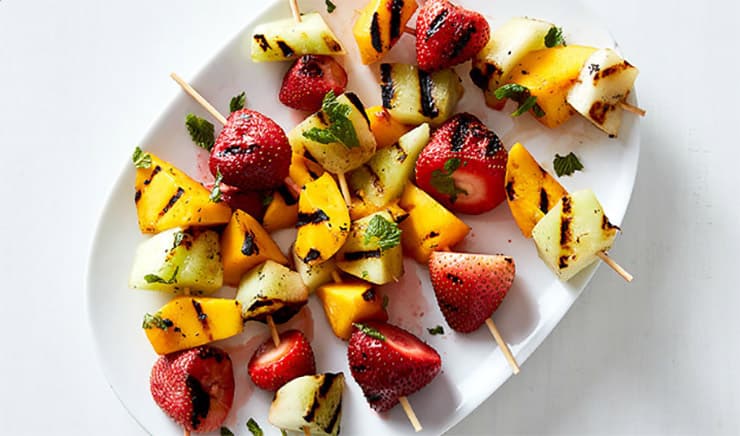 SmartPoints myWW Green: 0 Pts, myWW Blue: 0 Pts, myWW Purple: 0 Pts
INGREDIENTS:
½ of a honeydew melon (or cantaloupe) peeled, seeds removed
1 large (or 2 medium) ripe mangoes
About 12 medium strawberries, green tops cut off
1 Tablespoon of fresh mint leaves (optional)
4 Spray of a zero calorie cooking spray
DIRECTIONS:
Cut the mango and honeydew into 1.5 inch squares (about 12 to 14 pieces total)
Put the fruit in alternating layers on 4 long skewers (about 9 pieces of fruit per skewer) If you only have wood skewers, soak them in water for 20-30 minutes before use
Coat your grill or grill pay with the cooking spray then turn on the flame to about medium high
Grill the skewers for about 2 minutes per side or until the fruit starts to show grill marks
Serve with fresh mint if desired
3. Banana Pumpkin Bread
Sometimes, when you are enjoying a cup of coffee, don't you wish you had some type of sweet bread that you could sink your teeth into? Well, although this isn't a donut or pastry, this banana pumpkin bread comes pretty darn close! You can enjoy a nice slice with some zero calorie whipped topping and a handful of berries if you like.
SmartPoints myWW Green: 0 Pts, myWW Blue: 0 Pts, myWW Purple: 0 Pts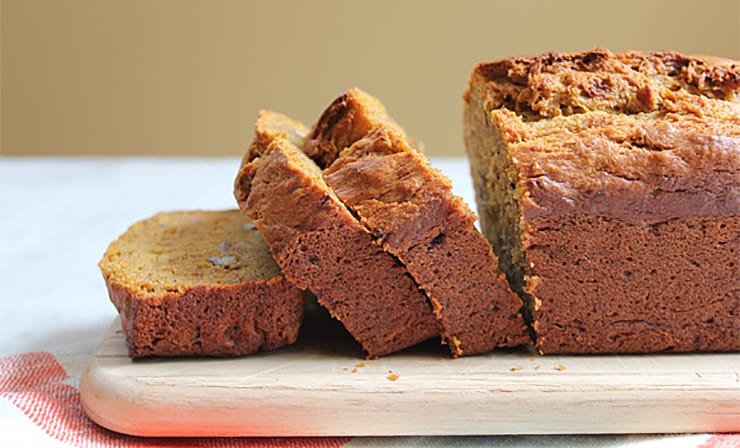 INGREDIENTS:
1 Box of spice flavored cake mix
1 Can of pumpkin puree (15 ounce can)
3 or 4 ripe bananas, mashed well
DIRECTIONS:
Preheat oven to 350 degrees
In a large mixing bowl, mix together all ingredients until well blended
Spray a loaf pan with zero calorie non-stick spray
Pour cake mixture into loaf pan
Bake for approximately 55 minutes or until toothpick comes out clean when inserted into the middle of the cake.
Serves 12
4. Twice Baked Zero Point Cauliflower
This is a super filling snack that can double as a side dish. Make it for dinner, then save small hand sized patties that you can pop in the toaster oven for later. This one is so crunchy and cheesy, you think you are cheating. Keep in mind that this serves 6 and 1/6th is considered zero points.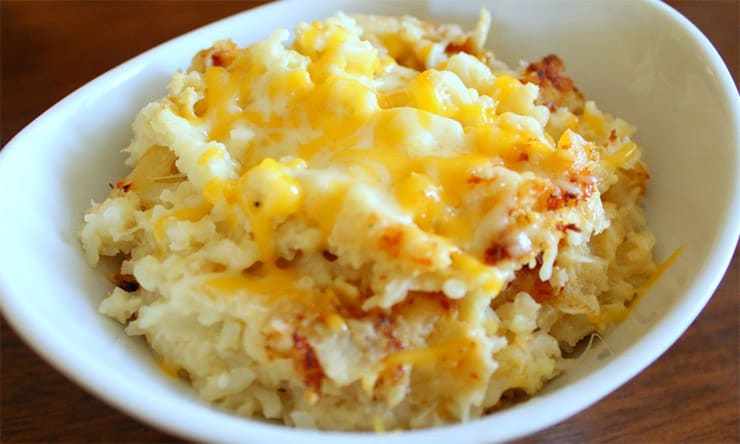 SmartPoints myWW Green: 0 Pts, myWW Blue: 0 Pts, myWW Purple: 0 Pts
INGREDIENTS:
1 large head of cauliflower, broken into pieces
¼ cup of low fat sour cream
½ cup cheddar cheese, fat free, shredded
A dash of olive oil
Salt, pepper, and garlic powder to taste
DIRECTIONS:
Preheat oven to 400 degrees
Rinse cauliflower and rip or cut into smaller pieces
Place in a large sauce pan and put approximately ¾ cup of water
Cover with lid and steam over low flame for about 12 minutes
Mash cauliflower with a potato masher
Add in sour cream, cheese, and seasonings
Add just enough olive oil to a Pyrex dish to coat it
Add the cauliflower mixture to the Pyrex dish
Bake for about 45 minutes or until crispy on top
5. Zippy Zero Point Brownies
Ok, so these might not taste as fudgy or as decadently sweet as something from the bakers, but we can guarantee that those bakery brownies are also not zero points!
When you need to satisfy that chocolate craving, these are pretty darn good!
This makes 8 slices.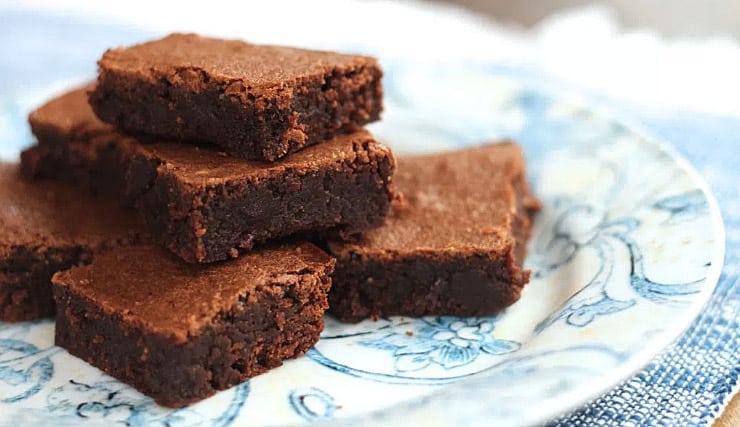 SmartPoints myWW Green: 0 Pts, myWW Blue: 0 Pts, myWW Purple: 0 Pts
INGREDIENTS:
1 container of plain, nonfat Greek yogurt (6 ounces)
¼ cup of almond milk
3 tablespoons of Hershey special dark cocoa powder
2 scoops of any type or flavor of protein powder (whey powder is OK)
¼ cup of granulated artificial sweetener (Stevia or Splenda)
1 egg
1/3 cup of canned pumpkin puree (or unsweetened applesauce)
1 teaspoon of baking powder
A pinch of salt
DIRECTIONS:
Preheat oven to 400 degrees
Spray an 8X8 container with non-calorie cooking spray
Pour all ingredients into a large bowl and mix well
Pour batter into pan
Bake for approximately 15 to 20 minutes
6. Bean and Egg Muffins
The best thing about these little "muffins" is that they freeze like a dream! This means you can make them anytime and toss them into freezer bags for later use! These are great for breakfast, lunch, and might just be the perfect afternoon snack.
Don't be afraid to mix things up a bit; try some chopped turkey or ham or even some mushrooms, spinach, or corn. You could add some chili powder or a taco seasoning package or just top them with your favorite salsa.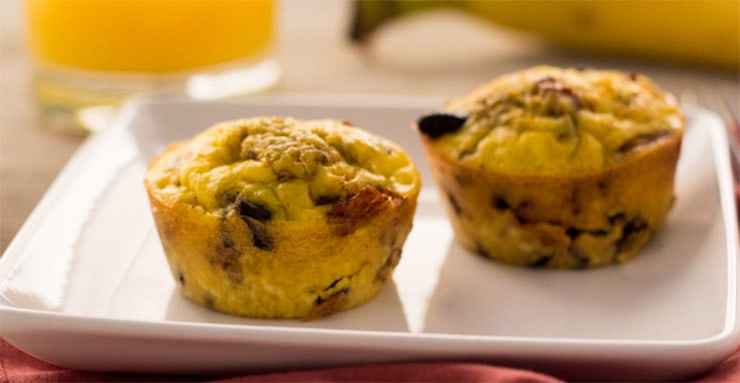 SmartPoints myWW Green: 2 Pts, myWW Blue: 0 Pts, myWW Purple: 0 Pts
INGREDIENTS:
1.5 cups of canned black beans, drained and rinsed
1 green or red bell pepper, seeds removed and diced
1/2 cup of diced red onion
8 large eggs
Salt and pepper to taste
1 Jalapeno, seeds removed and diced (optional)
DIRECTIONS:
Preheat oven to 350 degrees
Spray a skillet with a non-calorie cooking spray
Add the peppers, onion, and jalapeno, cooking under medium heat until tender (about 8 minutes)
Whisk together the eggs, add salt and pepper
Add the onions, peppers, and black beans to the eggs
Spray a muffin tin with the cooking spray
Pour egg mixture into each tin about 2/3's of the way full
Bake for 25 minutes or until each muffin is puffy and cooked all the way through (you can use a toothpick or knife to check for doneness)
Serve hot or cold or add to a freezer bag when completely cool
7. Easy Cauliflower Poppers
It's a great weekend to binge watch a great series or a few movies you've wanted to catch up on, but the big question here is; what can you snack on besides boring old popcorn?
Try these little baked cauliflower bites for a nice change! You can mix up the spices to make it anyway you like it but best of all? Zero Points. Even for a great big bowlful!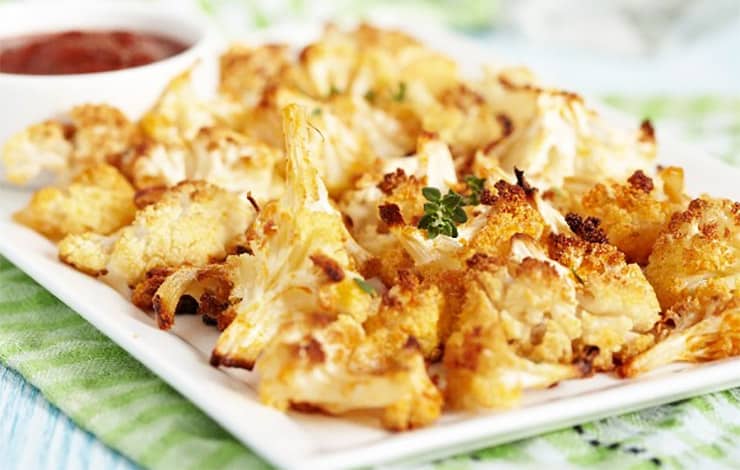 SmartPoints myWW Green: 0 Pts, myWW Blue: 0 Pts, myWW Purple: 0 Pts
INGREDIENTS:
1 Medium sized head of cauliflower
½ teaspoon of cumin
½ teaspoon of chili powder (more or less, depending on your taste)
½ teaspoon of seasoned salt
½ teaspoon of black pepper
DIRECTIONS:
Preheat oven to 400 degrees
Coat a baking sheet liberally with a zero calorie cooking spray (butter flavor is good, but not necessary)
Cut your cauliflower into bite sized pieces (you should have about 4 cups, more or less)
Put the cauliflower in a medium bowl and add your spices
Mix until cauliflower is coated well
Put the cauliflower on the baking sheet, leaving room in-between pieces
Bake until cauliflower is soft, but not mushy (about 10 minutes or so)
8. An Almost Root Beer Float
If you are like us and you miss ice cream, here is one idea that helps to crunch those cravings. Although it's more root beer than float, it's still a sweet treat that takes only minutes to make.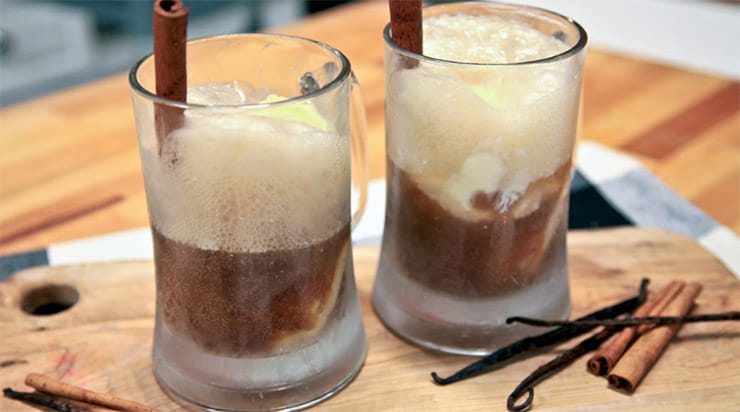 SmartPoints myWW Green: 0 Pts, myWW Blue: 0 Pts, myWW Purple: 0 Pts
INGREDIENTS:
Fat free Whipped Topping (such as Cool Whip)
Diet Root Beer
DIRECTIONS:
Put two big scoops (use your ice cream scoop!) of the frozen whipped topping in a tall glass or a bowl
Add ½ to 1 cup (or more) of root beer to the container
Enjoy!
9. Quick N Easy Chili
On those cold winter mornings or anytime you want to snuggle up with a cup of something hot and filling, this vegetarian chili recipe will do the trick. Not too spicy, not to boring, you are going to want to share this recipe with friends and family.
Serves 4.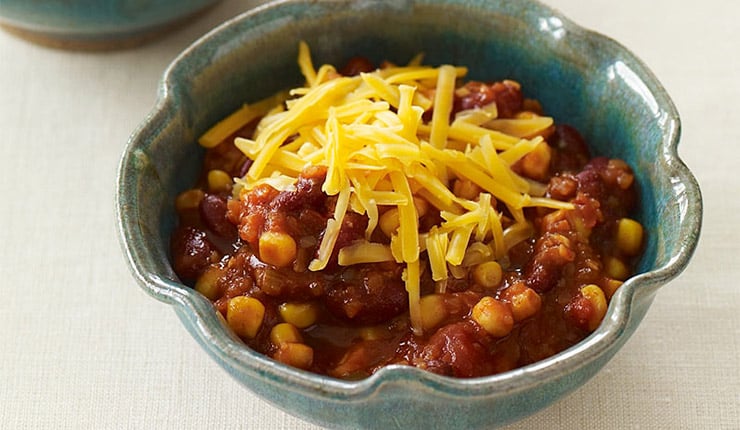 SmartPoints myWW Green: 2 Pts, myWW Blue: 0 Pts, myWW Purple: 0 Pts
INGREDIENTS:
1 Can of stewed tomatoes (14.5 ounces)
1 Can of kidney beans (rinsed and drained) 15 ounces
1 Can of tomato sauce (15 ounces)
1 Can of yellow corn (drained) 15 ounces
¼ cup of reduced fat sharp cheddar cheese, shredded
1 teaspoon of olive oil
1 medium clove of garlic, minced
1 Tablespoon of chili powder
½ teaspoon of crushed red pepper
¼ cup of onion flakes (or fresh onion if you prefer)
1 teaspoon of black pepper
Instructions:
In a large heavy bottom pot, add oil and garlic
Under medium heat, mix oil and garlic for about 2 minutes
Add everything to pot except cheese. Stir well
Increase heat to high and bring to a boil, stirring frequently until chili has thickened, about 5 to 7 minutes
Pour into 4 bowls and sprinkle the top with cheese
10. Wendy's Skinny Frostie
Summer is right around the corner! If you are like us, you love those Frostie's from Wendy's, but can't spare the points! Here is a way to make a similar version that tastes great and is easy to make!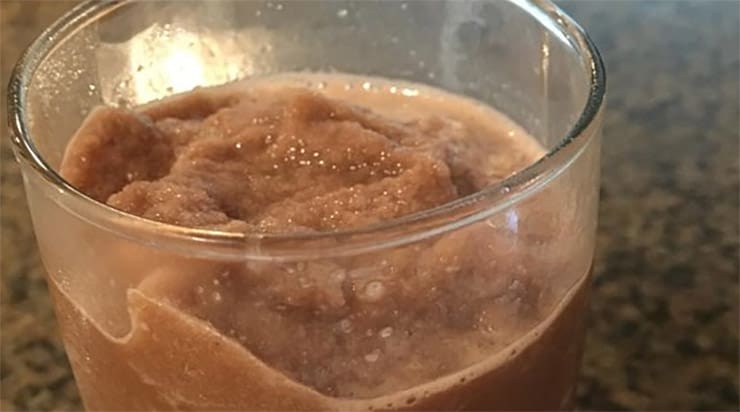 SmartPoints myWW Green: 2 Pts, myWW Blue: 0 Pts, myWW Purple: 0 Pts
INGREDIENTS:
1 Cup of unsweetened Almond milk
2 Tablespoons of sugar free pudding mix (any flavor)
2 Tablespoons of non-fat frozen whipped topping (such as Cool Whip Free)
1 Teaspoon of vanilla extract
About 8 ice cubes
DIRECTIONS:
Place everything in your blender and mix until smooth
Pour into a large glass and freeze until it reaches the consistency you want (about 1 hour)