WW Freestyle Zero Point Soup Recipes
Soup is a staple for every person on Weight Watchers. Nothing fills you up or warms you up quite like a delish bowl of soup.
Who doesn't like soup?! It has so much going for it! You can make large quantities and freeze some for later. It's easy to make and it's souper (see what I did there?) nourishing!
For losing weight, eating more soup can't be beat. It also saves some big bucks as well! No matter what your goal; losing weight, saving money, or increasing nutrition, you can't beat soup.
For those of us on the WW Freestyle program, soup can be a real life-saver! When you're hungry but are close to using up all your points, zero-point soups can keep you from breaking the WW point bank.
Not all soups are created equal, however. This list of zero-point soups have ingredients to help fuel your metabolism and help fire up your weight loss efforts.
Are you looking for terrific tasting soups that will fill you up but not fill you out? Keep reading because these recipes are so delish, you will be proud to take them to your next pot luck. No one has to know they are zero-point soups except you!
1. Totally Tomato Soup
You probably remember eating canned tomato soup with grilled cheese at home but let me tell you, this soup is SO much better (and better for you) than that old canned stuff.
This recipe serves 6 and it is so easy to make that you might wonder why your mom served you canned soup!
INGREDIENTS:
2 Carrots
2 Medium white onions
2 Stalks of celery
2 Cloves of garlic
2 Cubes of chicken or vegetable stock
6 Large tomatoes (very ripe ones work best)
2 Small tins (400 grams each) of plum tomatoes
INSTRUCTIONS:
Peel and slice the carrots, celery, onions and garlic
Spray a large pot with zero calorie cooking oil over medium heat.
Add all the chopped veggies and stir. Put a lid over the top loosely and allow to cook for 15 minutes or until vegetables are soft
Put the stock cubes in a large bowl and cover with 1.5 liters of boiling water. Stir until dissolved
Add the stock to the pot with the vegetables
Add the tomatoes, both fresh and canned
Stir to mix and bring to a boil
Reduce the flame and put the lid back on the pot
Allow to simmer for 10 minutes
Add salt and pepper to taste
Crush the tomatoes a bit using a potato masher or use a stick blender
Garnish with some basil leaves if desired
2. Eat Your Fill Chicken Vegetable Soup
When you're hungry, you're hungry, and a little 4-ounce bowl of anything isn't going to satisfy you. We love this recipe because you can virtually eat all you want
This recipe serves 8-10, depending on the size of the soup bowl you use. This is zero points on the WW freestyle program so chow down!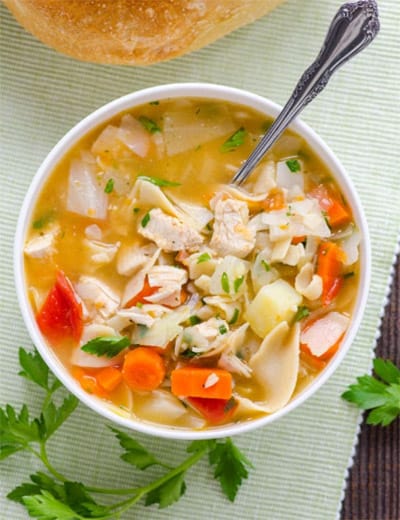 INGREDIENTS:
1 Pound of skinless chicken breasts cooked
4 Stalks of celery chopped
3 Carrots chopped
1 Parsnip chopped
1 Leek chopped
1 Cup of fresh green beans chopped
1 Clove of garlic peeled and chopped
2 Tablespoons of parsley chopped (dried is OK if that's all you have)
4 Cubes of chicken stock
10 Cups of water
Salt and pepper to taste
INSTRUCTIONS:
In a large soup pot, bring the water to a boil
Cut all the vegetables listed into cubes
Cut the chicken into cubes
Add the garlic, stock, and vegetables to the pot
Boil for 5 minutes, then reduce heat and simmer for 15 minutes
Add the chicken and bring to a boil a second time
Boil for 2 minutes, then reduce heat and simmer for 20-30 minutes
Add salt and pepper to taste
Soup will be ready when all ingredients sink to the bottom of the pot
3. Perfect Pumpkin Soup
Fall is just around the corner and you are going to "fall" in love with this soup flavor. This recipe serves 6 but you will probably want to double it because it's going to be a favorite at your house with everyone asking for seconds!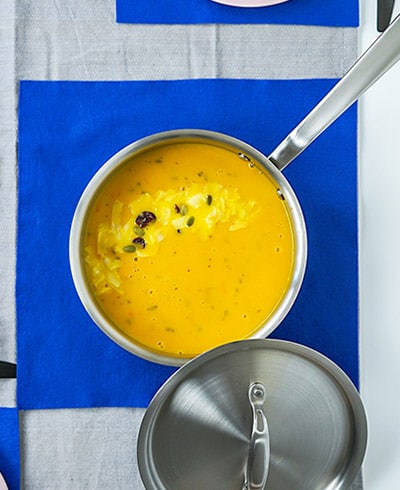 INGREDIENTS:
2 Tablespoons of olive oil
1 Leek (white part only) thinly sliced
1 White or red onion finely chopped
1 Clove of garlic crushed
2 Pounds of pumpkin peeled and diced
1 Large sweet potato peeled and diced
1 Liter chicken stock
½ Teaspoon of ground coriander
1 Teaspoon of ground cumin
½ Teaspoon nutmeg
½ Cup of thin cream
INSTRUCTIONS:
In a large saucepan over low heat, add the leek and onion, cooking for 2 or 3 minutes.
Add the garlic and spices, stirring well. Cook for another minute
Add the sweet potato, pumpkin, and stock. Bring to a boil
Put a lid on the pot and turn flame to low. Simmer for 30 minutes.
Allow to cool slightly, then blend in batches. You can also use a small immersion blender or mash with a potato masher
Return soup to the pot and stir in the cream. Reheat under low flame.
Add salt and pepper to taste
4. Too Good Turkey Vegetable Soup
You will definitely want to save this recipe for after Thanksgiving when you have SO much turkey to deal with. Bone broth is one of the most nutritious ways to help heal joints and make stronger bones, as well as improve your metabolism.
You can use almost any vegetables you have on hand. When refrigerated, this looks like a gel on top but don't panic, when you heat it up again, the gel dissolved back into soup. Make room in the freezer because this makes a LOT!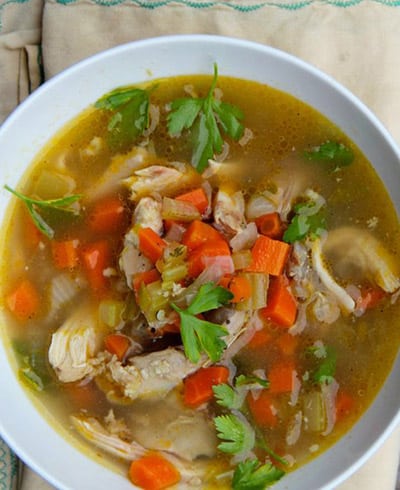 INGREDIENTS:
The leftover turkey carcass (yes! The bones, skin, everything)
Enough water to cover the turkey
1 Large onion (any color)
3-4 Carrots diced
2 Bay leaves
Chicken bouillon cubes
1 Cup of zucchini squash
1 Cup of green beans
¼ Cup of lentils
INSTRUCTIONS:
Break the turkey carcass into pieces and put in a large soup pot. If it is a very large carcass, you might need two pots!
Fill with enough water to cover.
Chop the onion in half and add half to the pot
Bring to a boil, then lower to a simmer. Cover with a lid
You can simmer this for as long as you wish, but most people find that overnight is fine. Be sure to check every few hours to keep the water level up. You can also start boiling in the evening, put it in the fridge, then continue boiling the next day
When you have finished boiling, strain the broth and set aside.
Go through the bones and pull off any meat and add it to the broth
Add the broth and vegetables to a large soup pot. Add more water if necessary
Add bouillon as needed for flavor
Salt and pepper to taste
Simmer for 60 minutes
5. Super Skinny Cabbage Soup
If you are a die-hard dieter, you might remember a popular diet plan in the 80's called the cabbage soup diet. While it wasn't healthy in the long run, for losing weight short term, this soup is the bomb! Anytime you get hungry, eat a big bowl of this soup and watch the pounds melt away.
This recipe serves 8 but if you double it, it freezes up like a dream.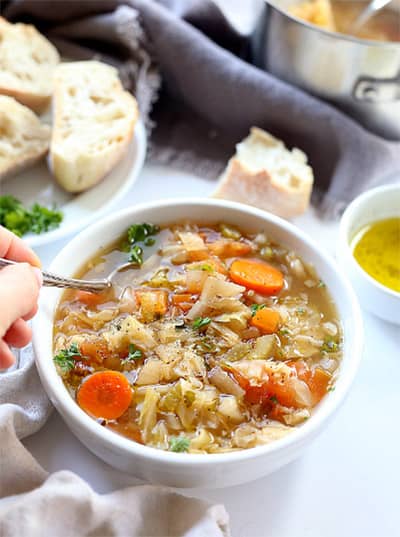 INGREDIENTS:
½ Head of cabbage cored and roughly chopped
½ onion (any color) chopped
2 Cloves of garlic peeled and chopped
2 Quarts of water
4 Teaspoons chicken bouillon
1 Can (14.5 ounces) Italian style stewed tomatoes, drained
1 Teaspoon of salt
½ Teaspoon of pepper
INSTRUCTIONS:
In a large soup pot, spray some zero calorie cooking oil over medium heat
Add the onion and garlic, stirring until soft, after 5 minutes
Add the water, bouillon, salt and pepper
Bring to a boil, then add the cabbage. Mix well
Simmer for 10 minutes or until the cabbage begins to wilt
Sir in the tomatoes, salt, and pepper
Return to a boil, then simmer another 12-35 minutes. Stir frequently
Serve hot
6. Free Style Fish Soup
Fish and seafood lovers get left out in the cold because most fish recipes are chowders, which use milk and flour. This is a killer recipe that you will want to eat again and again.
You can use almost any type of white fish fillet in this recipe, including halibut, perch, red snapper, tilapia, or pollack.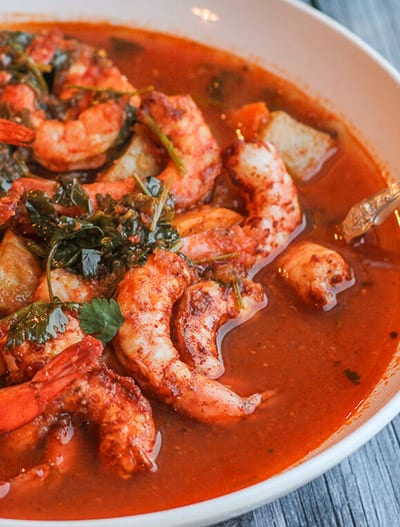 INGREDIENTS:
2 Pounds of white fish fillets
½ Pound of large shrimp, shells removed (but keep them for later)
2 Cups of water
2 Carrots chopped
2 Small onions (any color) chopped
1 Fennel bulb chopped
2 Celery stalks chopped
4 Cloves of garlic peeled and minced
½ Cup of dry white wine
3.5 Cups of bottled clam juice
2.5 Cups of canned crushed tomatoes (28 ounce can)
5 Tablespoons of chopped parsley
½ Teaspoon dried thyme
¼ Teaspoon dried red pepper flakes
1 Teaspoon of salt (depending on how salty the clam juice is)
1/8 Teaspoon of pepper
2 Bay leaves
INSTRUCTIONS:
Put the shells from the shrimp in the water in small pot and boil
Lower the heat and simmer, covered, for about 15 minutes
Strain the shrimp stock into a bowl and discard the shells
In a large pot, spray some zero calorie cooking oil over medium heat
Add the carrots, fennel, celery, garlic, and onions
Cook for about 5 minutes, stirring occasionally
Add the wine and cook another 5 minutes or until it almost evaporates
Stir in the clam juice, tomatoes, shrimp stock, red pepper, and 2 tablespoons of the parsley, salt, pepper, bay leaves and thyme.
Bring to a boil, then reduce heat and simmer with a loose-fitting lid for about 25 minutes
Add more salt if needed and remove the bay leaves
Add the fish, shrimp, and remaining parsley
Allow simmer for another 3-5 minutes to warm the meats
Serve hot
7. Spicy Carrot Soup
When we say "spicy", we don't mean hot, we simply mean flavorful and wonderful. Let's face it, carrot soup is great, but it does lack the little extra oomph.
This recipe makes 4 servings and has zero points so double the recipe and make friends at work jealous when you are enjoying it later.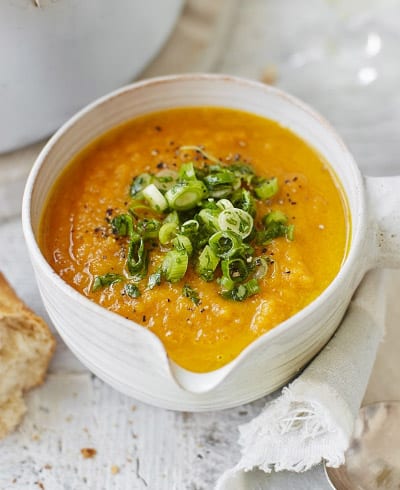 INGREDIENTS:
12 Ounces of sliced carrots
1 Medium red onion sliced
1 Teaspoon of ground ginger
1.5 pints of vegetable stock
Salt and pepper to taste
INSTRUCTIONS:
In a large soup pot, heat the onion and ginger along with ¼ cup of the vegetable stock
Cook for about 5 minutes or until the onion has softened
Add the carrots and remaining vegetable stock
Simmer for 20-30 minutes
Put the soup in a blender or use an immersion blender until smooth
Add salt and pepper to taste
Return to the pot and reheat gently
Serve hot
8. Taco in a Bowl Soup
For all those days when your stomach is growling, it's 4PM and you realize you've already eaten all of your points, this soup will be a blessing.
This recipe is zero points on the WW Freestyle plan and it serves 6. Although we used chicken breast, you can use dark meat, turkey breast, or even ground turkey or chicken or turkey sausage instead. You could also go all vegetarian and leave out the meat if you prefer.
Take note that although this cooks up in a bout 4 hours on the stove, you could put it in a crock pot on the low setting for 8 hours or in your instant pot for a quick 8 minutes when you use the soup setting.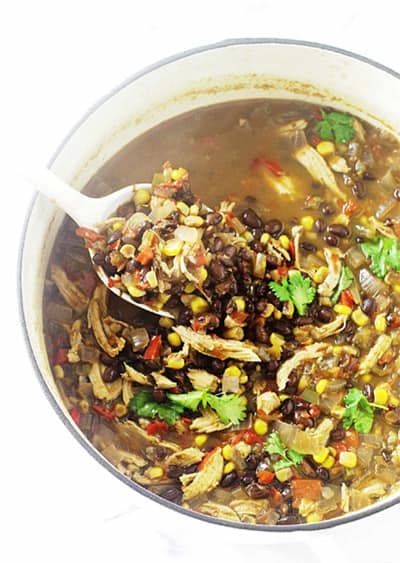 INGREDIENTS:
1 Pound of skinless, chicken breast
1 Small onion (any color) diced
2 Cloves of garlic peeled and minced
1 Can (14.5 ounces) pinto beans drained
1 Can (14.5 ounces) black beans drained
1 Can (14.5 ounces) diced tomatoes with green chilies (do not drain)
2 Cups chicken or vegetable broth
1 Package (1.25 ounce) taco seasoning (or use your own spices)
INSTRUCTIONS:
In a large soup pot, add a dab of olive oil and the onion
Cook for 5 minutes or until tender
Add the garlic and cook for 1 more minute
Add all remaining ingredients and bring to a low boil
Reduce flame, cover the pot, and simmer for 30-40 minutes
Top with a bit of shredded lettuce if desired
9. Awesome Asian Soup
I've seen plenty of recipes for Asian salads and side dishes, but never soup. This one is everything you would expect from an Asian dish; loaded with flavor and an interesting choice of vegetables.
This recipe serves 8 and goes from fridge to table in about 30 minutes. Best of all, it's zero points, so you can feel good about chowing down on a huge bowl.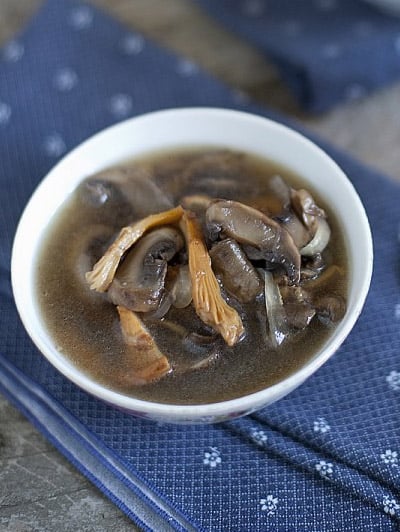 INGREDIENTS:
2 Cups of bok choy chopped
2 Cups of Napa cabbage chopped
5 Cloves of garlic peeled and mined
¼ Cup of fresh ginger root, thinly sliced
2 Cups scallions chopped
5 Ounces of shitake mushrooms sliced
1 Can (8 Ounces) water chestnuts
1 Can (5 Ounces (bamboo shoots sliced
½ Cup red bell pepper thinly sliced
8 Cups of vegetable broth
2 Cups of fresh snow peas strings removed (frozen is OK if that's all you have)
½ Cup cilantro, chopped
2 Tablespoons low sodium soy sauce
¼ Teaspoon of red pepper flakes
1 Cup fresh bean sprouts (optional)
INSTRUCTIONS:
In a large soup pot, add the bok choy, cabbage, garlic, shitake mushrooms, ginger, scallions, bamboo, water chestnuts, red bell pepper, red pepper flakes and vegetable stock. Stir to combine
Cover and bring to a boil under a high flame
Reduce heat to low and simmer with a loose-fitting lid for 10 minutes
Add the soy sauce, snow peas, and bean sprouts if you want them
Cook for 4 minutes, then add the cilantro. Stir.
Serve hot
10. Best Ever Bean Soup
Sometimes, I really have a craving for bean soup. There is something about a cold fall evening that just screams warm and soft, right? Bean soup really fits the bill so I'm happy that the Freestyle program allows me to enjoy bean soup without using up my points.
This recipe serves 6. I generally make bean soup in the crock pot but if you use canned beans, you could whip this up on the stove in minutes.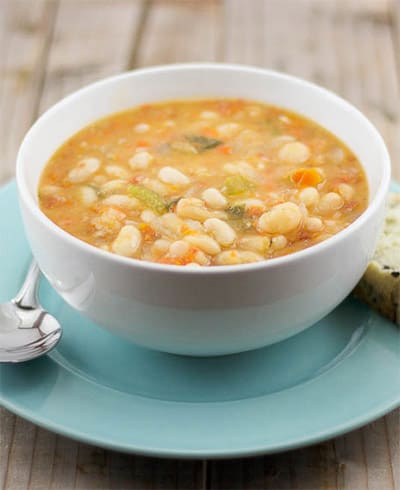 INGREDIENTS:
1.5 Cups dry great northern beans
1 Medium onion (any color but I like red) diced
3 Stalks of celery diced
1 Green bell pepper seeds and veins removed diced
4 Cloves of garlic peeled and minced
6 Cups of vegetable broth
1 Teaspoon of ground cumin
½-1 Teaspoon of black pepper (adjust to your taste)
1-1.5 Teaspoons of salt
INSTRUCTIONS:
Place all ingredients in your crock pot and mix well
Cook on high heat for 4 hours or low heat for 8 hours
Stir and check to see if beans are tender - if not, cook for an additional hour