15 Keto Meals For Weight Loss
Everyone is on the keto diet bandwagon, or so it seems! Unfortunately, if you are getting pretty tired of chicken breast and eggs, then you are in for a real treat.
We have worked day and night (well, maybe not ALL day and night) to seek out some of the most delicious, and deliciously different, keto recipes of all time.
RELATED ARTICLES
We will admit that some of the ingredients are the same, but these out of this world way of making them will have you headed straight to the kitchen to make them again and again.
Enough talking! Let's get busy cooking crazy-good keto meals!
1. BLT with Almost Bread
Bacon, Lettuce, and tomato sandwiches are one of the small pleasures of summer. But what to do when you are on the keto diet and bread is pretty much a no-no?
You make "almost bread", which is a very soft type of bread that doesn't come from flour. You are going to love this one! This recipe makes 4 sandwiches and each sandwich is only 4 grams of net carbs.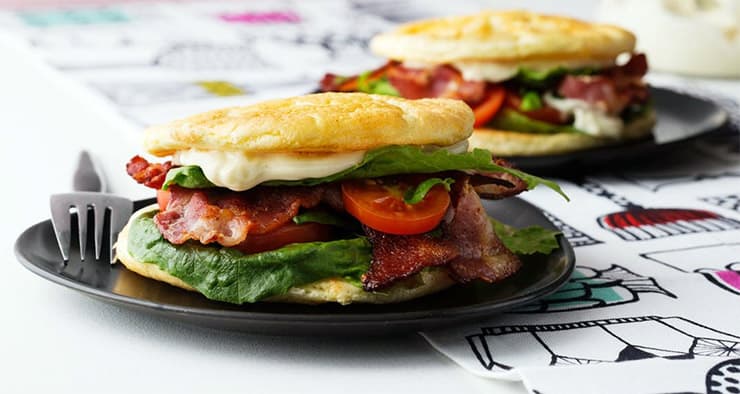 INGREDIENTS:
For the Almost Bread:
3 Eggs
4.5 Ounces of cream cheese (full fat)
½ Tablespoon of ground psyllium husk powder
½ Teaspoon of baking powder
A pinch of salt
For the Sandwich:
8 Tablespoons of full fat mayonnaise
5 or 6 ounces of bacon
2 Ounces of lettuce (any kind)
1 Thinly sliced tomato
Fresh basil leaves (optional)
INSTRUCTIONS:
Preheat your oven to 300 degrees
Separate the eggs, putting white and yolks in different bowls
Whip the egg whites with the salt until stiff peaks form
Add the cream cheese to the yolks and mix well, then add the psyllium and baking powder
Fold the egg whites into the yolk mixture-don't over mix
Put 8 almost bread slices on a baking tray
Bake for about 25 minutes or until lightly brown
While the bread is baking, fry the bacon
Spread each piece of "bread" with about 2 tablespoons of mayo
Put the bacon, lettuce, and tomato on one half and cover with another slice of bread to make a BLT.
2. Beautiful Naan Bread with Garlic Butter
This isn't a meal per se, but if you are missing bread with your meals, this might just be what you are looking for. This actually tastes better than most commercially made flat breads! This recipe makes 8 pieces of bread and each piece is only 1 net gram of carbs! Just one It's almost unbelievable!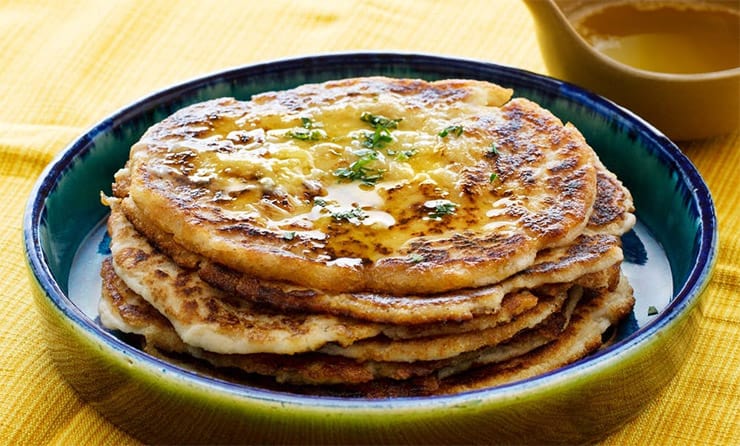 INGREDIENTS:
¾ Cup of coconut flour
2 Tablespoons of ground psyllium husk powder
½ Teaspoon of baking powder
1 Teaspoon of salt
1/3 Cup melted coconut oil
2 Cups of boiling water
A little more coconut oil for frying
Salt to taste
Garlic Butter:
4 Ounces of real butter
2 Cloves of garlic, minced
INSTRUCTIONS:
Mix all dry ingredients in a large bowl
Add the oil and boiling water, stirring constantly for one minute
Allow dough to rise for about 5 to 6 minutes. Dough should be firm, but flexible, similar to Play-DOH
Divide the dough into 8 pieces and roll it to make balls
Flatten each ball with your hands, pressing it onto a plate or cutting board
Fry the dough in coconut oil until they turn golden brown
Heat the oven to 140 degrees and keep the bread warm while you fry more pieces
Melt the butter and stir in the garlic
Apply the melted butter to each piece of bread using a brush
Sprinkle just a bit of salt on the top
You can dip the bread in any remaining garlic butter, if you wish
3. Luscious Low Carb Pizza
Ever wish that you could just order some pizza for lunch? Pizza has got to be one of the best tasting lunches ever, but when you are watching your weight (and your carbs) pizza is usually a no-go. This pizza recipe, however, will forever change your lunch routine. Ready in about 30 minutes, you can make this the night before or even get it ready in the morning so it's super fresh.
Each serving has only 5 grams of carbs! This pizza recipe makes 8 servings so you should be able to put two pieces in each meal prep container, along with a nice little salad. Don't be afraid to add plenty of veggies!
The recipe is gluten free and nut free.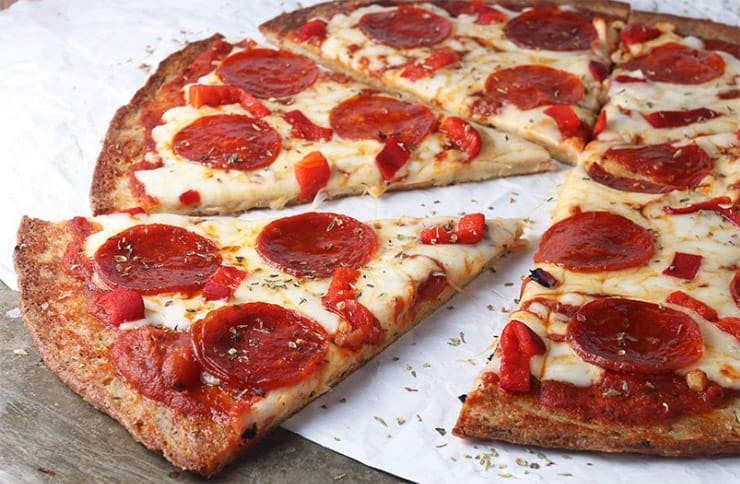 INGREDIENTS FOR CRUST:
1.5 Cups of shredded mozzarella cheese
2 Tablespoons of cream cheese (cut into small cubes)
2 Large eggs, beaten
1/3 Cup of almond flour (or coconut flour)
INSTRUCTIONS:
Preheat oven to 425 degrees
Line a pizza pan or baking sheet with parchment paper
In a large bowl, combine the cream cheese and mozzarella cheese. Microwave for about 1.5 minutes, stirring once.Stir again at the end until both cheeses are well mixed
Stir in the eggs and almond flour (or coconut flour)
Knead the dough with your hands. If it is too sticky, put a small amount of oil on your hands. If it becomes hard before it is well mixed, put it back in the microwave for 10 or 15 seconds to make it soft again.
Spread the dough on your prepared pan using your hands or a rolling pin
Use a toothpick or fork to make holes all over the dough to prevent bubbles
Bake for 6 minutes. Check to see if bubbles have formed and poke them with a toothpick if you see any
Bake for another 4-7 minutes, or until lightly brown
Remove from oven and top with pizza sauce, more mozzarella cheese, pepperoni, sausage, veggies, anything you happen to like on your pizza.
Bake for another 10 minutes or until cheese is bubbly
4. Easy Cheesy Meatballs
We simply can't get enough of Italian food, but the pasta usually makes most Italian favorites out of reach for low carb lovers. These scrumptious meatballs are not only super low carb and delish all on their own, but we love how you could also serve them over zucchini noodles or cauliflower rice. This recipe serves six so after meal prep, you will be able to share some with your SO or enjoy them for dinner as well.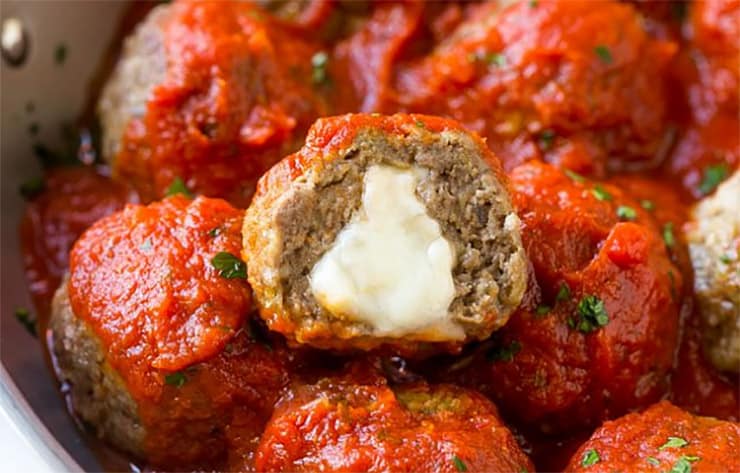 INGREDIENTS:
1.5 Pounds of 85-90 percent lean ground beef
1/3 Cup of bread crumbs
1 Teaspoon of salt
½ Teaspoon of ground pepper
½ Teaspoon of garlic powder
½ Teaspoon of dried oregano
1 Large egg
2 Tablespoons of water
6 Ounces of mozzarella cheese, cut into ½ inch cubes
3 Cups of no added sugar marinara sauce, slightly warmed
2 Tablespoons of fresh parsley, chopped
INSTRUCTIONS:
Preheat your broiler and line a baking sheet with aluminum foil
Spray the aluminum foil with a zero calorie cooking spray
In a large bowl, mix together the beef, breadcrumbs, spices, egg, and water. If it seems too dry, add another tablespoon or so of water until you get a smooth texture
Roll about 2 tablespoons worth of the meat into a ball. Press one cube of cheese in the middle and then cover with meat. Be sure the cheese is completely covered or it will leak out.
Continue until all the meat has been used
Spray the top of the meatballs with another shot of cooking spray
Broil for 10 minutes or until the meatballs are just turning brown
Place on a plate and cover with the marinara sauce
Sprinkle with parsley or even a sprinkle of Parmesan cheese if desired
5. Luscious Low Carb Tacos
Do you feel left out on Taco Tuesdays? Well, not anymore! We have a low carb taco that uses a cheese shell, rather than corn or flour tortillas! You just need to set up a "taco shell station" that will form your taco shell.
To do this, simply put two glasses a few inches apart, and then place a large cooking spoon on the top. You will melt the cheese, and then drape the cheese over the spoon. Once it cools, you have a cheese shell for your taco.
This recipe serves 8 and each taco is only 3 net grams of carbs. Taco Tuesday here we come!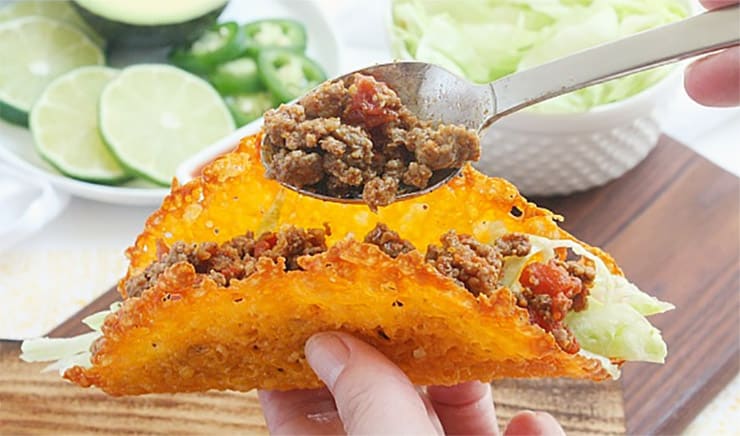 INGREDIENTS:
½ Pound of ground beef
½ Pound of ground chorizo
2 Tablespoon of cumin
3 Tablespoons of chili powder
¼ Teaspoon of salt
10 ounces of Ro-Tel
2 Cups of shredded cheddar cheese
Your favorite toppings such as sour cream, lettuce, onions, avocado, etc.
INSTRUCTIONS:
Preheat the oven to 350 degrees
On a large baking sheet lined with parchment paper (or you can use a silicone mat) make ¼ cup piles of cheese about 2 inches apart
Press down the cheese so it makes one layer
Bake for 5 to 7 minutes or until the edges of the cheese start to brown
Let the cheese cool for just 2 or 3 minutes, then lift it up and place it over the handle of the spoon that is balanced on the cups
Let the cheese cool, then remove it
Cook the ground beef and chorizo together in a skillet
Drain the grease, then add the can of Ro*Tel, chili powder, and cumin
Simmer about 5 minutes
Add salt and pepper
Add the meat mixture to your cheesy taco shells and fill with your favorite toppings!
6. Keto Cheeseburger N Bacon Casserole
One of the things everyone loves about a casserole is how easy they are. Most of them use only one or two dishes, most are one dish meals, and they cook while you are busy doing other things.
This cheesy casserole will become a staple at your house. Who doesn't love bacon cheeseburgers? Better still? It's ready from start to finish in one hour!
This recipe uses a 9 X 13 baking pan and serves 12. Each serving has 4 net grams of carbs, so you can probably feel good about going back for seconds!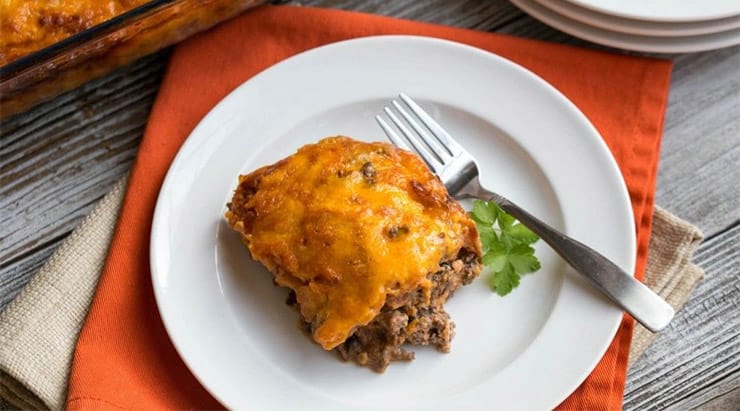 INGREDIENTS:
2 Pounds of ground beef
2 Large cloves of garlic
1 Pound of bacon, cooked and chopped into pieces
8 Eggs
½ Teaspoon of onion powder
1 Can of tomato paste (6 ounce can)
1 Cup of heavy cream
½ Teaspoon of salt
¼ Teaspoon of pepper
12 ounces of grated cheddar cheese (sharp is best, but any cheese is fine)
INSTRUCTIONS:
Preheat the oven to 350 degrees
Brown the ground beef in a skillet with the garlic and onion powder
Drain the grease, then spread the meat on the bottom of your casserole pan
Stir the bacon pieces in with the ground beef
In a large bowl, whisk together the eggs, cream, salt, pepper, and tomato paste until well combined
Stir in about 8 ounces (1 cup) of the cheese into the eggs
Pour the egg and cheese mixture over the bacon and beef
Top with the remaining cheese
Bake for 30 to 35 minutes or until nicely brown on top
7. Keto Zoodles and Sauce
If you love Italian food and really miss those Sunday spaghetti dinners, we have the next best thing! We are betting you can even serve this to your family and they won't notice that those aren't noodles! (BTW, if you have bought a sprializer, check out this beauty here)
This recipe serves 6 and one serving (which is about 1 zucchini and 1.5 cups of sauce) will set you back only 17.6 net grams of carbs!
You might want to make a double or even triple batch of this sauce since it works so well with just about anything Italian.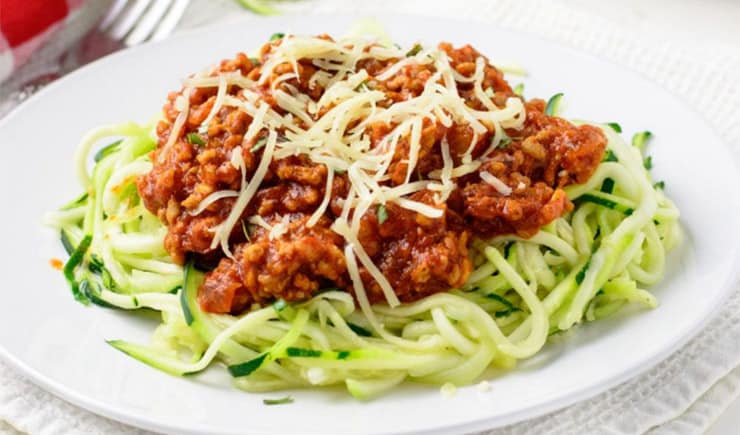 INGREDIENTS:
For the Zoodles
6 Medium sized zucchini, spiralized
2 Tablespoons of olive oil
1 or 2 Cloves of minced garlic
For the Sauce:
1 Tablespoon of olive oil
1 White onion, chopped
1 Large stalk of celery, chopped
3 Cloves of minced garlic
1 Pound of ground turkey or ground beef
1 Can of crushed tomatoes (28 ounce can)
1 Can of tomato paste (6 ounce can)
½ Cup of dry red wine
1 Teaspoon of oregano
1 Teaspoon of basil
½ Teaspoon of salt
¼ Teaspoon of black pepper
2 Bay leaves
Fresh basil, chopped (as a garnish/optional)
INSTRUCTIONS:
Spiralize the zucchini and set aside on paper towels. You can sprinkle with a bit of salt to help dry them out
Drizzle olive oil in a heavy saucepan over medium high heat
Sauté the onion, garlic, and celery for about 3 minutes
Add the ground beef (or turkey) and cook until brown
Drain the meat
Add the remaining ingredients and bring to a boil
Reduce heat and simmer for 30 minutes
In a separate skillet, drizzle the olive oil and cook the garlic and zucchini over medium high heat until fragrant (about 2 minutes)
Add some salt to the zoodles if you didn't do so earlier
Top the zoodles with the sauce and serve hot
8. Vegetable Fried "Rice"
We don't know anyone who doesn't love Chinese food, but sometimes all the sauces and breaded meats is too much for the keto lover in the house. We have found a wonderful alternative that tastes exactly like your favorite Chinese take-out restaurant.
You can use a food processor to make the rice out of a nice head of cauliflower, but if that's even too much for you, then buy bags of frozen cauliflower "rice" from your supermarket.
This recipe serves 4. Each serving (which is about 1.25 cups) is only 10 grams of net carbs.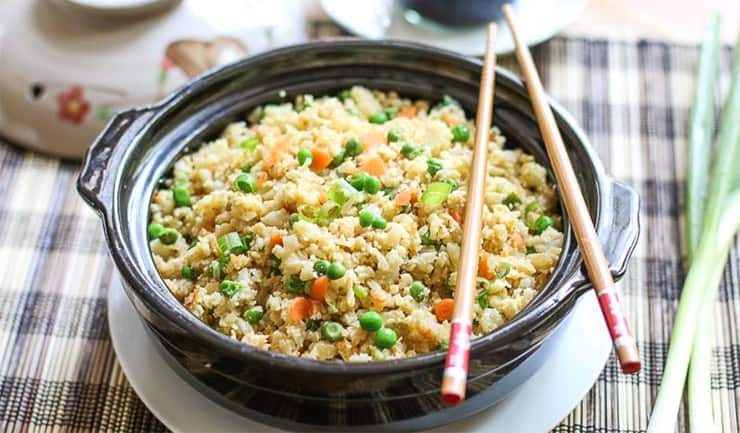 INGREDIENTS: (If you are using frozen cauliflower rice, you can skip the cauliflower, obviously!)
1 Large head of cauliflower, cut into florets
1 Small yellow onion, finely chopped
½ Cup of frozen peas (canned are OK if that's all you have)
½ Cup of cubed carrots
2 Large eggs, beaten
1 Tablespoon of sesame oil
¼ Cup of soy sauce (low sodium is best)
1 Tablespoon of brown sugar
½ Teaspoon of ground ginger
A pinch of red pepper flakes
2 Tablespoons of green onions (just the green tops) chopped
INSTRUCTIONS:
Place the cauliflower florets in a food processor and pulse until it looks like rice
In a wok or large skillet, drizzle the sesame oil and turn on the flame to medium high
Add the onion, carrots, and peas. Sauté for about 2 minutes
In a small bowl, whisk the brown sugar, ginger, red pepper and soy sauce
Slide the veggies over to one side of the pan
Add the beaten eggs on the other side of the wok, scrambling until cooked
Mix the scrambled eggs and veggies together
Stir in the rice and pour the soy sauce mixture over the top
Cook for 3 to 5 minutes, or until the cauliflower rice is soft
Top with green onions and serve hot
9. Fried Scallop and Chorizo Dream
This is a true seafood lover's delight. Perfect for lunch or dinner, sweet scallops seem to be a perfect match for the slightly spicy chorizo.
You can use fresh or frozen scallops for this recipe, which serves 5. Each serving is a tiny 7.5 grams of net carbs, so you can feel good about having another serving!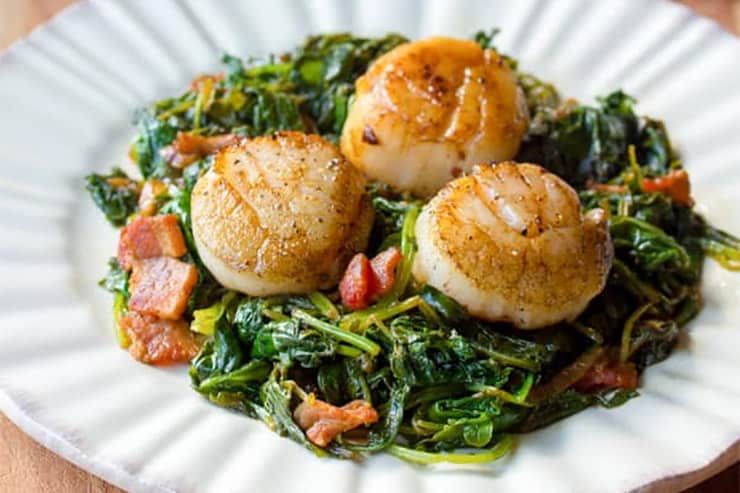 INGREDIENTS:
1 Pound of raw scallops (this will give each serving about 2-5 scallops, depending on the size)
2 Tablespoons of coconut oil
2 Pounds of frozen spinach, thawed
4.5 Ounces of chorizo (you could also use sausage if you prefer)
¼ Cup of heavy whipping cream
1 Cup of finely grated Parmesan cheese
2 Large cloves of garlic. diced
½ Teaspoon of salt
2-4 Tablespoons of freshly chopped parsley
2 Tablespoons of fresh lemon juice
Added lemon wedges as a garnish
A few grinds of fresh black pepper
INSTRUCTIONS:
Squeeze any remaining water out of the spinach and set aside
Dice the chorizo into bite sized pieces
In a frying pan, put one tablespoon of coconut oil, then cook the chorizo for about 3 to 5 minutes or until slightly crispy. Don't turn off the flame!
Transfer the chorizo to a bowl, using a slotted spoon
Wash the scallops to remove any last bits of grit (Frozen scallops are probably already cut, but if you have fresh scallops, remove the muscle that attaches it to the shell. If you haven't done this before, watch this video)
Cut the scallops widthwise and place on a paper towel. Sprinkle them with salt and pepper
Using the same pan you used for the chorizo, add the scallops in a single layer, frying for about 2 minutes on each side. Put a paper towel on a plate to help absorb any oil and set the scallops on the plate when finished
Return the scallops and chorizo to the pan and cook for another minute. Transfer to a plate or bowl; do not leave this mix sitting in the pan.
In a separate pan, add two tablespoons of coconut oil and cook the garlic for just about 1 minute.
Add the spinach and stir well
Add the cream and cook for one more minute
Add the Parmesan cheese and remove from heat
Give the spinach another stir or two with the spoon
Put the spinach on a serving plate or scallop shells, if you have them
Top with scallop and chorizo mixtures
Drizzle with the lemon juice and garnish with parsley and lemon wedges
10. Keto Chicken Pot Pie
This is an all time favorite meal and one you most likely thought you had to cut out of your keto diet. This is where you are wrong, however! This recipe serves 4 and each delicious little pot pie is a mere 11 grams of net carbs! Who knew?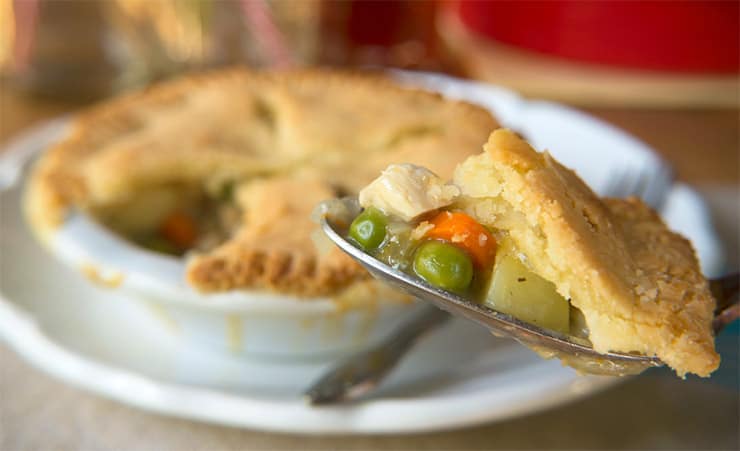 INGREDIENTS:
For the Dough:
1.5 Cups of shredded mozzarella cheese
3 Tablespoons of cream cheese
¾ Cup of almond flour
1 Large egg
1 Teaspoon garlic powder
1 Teaspoon onion powder
1 Teaspoon Italian seasoning
1 Teaspoon salt
½ Teaspoon black pepper
For the Filling:
12 Ounces of cooked chicken, cut into small cubes
¾ Cup of heavy cream
½ Cup chicken stock
½ Cup frozen peas
¾ Cup sharp cheddar cheese, shredded
2 Tablespoons of Dijon mustard
3 Tablespoons of butter
½ Cup of diced onion (any color)
½ Cup of celery, sliced
½ Cup of carrots, sliced
3 Cloves of minced garlic
INSTRUCTIONS:
For the Dough:
Preheat oven to 375 degrees
In a large bowl, mix the cream cheese and mozzarella
Microwave for one minute, and then stir
Microwave for one more minute, then mix in the remaining ingredients
Divide the dough into 4 equal circles
Put each piece on a mini pie pan
For the Filling:
In a large skillet, heat the butter, then add the celery, onions, carrots, and garlic, along with the salt and pepper
Sauté for a few minutes, until the vegetables are soft
Add the remaining ingredients and bring to a boil
Once the pot is boiling, reduce heat and simmer for about 7 minutes
Mix in the cheese
Divide this evenly into the 4 pot pies
Bake for about 20 minutes, or until lightly brown on top
11. Sausage & Cabbage Keto Casserole
We love casseroles almost as much as we love our Instant Pots. (By the way, if you don't have an Instant Pot yet, this one is the bomb!) This recipe takes less than an hour from start to finish. You can feed 8 people with this recipe and each serving is only 8 net grams of carbs. Maybe you should only invite 4 people so you can have seconds!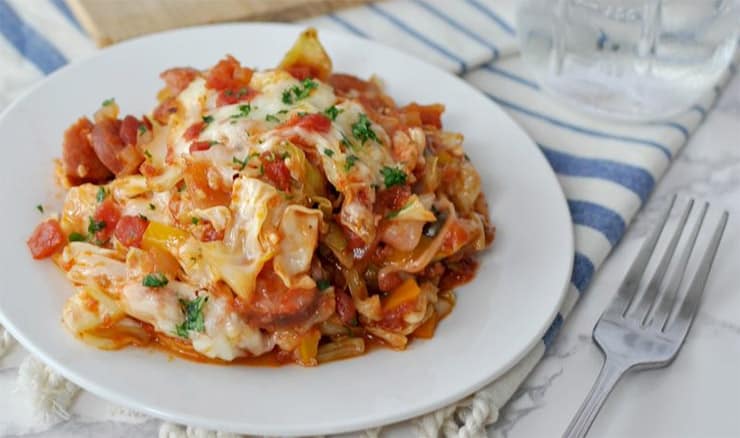 INGREDIENTS:
14 to 16 Ounces of smoked sausage, halved and cut into half moon slices
1.5 Cups of mozzarella cheese, shredded
1.5 Cups of crushed tomatoes
14.5 Ounce can of diced tomatoes
2 Tablespoons of olive oil
2 Tablespoons of butter
1 Medium head of cabbage, cored, quartered, and sliced
1 Large yellow bell pepper, chopped and seeded
1 Cup of diced onion (any color)
4 Cloves of garlic, minced
¼ Cup of Italian flat leaf parsley, roughly chopped
Salt and pepper to taste
INSTRUCTIONS:
Preheat your oven to 400 degrees
In a large skillet, heat the olive oil and butter over medium heat
Once the butter has melted, add the cabbage, bell pepper, garlic, onion, salt and pepper
Sauté until the veggies are slightly soft and the cabbage is wilted (about 10 minutes)
Mix in the tomatoes and sausage
Sauté for another 10 minutes
Transfer to a large casserole dish and top with the cheese
Bake for 15 minutes
Top with the parsley and serve hot
12. Honey Mustard Keto Chicken
With just two ingredients, this tasty dinner will prove that sweet and savory go together like hand and glove. Add a salad and a vegetable and this will become a weeknight staple. This recipe serves 4 and each chicken breast is only 1 gram of carbs. What more could you ask for?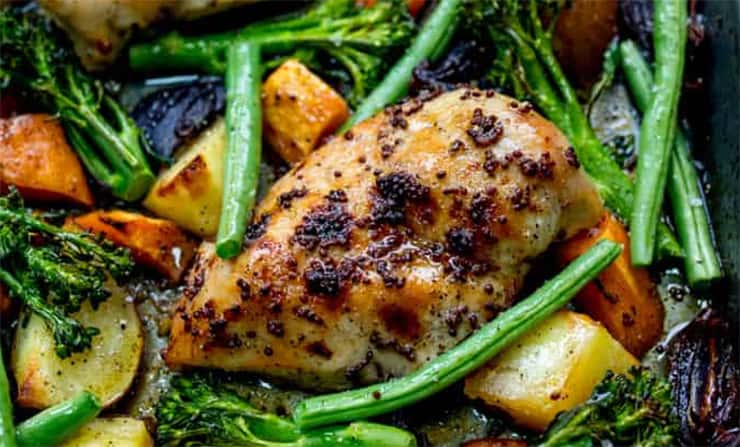 Ingredients
4 Boneless, skinless chicken breasts
1 Cup of Keto Honey Mustard dressing
2 Tablespoons of olive oil
Honey Mustard INGREDIENTS:
½ Cup sour cream (full fat)
¼ Cup of water
¼ Cup of Dijon mustard
1 Tablespoon of apple cider vinegar
1 Tablespoon of Splenda or Erythritol
INSTRUCTIONS:
Mix together the honey mustard dressing ingredients in a bowl
Preheat the oven to 350 degrees
Place the chicken in a bowl and pour ½ cup of the dressing over the chicken
Toss the chicken, being sure all pieces are thoroughly coated
Allow to marinate for a minimum of 20 minutes (overnight is best)
Heat the olive oil in cast iron skillet
Once the pan is hot, add the chicken and pan sear on both sides, about 3 to 4 minutes per side
Pour the remaining ½ cup of dressing over the chicken and move the skillet to the oven
Bake for 20-25 minutes or until chicken is completely cooked.
1. Spaghetti Squash with Bacon
This recipe is for all the potato lovers out there who miss their scalloped potato casseroles or au gratin potatoes. Spaghetti squash is a very close second when it comes to tasting like potatoes. Add a bit of bacon and this becomes more than a side dish, but a full fledged keto friendly meal.
This easy to make recipe serves 10, with each serving setting you back only 8 grams of net carbs. Make enough to take to lunch the next day because you will really want to!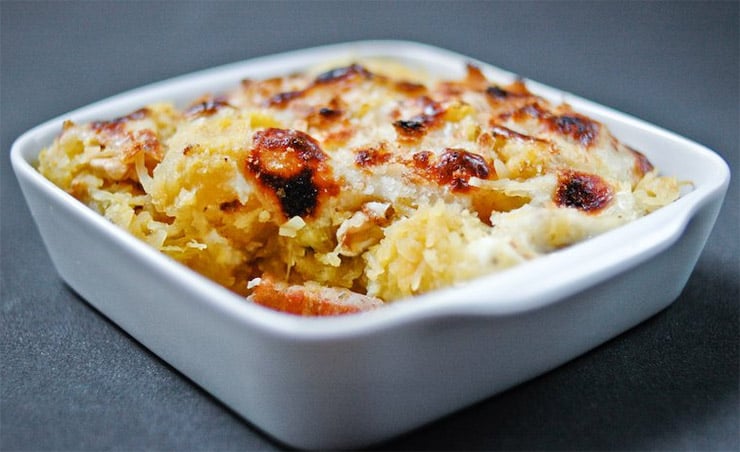 INGREDIENTS:
1 Large spaghetti squash
2 Tablespoons of olive oil
2 Tablespoons of butter
2 Cloves of garlic, minced
1 Small onion, sliced (any color)
8 Slices of bacon (cooked crisp and crumbled)
1.5 Cups of sour cream
2 Cups of shredded cheddar cheese (Sharp is good)
¼ Cup of grated Parmesan cheese
Salt and pepper to taste
INSTRUCTIONS:
Preheat the oven to 400 degrees
Line a rimmed baking sheet with aluminum foil
Cut the squash in half lengthwise and remove the seeds
Drizzle olive oil and sprinkle salt/pepper on the cut side of the squash
Place cut side down on the baking sheet and cook for 30 minutes
While squash is cooking, heat the butter, garlic, and onions over a medium flame until the onions are lightly caramelized.
After the squash is cool, scrape the flesh into a mixing bowl using a fork
Add all ingredients and mix well
Transfer to a baking dish
Reduce oven temperature to 350 degrees and bake another 20 minutes.
14. Taco Skillet Duo
We like to call this one the duo because you can actually make it for breakfast or dinner! One pot means next to no clean up and it's ready in about an hour! Now you no longer have to worry about what to make for Taco Tuesday! This recipe serves 6, with each serving having a skinny 9 net grams of carbs.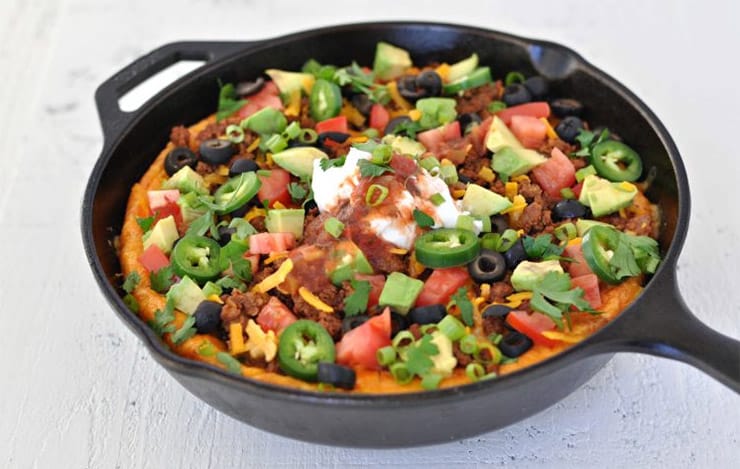 INGREDIENTS:
1 Pound of ground beef
4 Tablespoon of a powdered taco seasoning
2/3 Cup of water
10 Eggs
1.5 Cups of sharp cheddar cheese
¼ Cup heavy cream
1 Roma tomato, diced
1 Avocado, peeled, pitted, and cut into cubes
¼ Cup sliced black olives
2 sliced green onions
¼ Cup of salsa (any flavor)
¼ Cup of sour cream
1 Sliced jalapeno pepper (optional)
Cilantro (for garnish – optional)
INSTRUCTIONS:
In a large skillet, brown the ground beef and drain the fat
Add the taco seasoning and water, stir
Reduce the heat and let simmer for a few minutes, until the sauce has thickened
Remove half of the beef from the skillet
Whisk the eggs in a large bowl
Add 1 cup of the cheese and the cream to the eggs, whisk well
Preheat the oven to 375 degrees
Pour the egg mixture over the meat in the skillet and stir
Bake for 30 minutes or until the egg is cooked
Top with the remaining ground beef, cheese, tomato, avocado, olives, salsa, sour cream and green onion
Garnish with the jalapeno and cilantro if you wish to use it
15. Mediterranean Pesto Chicken Casserole
Did someone say cheesy chicken dinner? Doesn't that sound too good to be true? Not with this recipe! This has healthy olives, feta cheese, and a yummy pesto sauce, along with only 7 net grams of carbs per serving. This recipe serves 4, so you might want to double it and save some for lunch!
INGREDIENTS:
1.5 pounds of chicken (thighs or breasts, your choice)
2 or 3 ounces of butter for frying
3 to 4 ounces of red or green pesto sauce (your choice)
1.5 Cups of heavy whipping cream
8 Ounces of diced feta cheese
8 Tablespoons of pitted black olives
1 Clove of garlic, finely chopped
Salt and pepper to taste
For Serving:
5.5 Ounces of leafy greens
4 Tablespoons of olive oil
Salt and pepper
INSTRUCTIONS:
Preheat oven to 400 degrees
Cut the chicken into bite sized pieces and season with salt and pepper
Add the butter to a heavy skillet and fry the chicken pieces until lightly brown
Mix the pesto sauce and heavy cream in a bowl
Put the chicken, olives, feta cheese, and garlic in a casserole dish
Add the pesto sauce and mix a bit, being sure that the chicken is covered in sauce
Bake for 20 to 30 minutes or until sauce is bubbly