10 Wrap Recipes That Helped Me Lose 130lbs
For those that have struggled with weight most of their life, you probably understand where I'm coming from when I say it's HARD to keep the weight off. Over the last 3 years I slowly lost 130lbs!
The journey was a tricky one both physically, and mentally. Losing weight is not linear, there will always be ups and downs; so it is important to be kind and patient with yourself.
RELATED ARTICLES
I tried almost every diet out there from restrictive eating to clean paleo. If you've heard of it; chances are I've done it! The problem was, everytime I restricted another food group or tried a new diet, the minute I stopped all the weight came right back.
I finally learned that the secret to a successful diet was the ability to enjoy my favorite foods, but in a healthier version.
Learning how to cook with new and healthier ingredients helped me gain confidence in the kitchen. It also taught me how to make low calorie food substitutions in order to stay on track with my weight loss goals.
It was in this mindset and wellness shift that my life changed for the better!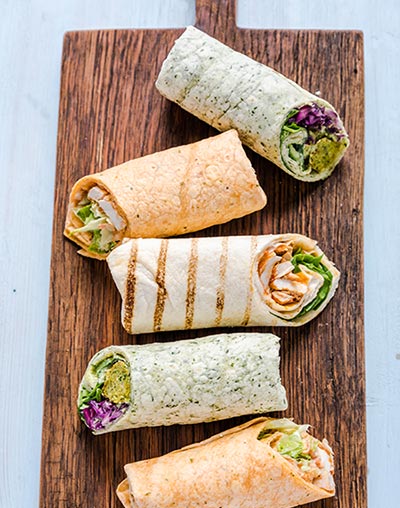 The perfect portable meal that's low in calories and easy to customize.
Foods that Helped my 130 lbs Weight Loss
Some foods that helped me get to and maintain my healthy weight loss were low calorie wraps. Similar to sandwiches or a burrito, wraps use soft and pliable bread in the form of a flatbread or tortilla. Then you can fill it with whatever healthy fix-ins your diet allows.
Therein lies the perfect portable meal that's low in calories and easy to customize.
While the nutrition count in wraps can always vary slightly, overall the bulk of the ingredients is largely up to you. Meaning, it is easy to make a meal that fits your lifestyle goals while still spicing up lunch time routines.
Wraps for Different Diets
If you are doing keto, low carb or WW (Weight Watchers) wraps are the perfect meal for you. Most fillings like chicken, shrimp, eggs, vegetables, and turkey are already zero points. It also makes wraps fantastic for those trying to eat a high protein low calorie diet too.
Picking the wrong wrap can be a dietary nightmare though if you choose one full of high calorie meats and sauces. Check out our article about picking and making your own healthy wrap flatbread that is just 100 calorie!
Tips to Create your Perfect Wrap
Now that you are ready to try eating wraps for weight los just like me, it's time to learn how to make a nutritious and delicious wrap.
Picking a Protein
For starters make sure to pick wraps high in protein, but low in high calorie fillings. For example lean meats like chicken or fish work great, but breaded meats like chicken or fish fingers can add up in calories quickly. Finding lower calories meats also applies to the type of meat itself. Avoid greasy and fatty meats like bacon and pork.
Seasoning and Sauces
It is no question food needs flavor. Whether you choose to use sauces or spices it's important to create flavor in a low calorie way so you can sustain your weight loss.
Regardless of the protein used, try low calories seasoning like salt, pepper, garlic, oregano, basil, and a big squeeze of lemon.
Finally when it comes to sauces avoid fatty dressings like mayo or ranch. Not only are they high in fat and calories, but also salt and sugar. Instead ask for sauces on the side and control how much you use. Or try sauces that are historically low in calories like mustard, salsa or greek yoghurt.
Top 10 Wrap Ideas That Helped Me Lose 130lbs
Below are 10 of my favorite low calorie wrap ideas.
Wrap #1: Low calorie breakfast toasted wrap
Contains 362 calories, 42g of protein.
The perfect low calorie high protein breakfast wrap with ham and egg to get your morning started off strong.
Wrap #2: Low calorie and high protein Nandos wrap
Contains 360 calories, 52g of protein.
Do you love Nandos? You have to try this massive chicken Nandos wrap with 52 grams of protein.
Wrap #3: Giant low calorie and high protein chicken gyros
Contains 491 calories, 49 protein.
This massive chicken gyro has under 500 calories and almost 50 grams of protein. It is the perfect high protein lunch or dinner to keep you full for hours.
Wrap #4: Chicken pita wrap
Contains 352 calories, 57g of protein.
Pita is my go to wrap and this variation is stuffed with 60 grams of chicken based protein and creamy sauce!
Wrap #5: High protein cheesy buffalo chicken quesadilla
Contains 430 calories, 57g of protein.
Want even more buffalo chicken flavored foods? Try this low carb buffalo chicken quesadilla that is sure to be a crowd pleaser.
Wrap #6: Low calorie & high protein chicken kebab
Contains 490 calories, 61 of protein.
Chicken Kebabs are one of my favorite easy meals. This chicken kebab wrap is your favorite high protein meat, but stuffed into one easy convenient wrap!
Wrap #7: High protein chicken wrap
Contains 343 calories, 45g of protein.
This traditional chicken wrap is the perfect starter wrap. It's simple to make, uses just a few ingredients, and is easy to change ingredients here and there to fit your preferences.
Wrap #8: Chicken Yiros
Need a tasty low calorie wrap that is sure to satisfy fast food cravings? Try this chicken yiro packed with protein and healthy fats.
Bonus ...
Here is a youtuber who has come up with amazing wrap combinations for under three dollars!