Weight Watchers Friendly Frozen Meals
Let's face it folks, Life Happens! No matter how carefully you try to plan or control your life, the unexpected can happen, leaving you in the lurch.
If you have ever had a great meal planned, knowing that when you came home it would be steaming hot and ready in the crockpot only to find that you forgot to turn it on, then you know what we are talking about.
No one would argue that frozen meals are not the healthiest route to use on an everyday basis since they are usually loaded with too much sodium, unhealthy fats, and sometimes even hidden sugar that can really suck the life out of your WW Freestyle Smartpoints.
However, if you are faced with ordering a pizza or other type of 1,000 calorie fast food meal and a frozen dinner? You should take the frozen dinner every time.
In fact, we know a woman who lost 100 pounds by using frozen meals. If you missed her story, you can read about it here.
We are going to take a look at the best 10 frozen dinners around, so you can keep one in your freezer for those "just in case" moments.
1. Birds Eye Vegetable Pasta
These deserve the #1 spot on this list because if you hate frozen meals, these are going to completely change your mind! I cannot say enough good things about these amazing "you can do anything with them" veggie made pastas.
There are 8 different ones to choose from, all of them looking, tasting, and having the texture of pasta, but they are actually made from vegetables like cauliflower or zucchini. You will NOT be able to tell the difference unless you saw the package!
You can eat them as is, of course, or add grilled or left-over chicken, ground meat, pork, turkey sausage, or fresh vegetables like broccoli, snow peas, carrots, or bell peppers. Check out the selection: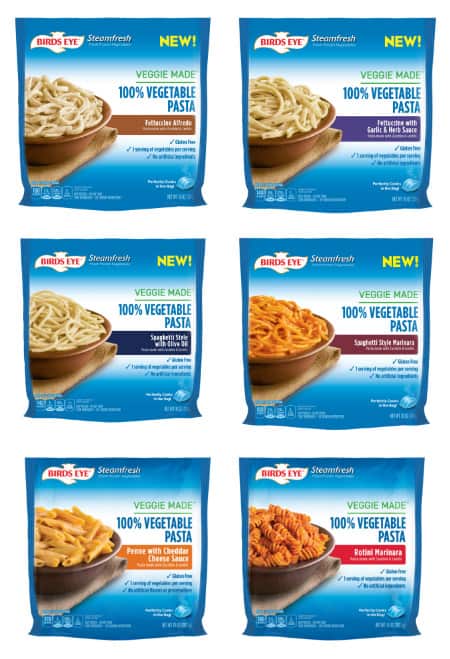 Go to Birds Eye
Fettuccine Alfredo
Penne Pasta with Cheddar Cheese Sauce
Fettuccine with Garlic and Herb Sauce
Penne Pasta with Olive Oil
Spaghetti style Pasta with Olive Oil
Rotini Pasta Alfredo
Rotini Pasta Marinara
Spaghetti style Pasta Marinara
~ 200 calories and 2-3 Fresstyle Smartpoints
I have eaten every single variety (one must taste test before giving your seal of approval, right?) and I don't care which one you choose, you cannot go wrong.
Since each of these has a different nutritional makeup, you will need to read the package, but they are generally under 200 calories and around 2-3 Fresstyle Smartpoints, have almost no saturated fat, very low sugar, with reasonable levels of protein, even before you add your meat.
Don't believe me? Try one and I bet you go back for more!
2. Green Giant Riced Veggies
Now this one is a winner no matter how you cook it! Green Giant has made rice from cauliflower and added some frozen veggies such as peas, onions, and carrots. You could simply cook this as is for a vegetarian meal, but the possibilities are endless if you have a few things on hand, such as eggs (zero points), cooked chicken (zero points), or some leftover pieces of beef or pork.
This would make a perfect base for a stir fry by adding any of the above ingredients or you could even add some freshly sliced fresh vegetables as well.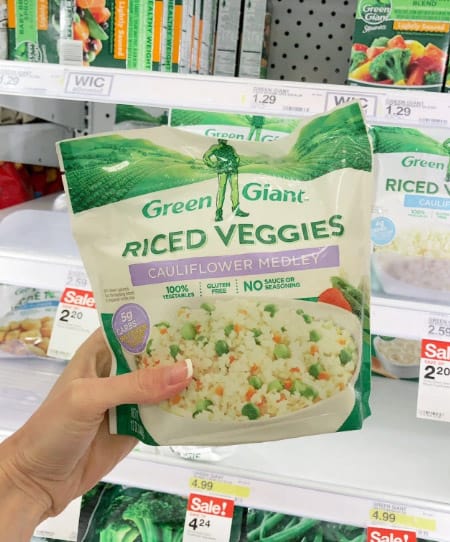 Since you can add so many variations to this, we will only post the nutritional information for this item. Be sure to include points from any foods that you might add to this. A one cup serving (8 ounces) would be:
Go to Green Giant
25 calories
0 fat
2 grams of fiber
5 grams of carbs
2 grams of protein
This is a tiny 1 Freestyle point. Add an egg, veggies or chicken and it's still 1 Freestyle point! How can you go wrong?
3. Evol Fire Grilled Chicken Poblano Meal
We have three words for Evol's Lean & Fit frozen meals; tasty, tasty, and tasty! Seriously, these taste so good, you might think you ordered take out from your favorite Mexican restaurant. This has fire grilled chicken, brown rice, black beans, poblano chilis (which have lots of flavor but aren't hot) and roasted corn in a guajillo chili sauce. Not at all spicy but flavor galore.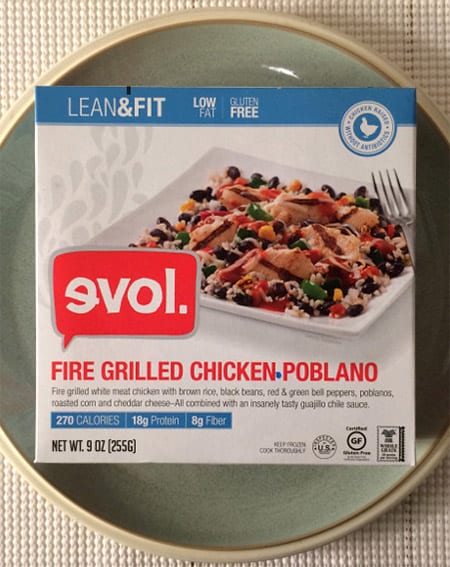 Go to EVOL
And check out the nutritional breakdown friends:
270 calories
2 grams of saturated fat
8 grams of fiber
39 grams of carbs
18 grams of protein
Only 5 Freestyle points in this meal. If you love Mexican food but don't like spending the time to cook it, you cannot go wrong with this one.
4. Eating Well Chicken & Wild Rice Stroganoff
Wild rice, chicken breast, brussels sprouts and carrots? Wow, that sounds so good! Eating Well is a popular brand of frozen dinners because of their high-quality ingredients. This meal would be so much better than a burger!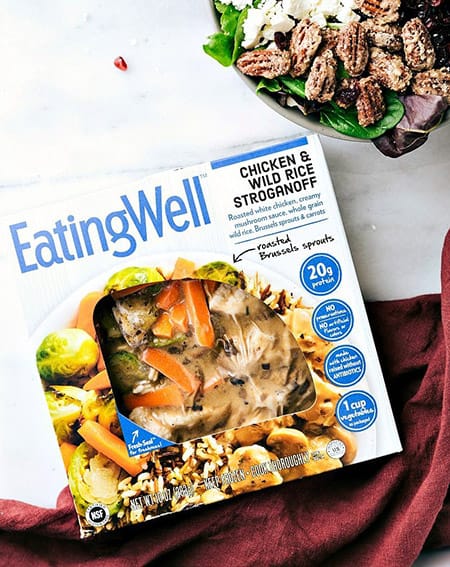 Go to EatingWell
Here's the nutritional breakdown:
280 calories
3 grams of saturated fat
5 grams of fiber
29 grams of carbs
21 grams of protein
This will set you back only 6 Freestyle points, which sounds like a winner in our book.
5. Healthy Choice Chicken and Vegetable Stir-Fry
Healthy Choice is the brand that started it all with their low cal and low carb frozen meals. Their food boasts nothing artificial, with no fillers and no added sugar. If you can't stir fry yourself, this is perhaps the next best thing. This chicken bowl comes from their "Café Steamers" line and it tastes really good.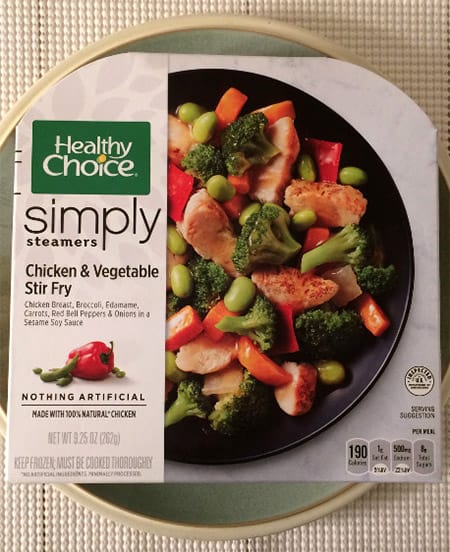 Go to Healthy Choice
Here's the breakdown:
190 calories
1 gram of saturated fat
4 grams of fiber
15 grams of carbs
23 grams protein
This vegetable stir fry will cost you only 5 Freestyle points. Winner, winner with this stir fry dinner!
6. Healthy Choice Grilled Chicken Pesto W/Vegetables
What can we say; we love these Café Steamers from Healthy Choice! For those who simply love pasta, this dish has vegetables, grilled chicken and rotini pasta.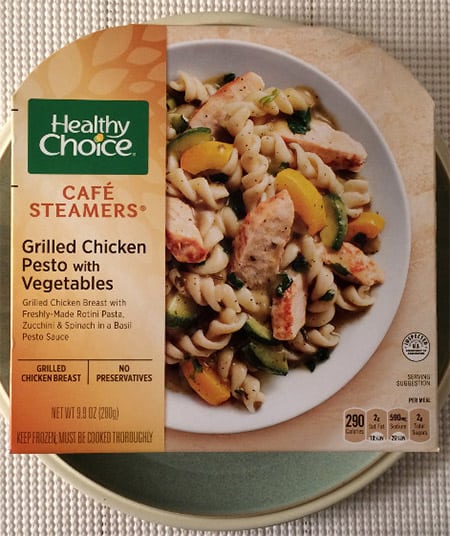 Go to Healthy Choice
Considering that it's frozen, this meal tastes good and has a decent nutritional breakdown.
280 calories
2 grams of saturated fat
3 grams of fiber
36 grams of carbs
20 grams of protein
You can enjoy your pasta and eat it too. This sets you back only 7 Freestyle points.
7. Birds Eye Veggie Made Garlic Chicken Meal
This is the ultimate in ready in minutes frozen meals. You don't have to add a single ingredient to these frozen entrees. Each serving has ½ cup of vegetables and the "pasta" is made from vegetables like cauliflower or zucchini.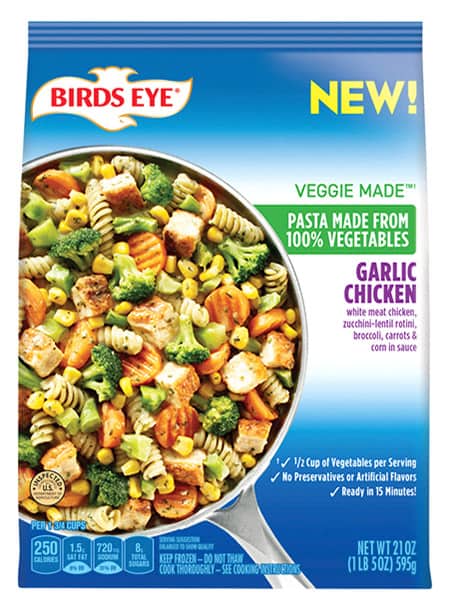 Go to Birds Eye
Let's look at the nutritional breakdown:
250 calories
1.5 grams of saturated fat
3 grams of fiber
29 grams of carbs
14 grams of protein
This is a skinny little 7 Freestyle points. Our only complaint about this meal is that one package has 3 servings. Now this might work for some people, but when many people have a family of 4- it would mean buying two packages. Of course, this can also mean leftovers for lunch so perhaps that's not such a bad thing.
8. Birds Eye Sweet and Sour Chicken Meal
We just had to include one more Birds Eye frozen meal because they are simply outstanding (as far as frozen meals go) Like the garlic chicken meal listed above, the rice in this meal is made from cauliflower, which makes it super healthy. There is a full 1 cup of vegetables in every serving.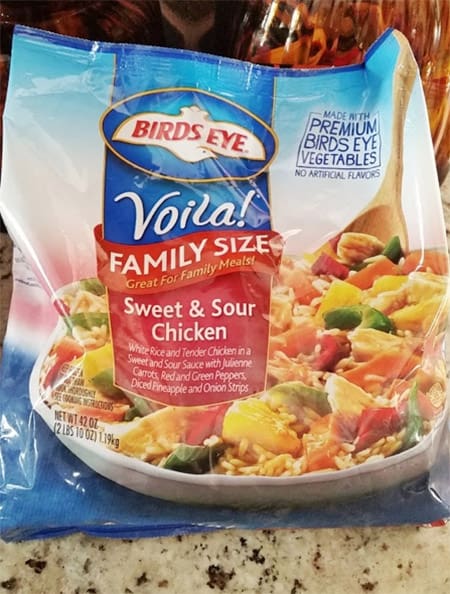 Go to Birds Eye
The sauce is a bit high in sugar, but as far as meals go, this one would be a good choice.
170 calories
0 saturated fat
2 grams of fiber
28 grams of carbs
10 grams of protein
This one is also only 7 Freestyle points for a full 2 cup serving, which is quite a bit. Again, like the other Birds Eye meal, our only regret is that this has only 2.5 servings per bag. Hey Birds Eye! Make bigger or smaller bags, would you??
9. Lean Cuisine Butternut Squash Ravioli
For the vegetarian lover, this is a great choice. This offers a 1 cup serving of vegetables by using butternut squash, walnuts, carrots, and snap peas in a light, creamy sauce. Lean Cuisine always offers top of the line quality that you can taste.
Go to Lean Cuisine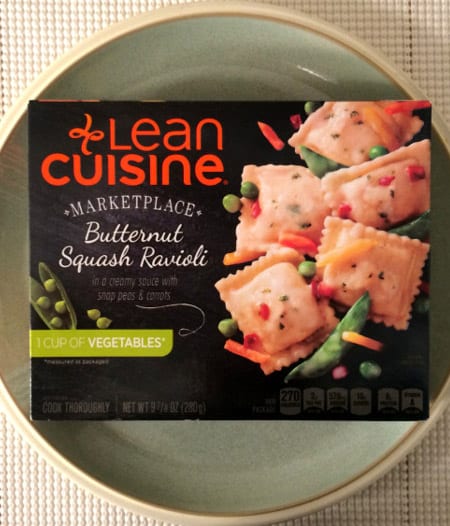 260 calories
2 grams of saturated fat
4 grams of fiber
46 grams of carbs
9 grams of protein
This is a bit high in carbs, but it still comes in at only 9 Freestyle points.
10. Kashi Fire Roasted Quinoa Bowl
Vegans need food too, right? Here's one that works for everyone, vegans included. Kashi uses Non-GMO Project verified foods, whole grains, and organic vegetables. This Mediterranean inspired dish uses roasted yellow peppers and delish lentils and quinoa for a satisfying meal that will fill you up.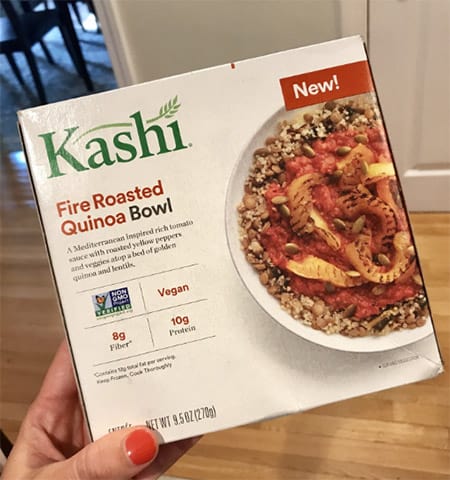 Go to Kashi
260 calories
2 grams of saturated fat
8 grams of fiber
33 grams of carbs
10 grams of protein
Only 8 Freestyle points, friends, and plenty of flavor for those who love to eat!
Keep in mind that fresh is best but in a pinch, keeping a few of these frozen meals on hand are probably the next best thing.
RELATED ARTICLES