Top 10 Tips for Eating Out On Keto
We've all been there! You are doing great on your ketogenic diet plan, you are making almost all your own meals and snacks, and then someone invites you to a business lunch or an old friend wants to have dinner at a nice restaurant in town. You don't want to say no, but you really don't want to break your diet either! What do you do?
RELATED ARTICLE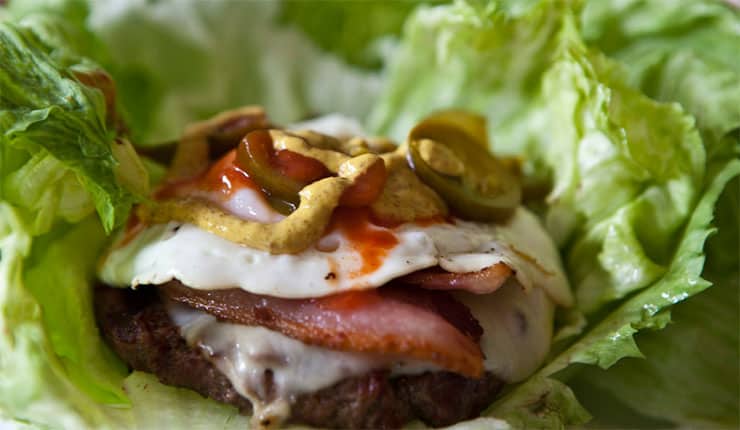 Bunless Burger. Turn a burger into a low carb alternative by ditching the bun and wrapping it with lettuce instead
Look at the top tips you can take advantage of when eating out. It's a lot simpler than you think!
1. Check the Menu Ahead of Time
Almost all restaurants have their menus posted online. Whenever possible, look up the menu online so you can have your choice ready before you sit down! Although calories don't count quite as much, you can check out the fat content, calorie count, and even alternative ways of cooking (when available) so you can spend more time chatting and less time worrying about your meal.
2. Remove the Temptations
By eliminating starches, such as bread, pasta, potatoes, and rolls, you will go a long way towards staying in ketosis. Many restaurants will bring nachos, breadsticks, or bread of some type before you order. Tell your mates that you are saving room for dessert and that you want to skip these appetizers. When you order your meal, ask to substitute the bread, rice, or potatoes for vegetables or a salad.
3. Fast Food Tricks
If everyone in the car wants to hit the drive thru for burgers, there is no need to be a wet blanket. Order what you like, simply ask to make it "protein style" or "lettuce wrap." If they refuse, then simply throw out the bun and enjoy your burger! Order a diet soda or water and pass on the fries for a side salad.
4. Watch the Sauce(s)
Be careful when it comes to sauces. Some of them, such as Béarnaise, are super fatty and fine for you, but others, such as BBQ sauce, are usually loaded with unwanted sugar. If you didn't get to check out the menu beforehand, ask the waiter about the sauces or opt for mustard or vinaigrette.
5. Drinks
It's best if you can stick with tea, coffee, water, or even sparkling water, but if you must indulge, have one serving of a light beer, wine, champagne, or even a one ounce serving of hard liquor, but no more than that.
6. About that Dessert
One of the best desserts is a nice cup of coffee and you can always claim that you are too full to consider eating anything else! However, if people insist that you have dessert, then try a cheese platter or some simple berries in real whipped cream.
7. Buffet Tricks
This one is easier than you imagine it will be. Although it's true that you will have to find the willpower to walk past those pies and cakes, you can feel free to fill your plate, if you pick the right foods!
Keep your GPS in mind - no, not that GPS, but Grains, Potatoes, and Sugar. If the food you are considering contains any of those, skip it! However, you can fill your plate with salad greens, vegetables, fried chicken, steak, and seafood! Take your time and make your choices carefully. You can always have some whipped cream and strawberries for dessert!
8. Eating at a Friend or Relatives House
This can be a bit difficult as no one wants to offend their guest, however, it has been our experience that if you explain that you are on a "health kick" or are on a "special diet", almost everyone will be understanding and will be sure to make and serve food items that will suit you.
Try saying things like "I'm on a special diet because I've been having digestion issues" or "my doctor wants me to eat less grains and sugar to see if those foods are affecting me". The word "digestive issues" or "stomach problems" usually makes people change the subject!
9. Worried You Will Overeat?
Although keto is not necessarily calorie restrictive, some people fear that they will "pig out" when they eat out. You can help solve this one by eating a bit at home or taking something with you to eat just before you arrive at the restaurant. A handful of nuts or a boiled egg or an ounce of cheese will take the edge off your appetite.
10. What about Pizza?
If everyone chips in for pizza, it's hard to tell everyone no, so try this instead. Order a meat lovers or veggie pizza. Really load up on toppings. Eat the toppings and cheese as much as possible. If someone asks why you aren't eating the pizza itself, you can claim you don't really like it or that you just "aren't in the mood" for so much "bread". You can eat some of the curst if you must, but try to focus on the toppings instead.
Tips by Restaurant Type
Mexican - Mexican restaurants are perhaps one of the easiest because once you pass on the chips or tortillas, you have a terrific keto meal! Fajitas are a terrific choice! Again, ditch the tortillas and simply eat right off the skillet. You can also order a "burrito bowl". Eat everything but the bowl (if it comes in a tortilla, or eat just a few spoonful's of rice. You can also order burritos or tacos and simply dump the contents onto a plate and throw out the tortilla.
Asian – This would include Japanese, Thai, and Chinese restaurants. Avoid anything that is fried or that comes in a sweet sauce. Try to order brown rice or brown sauce. Almost all Asian restaurants have fish dishes and vegetable dishes. See if you can get Crispy Duck, with the sauce on the side. Most stir-fries are a good choice, just ask for any sauce to go on the side.
Sub-Shops, Deli's, or Bakery Type Café's – Almost all of these places will have a Chef salad or a Chicken Caesar salad. Add plenty of avocados, hard boiled eggs, cheese, and olives and you have the perfect Keto lunch (or dinner)! Ask for Caesar, blue cheese, or oil and vinegar dressing on the side. If sandwiches are all they have, order whatever you like and eat only the inside of the sandwich, ditching the bread in the trash.
Indian – Choose kebabs, curries (without the potatoes of course), tandoori dishes or meat dishes such as chicken or tikka masala. Indian cheese is great, just be sure it doesn't contain flour or rice thickeners. Add some Raita with some cucumbers and don't forget the ghee!