The NEW MyWW+
[Please Note] The myWW Program is changing to WW PersonalPoints! Click here to check out the new PersonalPoints program.
In the wake of arguably the most challenging year the world has faced in decades, the folks at WW (formerly Weight Watchers) are once again adding to their repertoire and adapting to the times.
Many of us have felt isolated, anxious, and stressed in this new COVID-riddled world. This has led to poor eating habits, less exercise, strained sleep schedules, and an overall decline in mental and physical health.
Here, we will be detailing out WW's newest program titled myWW+.
If you are already familiar with myWW, which was rolled out in November of 2019, then some of this will be review. We want to give you a comprehensive guide to what myWW+ has to offer and how it can help you get through trying times.
NEW myWW+ is here

Not focusing on just diet and exercise but a holistic approach to your overall health.
What is myWW
To start, let's go over what the myWW program implemented over a year ago:
WW has always used SmartPoints (calculator) as the cornerstone of their weight loss program. SmartPoints use an algorithm to tabulate your caloric needs and how best to safely lose weight.
The myWW program aimed to personalize user experience when it comes to SmartPoints.
Instead of everyone being in the same program, users can choose a more specific program to their liking.
Unlike before, with myWW, your SmartPoints budget is directly impacted by whether you choose the green, blue, or purple plan.
The Green Plan will provide you with the largest SmartPoints budget ranging from a minimum of 30 to a max of 93.
The Blue Plan comes with a minimum of 23 SmartPoints and a max of 71. And the Purple Plan gives you just 16-50 SmartPoints.
Conversely, the Purple Plan gives you the largest list of zero-points foods while the Blue and Green give you smaller lists respectively. This allows users to better decide for themselves how strict or flexible their plan will be.
Whats NEW With myWW+
So, what has WW decided to do to ring in what will hopefully be a year of marked improvement from the now notorious 2020?
The simple answer is: WW is not focusing on just diet and exercise but a holistic approach to your overall health.
myWW+ is a comprehensive health program that includes metrics for health and wellness like mental mindset, sleep quality and quantity, and more help on exercise and food instruction that makes life simpler.
New Meal Planning Tools
You will also notice additions like the "What's in your fridge" meal planner that guides users into healthy meals based on what they have on hand.
This new functionality is a perfect tool in your toolbox for better meal planning when you're in a pinch. You can lower your food waste while simultaneously increasing the nutritional value of your meals at home.

The "What's In Your Fridge" feature will come up with recipes based on what you have on hand.
Fitness Workouts and Sleep Tracking Tool
Sync your myWW+ account with your fitness tracking device for added fitness integration. You can earn FitPoints and use provided workouts that come with your membership. You'll find mentally relaxing yoga workouts and intense fat-burning cardio.

Track your activity for today or explore workouts from FitOn and Aaptiv.
Another new element includes sleep tracking. We all know how important sleep is to our overall health. myWW+ strives to help users improve both the amount of sleep they get and provides tips for getting better sleep.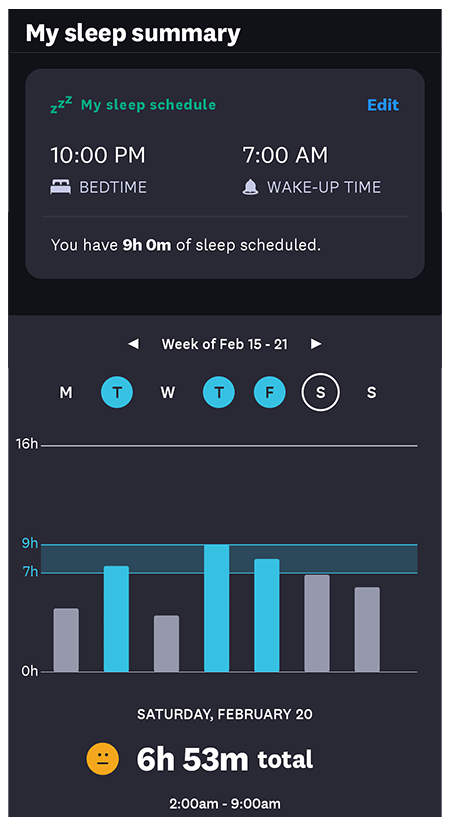 Set your bedtime and track your sleep with the new myWW+ Sleep Tracker.
You'll also find guided meditation in the new app. A proven aid in both better mental state and better sleep, meditation is a great way to get through the times we're living in and can allow you to focus inward.
Better Progress Tracking
Weekly check-in reports give you a rundown of how your week went and help you set a path for the week ahead. Truly like a life health coach, this new addition helps ensure you get the very most out of your membership and efforts.
The Bottom Line
Overall, myWW+ has an already successful weight loss program and made it more about a holistic approach to health. Imagine eating more healthy meals, ending food waste, exercising in your home and sleeping more, and focusing more on your mental health.
These things are sure to set you up for a better year than the previous (we won't even mention it again).