Top 10 Recipes Low On MyWW Points (Mediterranean Flavor)
The Mediterranean diet is ranked #1 by U.S. News in its Best Diets list and for good reasons. Every Mediterranean dish is a balance of vegetables, meat, herbs, nuts, and spices. The calories in these dishes can easily be changed to suit personal preferences.
The cooking techniques also add to the health factor since most of the recipes are either baked or grilled.
The Mediterranean cuisine is known to be heart healthy as well, one of the reasons being the replacement of butter with olive oil. Another reason is that the cuisine is more about white meat like fish, chicken, and turkey instead of red meat.
RELATED ARTICLES
Discover our menu of Weight Watchers myWW Mediterranean foods.
Here are the top 10 Mediterranean recipes low on myWW Points for all 3 Plans (Green, Blue, Purple).
1. Mediterranean Tuna Salad
If you think Mediterranean is all about kebabs think again. Here's a tuna salad that just went Mediterranean. Salads are a popular choice in weight loss diet plans and dieters are always on a lookout for different combinations. This recipe will not disappoint salad-enthusiasts who want to enjoy salads from a different cuisine. While parsley is optional, you should include it to experience what Mediterranean tastes like.
myWW Green: 6 Pts, myWW Blue: 4 Pts, myWW Purple: 4 Pts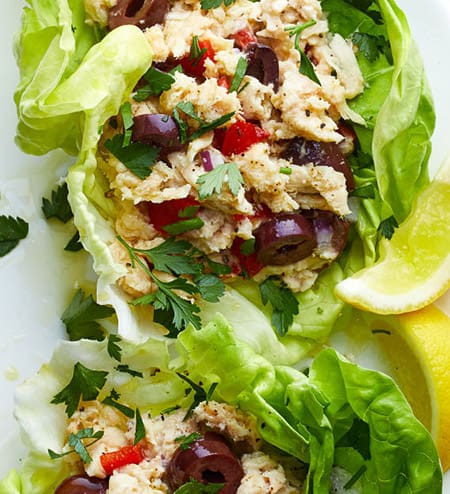 INGREDIENTS:
1 can Wild Selections solid white albacore tuna (drain the water)
8 kalamata olives, sliced
1/4 cup roasted red peppers, diced
2 tbsp capers
1 tbsp lemon juice
1 tbsp olive oil
1 tbsp chopped fresh flat-leaf parsley, optional
salt and pepper to taste
METHOD:
Flake the tuna in a salad bowl. Add the olives, red peppers, capers, and parsley. Toss all the ingredients to mix.
Pour the olive oil and the lemon juice and season with salt and pepper. Mix and enjoy!
2. Easy Baked Greek Chicken
Baked chicken recipes are the 'fall back' option when you run out of energy and time to fix a satisfying dinner. Marinate boneless chicken pieces and push it in a preheated oven and your dinner is pretty much ready. The marinade is a blend of fresh herbs and spices and made creamy with fresh Greek yogurt. Serve it with some sides like salads, dips, or pita breads. This baked Greek chicken recipe meets all your busy-evening criteria and your family's yummy-food demands.
myWW Green: 7 Pts, myWW Blue: 4 Pts, myWW Purple: 4 Pts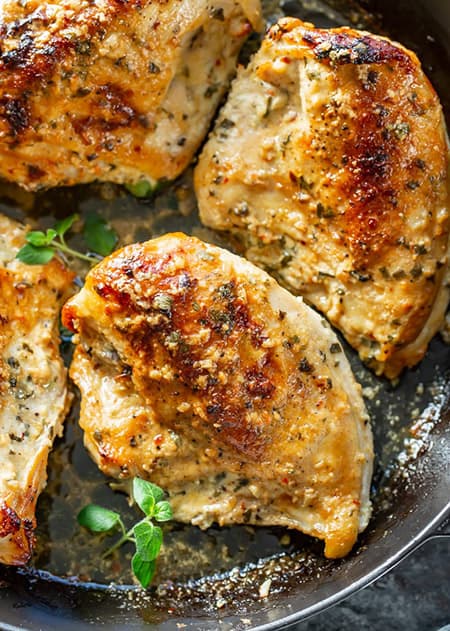 INGREDIENTS:
1 1/2 - 2 lbs chicken pieces (bone in)
Cooking spray
Marinade
1 cup plain Greek yogurt
3 tbsp olive oil
6 cloves garlic crushed and chopped
4 tbsp juice
Zest from one lemon
1/2 tsp kosher salt
1/2 tsp black pepper
1/8 tsp red pepper flakes
1/4 cup fresh oregano, leaves chopped
1/4 cup fresh parsley, chopped
METHOD:
Prepare the marinade by whisking the Greek yogurt with all the marinade ingredients.
Pour the marinade over the chicken pieces and let it marinate for 30 minutes to an hour.
Preheat the oven to 375°F. Grease an 8x8" pan with cooking spray or olive oil.
Drain the excess marinade and place the chicken pieces in the dish. Avoid piling up the chicken pieces. Bake the chicken pieces for 1 hour or until golden brown. In case you are using boneless chicken pieces, bake for 45 minutes. Use a cooking thermometer to confirm if the chicken has reached 165°F.
3. Spinach and Feta Stuffed Turkey
Add this recipe to your list of special weekend dinners. The pairing of tender turkey breast and flavorful spinach stuffing is a fulfilling, nutritious dinner and a perfect family dinner. The feta cheese and olive oil sets the Eastern mood while fresh dill brings in a distinctive aroma. You can also try substituting it with other soft herbs like parsley or basil but the taste and aroma will be noticeably different. If you are keen to experiment with seasoning, try ground paprika or cumin. Here is an all-in-one dish that deserves a special place on the table.
myWW Green: 7 Pts, myWW Blue: 5 Pts, myWW Purple: 5 Pts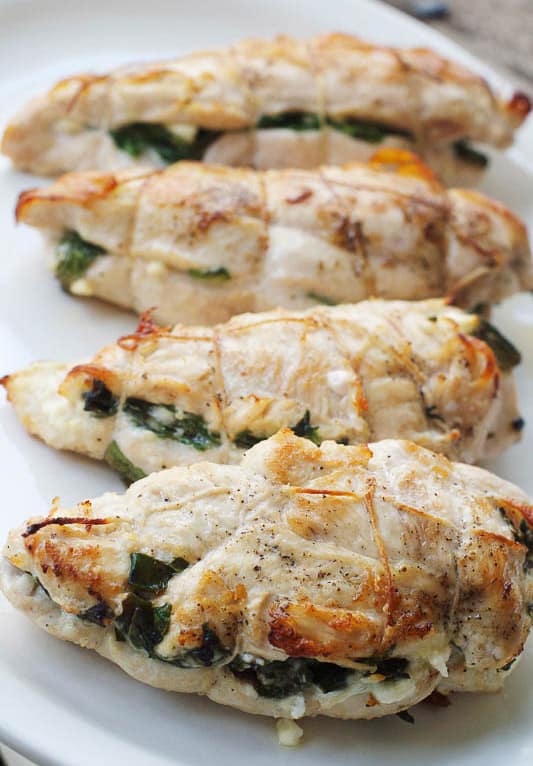 INGREDIENTS:
1 tablespoon olive oil
1 cup chopped yellow onion
2 tablespoons chopped fresh dill
5 ounces baby spinach
1 ounce crumbled feta cheese (about 1/8 cup)
4 (6-ounce) skinless, boneless turkey breast
1/2 teaspoon kosher salt
1/4 teaspoon black pepper
1 1/2 teaspoons olive oil
METHOD:
Heat a tbsp of olive oil in a large skillet. Add the onion and saute lightly till it turns pink.
Turn off the heat and stir in the dill, spinach, and feta. Allow this mixture to cool for 10 minutes.
Slit the turkey horizontally through the center till halfway to make a pocket. Fill each turkey pocket with the spinach and feta mixture. Use toothpicks to close the pockets. Season the turkey with salt and pepper.
Heat a large skillet over medium heat. Add 1 1/2 tsp olive oil and place the stuffed turkey in the pan. Fry for about 4 minutes on each side.
Reduce the heat and cover the pan. Cook till the turkey is done.
4. Greek Frittata with Feta & Dill
Who says you can't have Greek for breakfast? This Greek Frittata is packed with nutritious vegetables, cheese, and can serve the entire family. While spinach is rich in iron and calcium, fresh dill leaves are rich in Vitamins A, C, and B6, and Riboflavin. You can try other vegetables and decide what kind of frittata you like. Make sure to stick to the quantities. Here is a healthy dish from the Mediterranean spread that will help you lose weight.
myWW Green: 7 Pts, myWW Blue: 4 Pts, myWW Purple: 4 Pts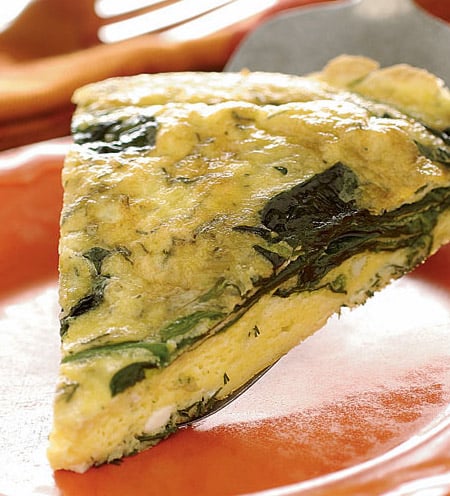 INGREDIENTS:
1 medium onion, chopped
5 ounces fresh baby spinach
½ cup roasted red peppers in water, drained and diced
2 medium plum tomatoes, deseeded and diced
2 cups egg substitute
⅔ cup feta cheese, crumbled
2 tbsp dill, minced
½ tsp kosher salt
⅛ tsp black pepper
METHOD:
Preheat oven to 350°F.
Grease a 10-inch oven-proof skillet. Heat over medium-high and add the onion. Sauté until softened.
Add the spinach, roasted peppers, and tomatoes. Mix lightly and cook till the spinach
In a bowl, whisk the egg substitute, feta, dill, salt, and pepper. Pour into skillet and cook until the eggs begin to set at the bottom. This would take about 5 to 7 minutes.
Place the skillet in the oven and bake till for about 15 to 20 minutes till the center is set. Cut into 6 pieces. has wilted.
Serve warm.
5. Greek Style Butter Beans with Rocket
Rich in fibre, iron, and proteins, this Greek recipe is a must-have. Greek Style Butter Beans with Rocket is a combination of diverse ingredients that compliment each other to give you a wholesome meal and the right flavor. Butter beans are smooth, creamy members of the beans famly and are popular additions to soups, stews, and salads. They are a healthier than potatoes as a source of carbohydrates and are rice in proteins and Vitamin B. Here's how you can enjoy butter beans Greek style.
myWW Green: 14 Pts, myWW Blue: 5 Pts, myWW Purple: 5 Pts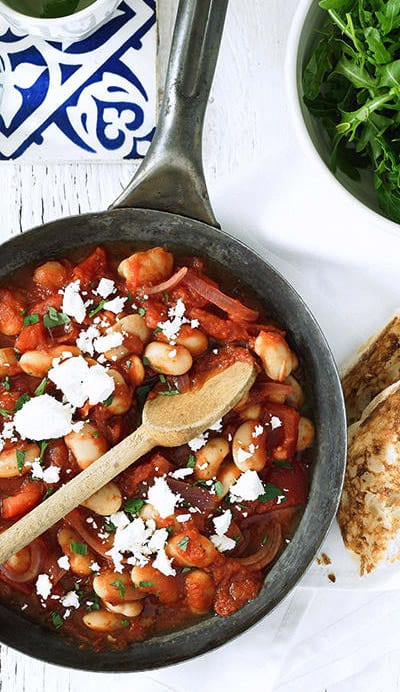 INGREDIENTS:
Butter Beans
1 tbsp olive oil
1 large red onion, halved and cut into thin wedges
3 garlic cloves, thinly sliced
690g jar tomato passata sauce
4 vine-ripened tomatoes, peeled, chopped and seeds removed
2 x 400g cans butter beans, rinsed and drained
1/2 cup flat-leaf parsley, chopped
2 tbsp oregano leaves, chopped
50g wild rocket leaves
1/3 cup finely grated pecorino, parmesan or feta cheese
Grilled garlic bread
6 slices crusty whole grain bread
olive oil
2 garlic cloves, crushed
METHOD:
Heat oil in a saucepan over medium heat and add the red onion and garlic. Saute for 3-4 minutes until tender.
Add the tomato sauce, tomatoes, beans and herbs. Cover and bring to a boil. Season to taste.
Just before serving toss through rocket. Sprinkle with cheese.
To make garlic bread, combine the oil with crushed garlic, then spread evenly over the wholemeal bread. Cook under a medium grill until golden.
Serve beans with grilled garlic bread or rice.
6. Greek Chicken Pitas
Substitute the monotonous sandwiches with Greek Chicken Pitas. The yogurt-cilantro sauce makes the entire dish creamy without any fats. You can freeze the marinated chicken to use them later on or whenever you want a quick fix. You can also refrigerate the leftover yogurt-cilantro sauce and serve it later as an accompaniment with other Mediterranean dishes.
myWW Green: 14 Pts, myWW Blue: 5 Pts, myWW Purple: 5 Pts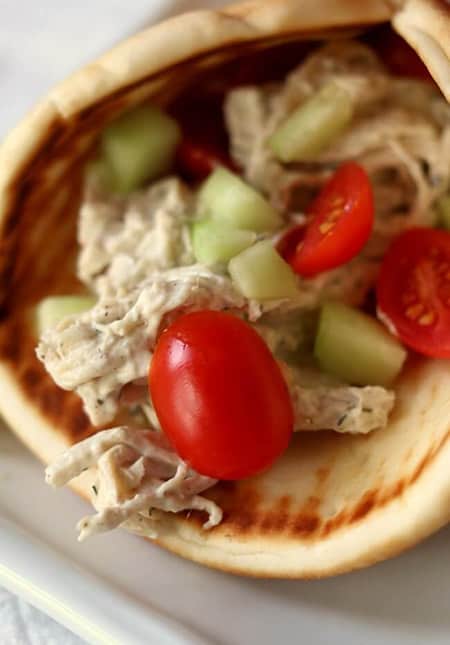 INGREDIENTS:
Chicken Marinade
1 pound uncooked boneless skinless chicken thigh, cut into strips
⅔ cup Greek-style plain fat-free yogurt
1 garlic clove, minced
1 tbsp fresh lemon juice
Cooking spray
Yogurt-Cilantro Sauce
⅔ cup Greek plain fat-free yogurt
2 tsp fresh cilantro, chopped
¼ tsp ground cumin
¼ tsp table salt
¼ tsp ground black pepper
Pitas
4 small whole wheat pitas
2 medium plum tomatoes, chopped
1 small cucumber, chopped
METHOD:
In a medium glass bowl, marinate the chicken combining all the ingredients listed. Cover and refrigerate for 2 to 3 hours.
Preheat oven to 400ºF. Grease a non-stick baking sheet with cooking spray. Drain off the excess marinade and place chicken on the prepared baking sheet. Bake until cooked well. Turn the chicken after 20 minutes.
Combine all the yogurt-cilantro sauce ingredients in a small bowl. Stir well.
Fill each pita with equal amounts of chicken, tomatoes, and cucumber. Add a spoonful of sauce.
7. Spanish Omelet with Olives & Red Pepper
Here is a low-point Mediterranean version of the popular Spanish Omelet. The cheese adds richness and is a perfect breakfast dish if you are looking for some diet-friendly indulgence. The olives and parsley add a distinctive Eastern taste, while the red bell pepper adds a slight sweetness. To make the omelet soft and fluffy, whisk the eggs vigorously for a few extra seconds.
myWW Green: 8 Pts, myWW Blue: 3 Pts, myWW Purple: 3 Pts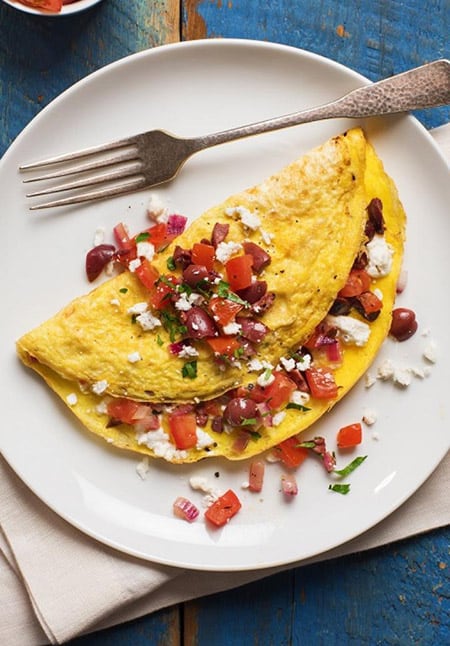 INGREDIENTS:
1 tsp butter
2 tbsp chopped red bell pepper
1 tbsp chopped onion
1 tsp minced garlic
2 eggs, beaten
2 tbsp water
1 tbsp chopped fresh parsley
2 tbsp shredded sharp cheddar or pepper Jack cheese
1 tbsp sliced pitted green olives
METHOD:
Heat butter in a nonstick omelet pan over medium heat. Add the bell pepper, onion, and garlic. Sauté until tender.
Increase heat to medium-high. Combine the eggs, water and parsley in a small bowl and pour into the omelet pan. The pan should be hot enough for the eggs to set immediately at edges.
Gently push the cooked portions from edges toward the center so that the uncooked eggs can reach the hot pan surface. Tilt the pan and gently move the cooked portions as needed.
When the surface of eggs is set, sprinkle the cheese and olives. Fold the omelet in half. Slide the omelet onto a plate and serve immediately.
8. Grilled Mediterranean Chicken Kebabs
Succulent and flavorful, grilled chicken kebab is the perfect dish for your summer barbecue. Kebabs should be marinated before cooking to enhance the flavor. The longer you marinate the meat, the better it tastes. If you want to skip preparing the accompaniments at home, pick one from the market shelves. Hummus, tzatziki, or feta dips make the best partners.
myWW Green: 7 Pts, myWW Blue: 3 Pts, myWW Purple: 3 Pts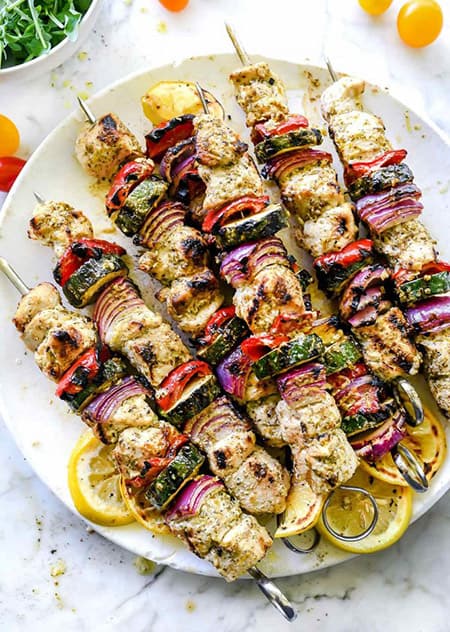 INGREDIENTS:
Chicken Kebabs
3 chicken fillets, cut in 1-inch cubes
2 red bell peppers
2 green bell peppers
1 red onion
Marinade
2 tbsp extra virgin olive oil, divided
juice of 1 lemon, divided
6 cloves of garlic, minced
2 tsp paprika
2 tsp thyme
4 tsp oregano
4 tsp salt
2 tsp freshly ground black pepper
METHOD:
Mix half of each marinade ingredient in a small bowl. Add the chicken to the bowl and coat the pieces in the marinade. Cover and keep in the fridge for at least 30 minutes.
Mix the other half of marinade ingredients in a bowl and add the vegetables. Marinade for at least 30 minutes.
Soak wooden skewers in water for about 20-30 minutes while the chicken and vegetables are marinating.
Thread the chicken and vegetables on the skewers. Alternate the chicken pieces with the vegetables.
Grease and heat a grill pan over medium-high heat. Grill chicken for about 5 minutes on each side, or until the center is no longer pink.
If you want to use an oven, preheat to 425 F and place the chicken skewers on two foil-lined baking sheets and bake for about 10-15 minutes. Turn the skewers and bake for another 10 - 15 minutes.
9. Moroccan-Spiced Chicken Kabobs with Whipped Feta Sauce
Kabobs are synonymous with Mediterranean. There are thousands of recipes for kabobs but we found one that is perfect for your diet plan - lightly spiced chunks of chicken accompanied with delicious feta sauce and salad. Traditionally, kebobs are sandwiched in pita breads but you can eat it all by itself if you like. Don't skip the hummus and the salad, though. They are the soul of the cuisine.
myWW Green: 10 Pts, myWW Blue: 5 Pts, myWW Purple: 5 Pts
INGREDIENTS:
For Chicken
3 pounds boneless chicken breasts or thighs, cut into 1.5-inch cubes
½ cup plain unsweetened yogurt or buttermilk
¼ cup olive oil
¼ cup lemon juice
3 garlic cloves, minced
1 ½ tsp salt
1 tsp sugar
1 tsp ground cumin
1 tsp ground cinnamon
1 tsp ground coriander
1 tsp paprika
½ tsp ground ginger
½ tsp ground black pepper
¼ tsp ground cayenne pepper
For Whipped Feta Sauce
4 ounces feta cheese
7 ounces Greek yogurt
1 tbsp olive oil
1 tbsp fresh lemon juice
¼ cup fresh mint, chopped
Sea salt and freshly ground black pepper
For kabobs
Metal or pre-soaked bamboo skewers
1 medium zucchini, sliced
½ medium red onion, wedged
1-2 bell peppers, cut into 1″ cubes
For serving
8 soft flatbreads or pitas, warmed
Hummus
Lettuce
Cucumber slices
Tomato slices
METHOD:
For kabobs
In a mixing bowl, whisk together the yogurt or buttermilk, olive oil, lemon juice, garlic, salt, sugar, and spices.
Pour over the chicken cubes and toss to coat. Cover and refrigerate for at least 30-45 minutes. The longer the chicken marinates, the better.
For Whipped Feta Sauce
In a food processor, place all the sauce ingredients except the mint. Blend until smooth. Add the mint and pulse a few times. Transfer to a jar or bowl and refrigerate until ready to serve.
For kabobs
Preheat a barbecue grill for direct heat.
Thread the chicken cubes, zucchini, red onion, and bell peppers in alternating layers on the skewers.
Place the prepared skewers on the grill and allow to cook for 3-4 minutes. Turn the skewers and allow to cook for several minutes.
Transfer the kebabs to a serving platter and keep warm until ready to serve.
For serving
Serve kabobs on the skewer or stuffed into a pita accompanied with hummus, lettuce, cucumber, and tomato, topped with a drizzle of the whipped feta sauce. Serve warm.
10. Boiled Tilapia
Here is a simple way to enjoy fish while you are on a diet. Tilapia has a neutral taste - or no taste as per seafood lovers - which doesn't make it a popular choice. But it also depends on the recipe. Here is a tilapia recipe that's simple and healthy, and brings out the best taste of the fish.
myWW Green: 2 Pts, myWW Blue: 0 Pts, myWW Purple: 0 Pts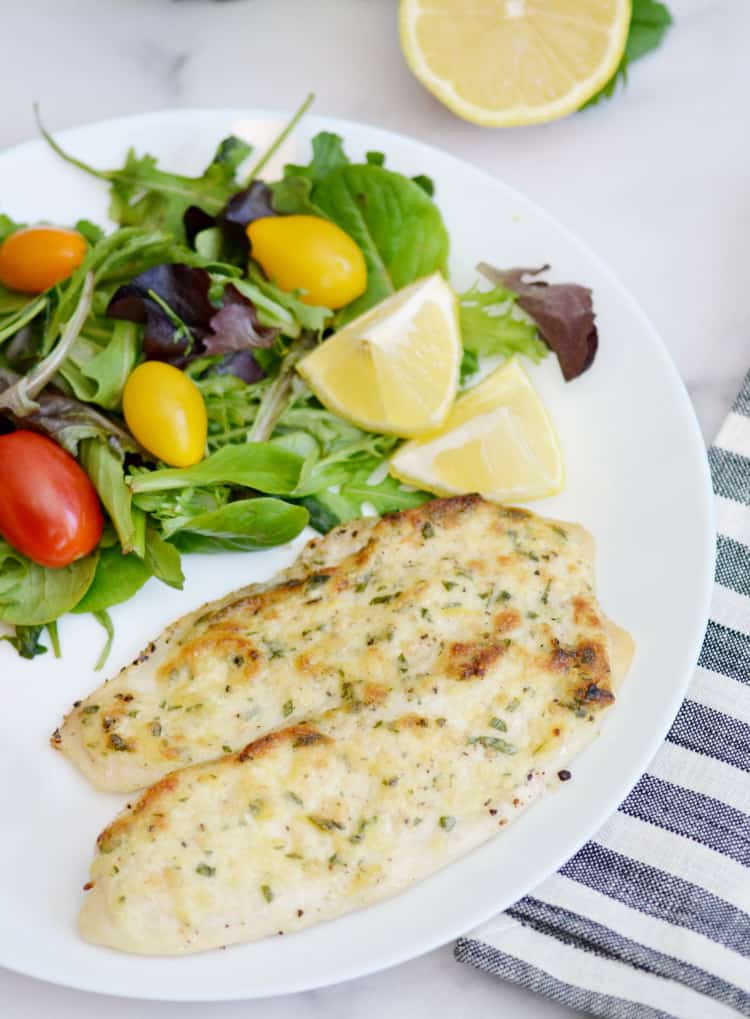 INGREDIENTS:
Cooking spray
4 five oz uncooked tilapia fillet
½ tsp table salt
¼ tsp black pepper
1 tbsp fresh lemon juice
2 tsp garlic herb seasoning
METHOD:
Preheat broiler. Grease a roasting pan with cooking spray.
Season both sides of the fish with salt and pepper.
Place the fish in the pan and drizzle with lemon juice. Season with the garlic herb.
Broil the fish for about 5 minutes or till fork-tender.
11. Cauliflower Tabbouleh Salad
Tabbouleh is a Mediterranean salad that is usually made with bulgar or couscous but we have an interesting variation. Cauliflower rice adds an interesting twist to tabbouleh, making it lighter without compromising on the flavour. Season the tabbouleh with some olive oil, lemon juice, salt and pepper to give it the Eastern vibes. Toss all ingredients very well and dig in. The Cauliflower Tabbouleh Salad is ideal for a light lunch, especially if you have gourmet planned for dinner.
myWW Green: 4 Pts, myWW Blue: 4 Pts, myWW Purple: 4 Pts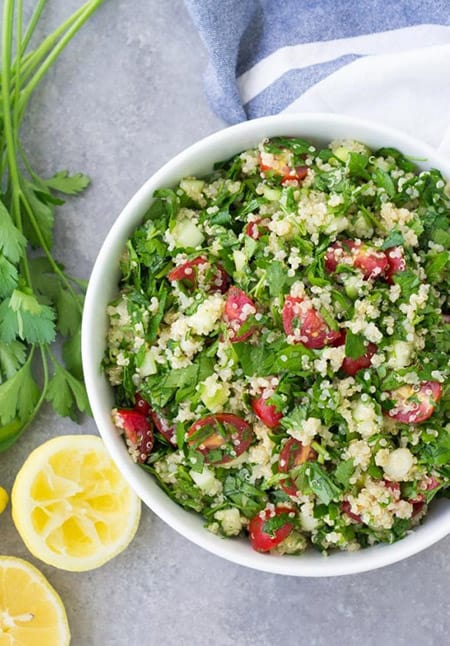 INGREDIENTS:
Salad
4 cups rice cauliflower
½ large cucumber, diced
2 stalks celery, diced
4 Roma tomatoes, seeded and diced
4 green onions, thinly sliced
¼ cup packed mint leaves, minced
1 cup fresh parsley, minced
Dressing
3 tbsp avocado oil, may substitute olive oil
¼ cup lemon juice
1 clove garlic, finely minced
½ tsp salt, according to taste
¼–½ tsp black pepper, according to taste
METHOD:
Place a large skillet over medium heat. Add 1 tsp avocado oil and the cauliflower rice. When the cauliflower starts to release some of its moisture and is crisp-tender., turn off flame and continue to saute to help the moisture evaporate.
Spread onto a large plate or baking sheet and freeze.
Meanwhile, prepare the dressing. Add the dressing ingredients in a blender and blend on high until well combined.
Place the cooled cauliflower in a large bowl with cucumber, celery, tomatoes, onions, mint, and parsley.
Pour the dressing over salad and stir to combine. Taste and adjust spices as needed. Serve immediately or refrigerate for 30 minutes to allow flavors to blend.
Store unused portion in a covered container in the fridge for up to 4 days.