WW Purple Plan Zero Point Recipes
What comes to your mind when you hear potatoes? Carbs! You want to steer away from them when you hit a weight loss plan. But the WW Purple plan (one of three MyWW Programs) gives you a way to enjoy your mashed potatoes even when you are on a diet. How?
WW Purple plan evaluates the health values of some arguable food choices by creating a SmartPoints budget. With a SmartPoints budget, the WW Purple plan allows you to enjoy your food choices without going off balance.
The plan guides you with a list of zero points food - a list with over 300 options. These foods include whole meal pasta, potato, eggs, fruits, chicken, and seafood. However, it's important to stick to yourSmartPoints budget if you want to go on a spree to enjoy your seafood.
RELATED ARTICLES
So, what are those miracle recipes? We have whipped, tried, and tested recipes to make sure we give you nutritious, simple, and easy recipes with these zero point ingredients. Don't worry. We assure you they will impress your taste palate beyond your expectations.
Here are 5 recipes that fit the Weight Watchers Purple Plan perfectly.
1. Pasta with Mint Arugula Pesto Sauce
Here's a new take on the old favorite and traditional pasta with pesto sauce. This is a perfect meal to include in your WW purple plan. The balanced flavors give you a unique pasta dinner without too much fuss. So, if you are looking to whip a healthy pasta meal in 15 minutes, this is the right recipe for you, especially on busy days. The freshness of mint and arugula infuse the pasta with a soft taste and soothing aroma - the kind of satisfying and delicate dinner you would want to end your day with.
The lemon zest in the pesto adds a light tang and the citrus zing is an excellent seasoning to the peas and arugula. Mint, on the other hand, complements the pasta with its mild sweetness and cooling taste. The recipe is perfect for summer days when you need something light and refreshing, but still fulfilling and nourishing. Peas add vitamins and minerals and make the pasta with pesto sauce visually delicious.
Unlike the traditional pesto made with nuts and oil, this pesto is made with nonfat Greek yogurt. The consistency is the same but fits the WW purple plan, unlike the original pesto recipe.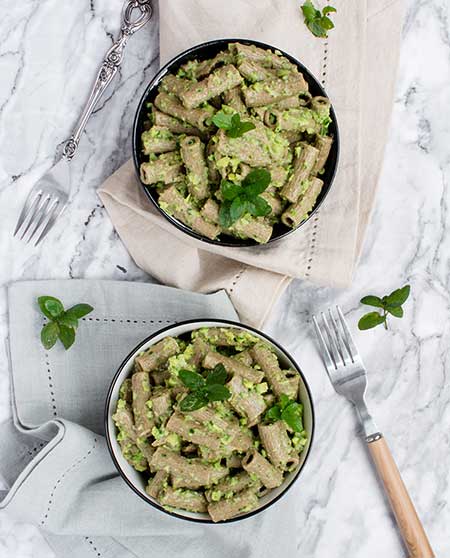 myWW Purple: Zero points
Calories: 215
Preparation time: 5 minutes
Cooking time: 10 minutes
Serve: 2
INGREDIENTS:
4 oz penne wholemeal pasta 360
1 cup arugula
¼ cup mint leaves
¼ cup frozen peas, thawed
¼ cup Greek yogurt, plain, nonfat
Salt and pepper, to taste
1 teaspoon lemon zest
METHOD:
Cook the pasta according to package directions.
Drain and place aside.
In a food blender, blend arugula, mint, and peas until almost smooth.
Remove in a large mixing bowl. Add the Greek yogurt and lemon zest. Season with salt and pepper.
Add in the warm pasta. Toss to mix the pasta with the yogurt pesto sauce.
2. Chicken in Tomato Sauce
Chicken in Tomato Sauce proves the palatable friendship between Italian and Mediterranean cuisine. This dish reflects what the food of these countries is all about – healthy and fresh ingredients, simple preparation, and outstanding taste. The chicken goes through simple cooking and appears humble but it will surprise you with its astonishing features. Since the chicken has a mild flavor, it can be paired with an infinite number of ingredients. In this recipe, the chicken is complemented with fresh, juicy tomatoes.
You would notice that this recipe is entirely oil-free. Yes, there are ways to cook chicken without using any oil or grease. Just choose a non-stick skillet and cook chicken in chicken broth. You can also use plain water. The aim is to prevent the chicken from sticking to the pan. With chicken broth or plain water, you will be able to cook the chicken perfectly.
The fresh tomato sauce takes the award in this dish. It uses simple ingredients - staples of the Italian cuisine - that enhance the taste. We have used a dash of balsamic vinegar to seal the flavors. This recipe calls for plum tomatoes, but you can use any kind of tomatoes that are readily available. If you want you can serve the dish with some grilled asparagus or broccoli.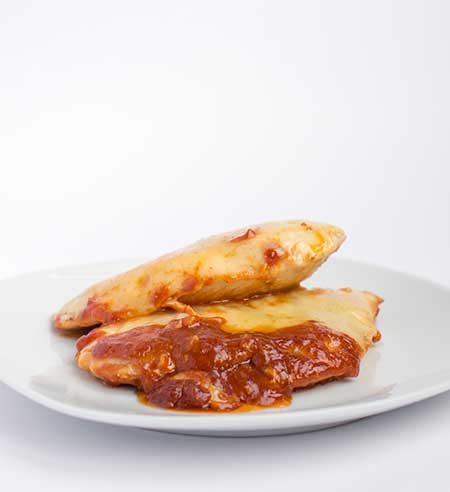 myWW Purple: Zero points
218 calories
Preparation time: 5 minutes
Cooking time: 15 minutes
Serve: 2
INGREDIENTS:
0.5lb. skinless and boneless chicken breast or tenders
2 plum tomatoes, diced
½ large shallot, minced
1 clove garlic, minced
½ teaspoon rosemary, optional
Salt and pepper, to taste
3 tablespoons chicken broth
1 tablespoon balsamic vinegar
Salt and pepper, to taste
METHOD:
Heat 1 tablespoon chicken broth in a skillet
In the meantime, fillet the chicken breasts and season to taste
Cook the chicken in the broth for 4 minutes each side, adding more broth if needed. Remove the chicken from the skillet
Add the shallots and garlic in the same skillet
Cook for 3 minutes
Add the tomatoes, the rosemary, the vinegar, and the remaining broth. Bring to a boil
Reduce heat and simmer for 4-5 minutes or until tomatoes are tender. Use an immersion blender or a potato masher to puree the sauce
Top the chicken with a generous spoon of tomato sauce
3. Egg Salad
We bring to the forever classic egg salad. Egg salad is a favorite on-the-go meal since its fulfilling, delicious, and packed with proteins. What's best - it qualifies to be your breakfast, brunch, lunch, or dinner. Not only is this egg salad recipe simple, it also has some interesting ingredients that give the egg salad a unique personality, way different from the original one. The salad is made with low-fat mayo, nonfat Greek yogurt, and Dijon mustard. We have added some dill for its lemony sweet flavor. If you don't have dills, you can use chives or any other herb you like. You can serve this salad as a sandwich filling as well or with skinless chicken or mixed greens salad. You can fill the celery sticks with this and make a delicious appetizer for yourself and your family.
We have also added some cauliflower to empower the salad with more fiber. Although this recipe calls for 2 eggs, you will not be using two egg yolks. Instead of throwing the second yolk, you can use it for other salads. Just crumble some egg yolk over the desired salad, and we recommend the mixed greens or use it in some homemade dressing.
This egg salad is a quick and healthy meal with diverse flavor with only one point. You can make it ahead of time and store in a fridge up to three days, and the salad is also ideal for the lunchbox.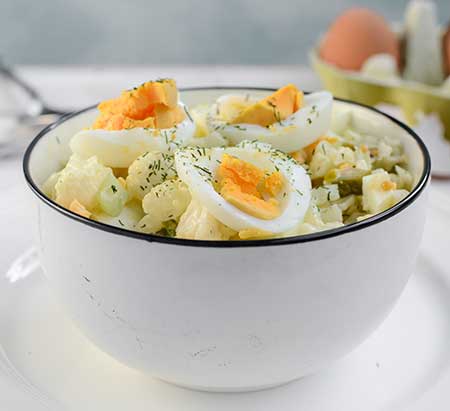 myWW Purple: Zero points
188 calories
Preparation time: Cooking time: Serve: 1
INGREDIENTS:
2 hardboiled eggs, 1 whole, 1 egg white
1 tablespoon light mayonnaise
2 tablespoons Greek Yogurt, plain, nonfat
¼ teaspoon Dijon mustard
Salt and pepper, to taste
Dill weed, to taste
½ cup steamed cauliflower florets
METHOD:
Steam the cauliflower in a steaming basket. Set over 2-inches of simmering water and cover with lid. Steam for 7 minutes
In a bowl, combine mayonnaise, yogurt, and mustard. Add in the egg whites and cauliflower
Season to taste and stir to combine
Top the salad with the boiled, sliced egg, and serve
4. Roasted Sweet Potato with Green Dip
Roasted sweet potatoes is a twist to the classic roasted white potatoes. The sweet potatoes are perfect for the WW purple plan as they have zero points. Even the dip we paired the roasted sweet potatoes with only one point. If you are wondering why this combo, we will explain.
Serving sweet potatoes all by themselves may make it bland. You can also make them in a different way, but they need something to follow with. That is why we whipped up a dip. It is very light, has a beautiful flavor, and is very creamy. The dip is made with spring peas and refreshing mint, all packed in Greek yogurt and with a hint of lemon zest.
If you are trying to get a creamier dip, you can use silken tofu. Again, serving potatoes with this dip is not mandatory, however, the warm, roasted sweet potatoes pair perfectly with something cold and refreshing.
This recipe is perfect for dinner, for an office lunch, or to serve as a party snack. Just make sure to make loads of it, as everyone will dive to try out this fantastic sweet potato and spring peas dip combo.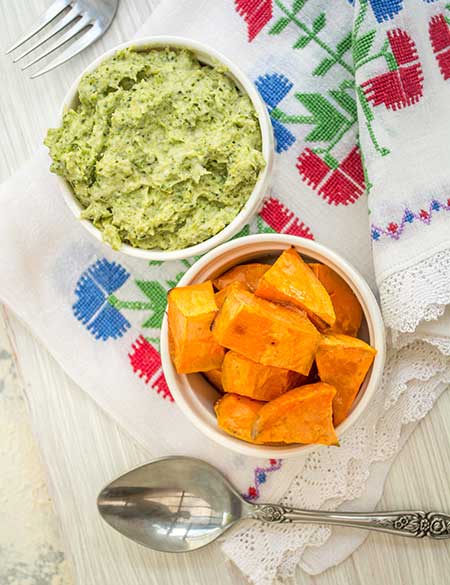 myWW Purple: Zero points
110 calories
Preparation time: 10 minutes
Cooking time: 25 minutes
Serve: 2
INGREDIENTS:
1 medium sweet potato
Cooking spray
Salt, to taste
Dip:
1.5 oz spring peas
¼ cup Greek yogurt, plain, nonfat
2 tablespoons mint
1 tablespoon chopped scallion
¼ teaspoon lemon zest
¼ tablespoon olive oil
METHOD:
Preheat oven to 425F.
Peel the potato and cut into pieces. Spray the baking dish with cooking spray
Add potatoes and sprinkle with salt. Bake the potatoes for 25 minutes
In the meantime, make the dip. Fill the saucepot with 4-inches of water to a boil
Add peas and cook 1 minute. Drain and rinse under cold water
Place the peas and rest of ingredients in a food blender. Blend until desired consistency is reached. Chill for 30 minutes
5. Corn Fritters
Here is a corn fritters recipe you may have never tried before. These fritters are a truly loved dish in many countries. However, they are fried in too much oil. When trying to lose weight, all that oil is not healthy or figure-flattering. So, how do we make corn fritters without ruining your diet goals?
Simply bake them! Yes, these corn fritters can be baked with the same results as their fried friends. You can forget about the soggy and oil-covered fritter from now on. These corn fritters are made with corn and some peppers. You can choose other types of veggies. Experiment with some spring peas to replace asparagus. If you want them spicier, try adding some chopped jalapeno.
These corn fritters can be served for breakfast or as a side for your lunch or dinner. They pair perfectly with either chicken, turkey, and fish. They can be broken into pieces and added as a crouton to your favorite salad. The possibilities are infinite.
The best thing about these corn fritters is that you can make them and store in a fridge for four days. They remain fresh and can be reheated in a microwave or an oven.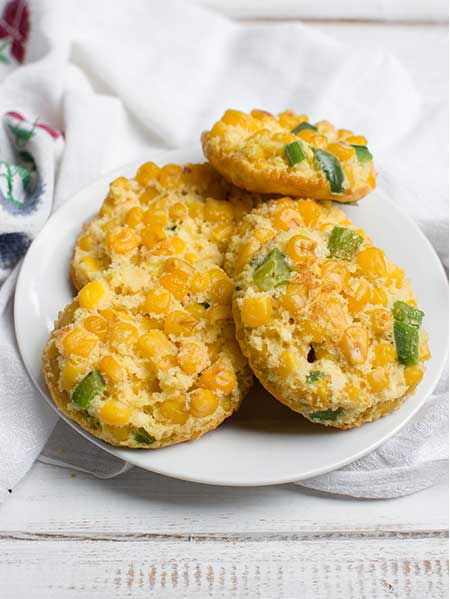 myWW Purple: Zero points
134 calories
Preparation time: 10 minutes
Cooking time: 15 minutes
Serve: 6 fritters, 2 per serving
INGREDIENTS:
2 medium eggs, separated
2 medium corn kernels, removed
½ green pepper, seeded, chopped
Salt, to taste
1 ½ tablespoon all-purpose flour
Cooking spray, just one spray
METHOD:
Heat your oven to 375F.
In a bowl, beat separately egg whites with a pinch of salt until firm peaks form
In a separate bowl, beat egg yolks until fluffy. Add in the corn, pepper, and flour
Gradually add the egg white, stirring gently to combine
Pour the batter on a baking sheet, lined with parchment paper. Spray with one spray of cooking oil. This step is not mandatory
Bake the fritters for 15 minutes
You can also spoon the batter into paper liners and bake
Serve warm