Spicy Chinese Tuna and Pasta
Go classic and chunky, but hold the bad stuff. This is the basic formula for a classic Chinese tuna and pasta with carefully chosen ingredients. Perfectly cooked pasta is sprinkled with the smallest amount of soy sauce and lemon juice, and combined with refreshing tuna, red capsicum, zucchini, and some spices. What more can you possibly ask?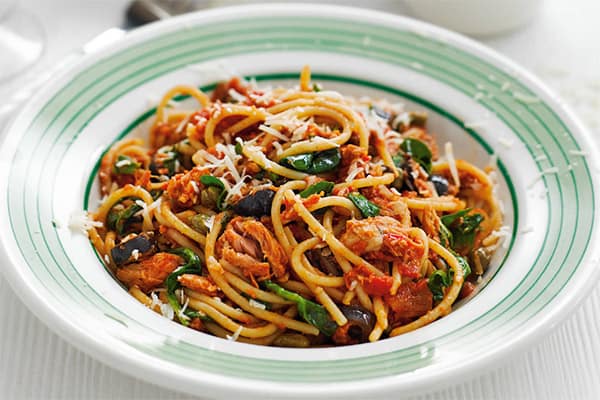 Ingredients
2 x 85gm packets of Chinese noodles (or pasta)
2 medium zucchini, cut into fine strips
1 large red capsicum, cut into small chunks
3 large celery stalks, cut on the diagonal
1/2 teaspoon Chinese Five Spice Powder (herb section of supermarket)
425gm can tuna in spring water, reserve liquid for later
2 tablespoons lemon juice
1 tablespoon light soy sauce
Instructions
Cook noodles or pasta as directed on the packet. Drain and set aside. Heat wok and add vegetables and then spice.
Add noodles, tuna, reserved liquid (as much as you feel is needed) lemon juice and soy sauce. Stir gently until heated through.
Serves 4.
Healthy Recipes