Aromatic Vietnamese Beef Broth
A combination of lean beef, vegetables, and spices gives this delicious mixture a nice boost of fiber, protein, and healthy fat. Chopped meat contributes with a good amount of protein which will keep you full for hours, while vegetables add a perfect amount of vitamins and minerals promoting health and well-being.
Having that said, I think it's time to give this combination a try!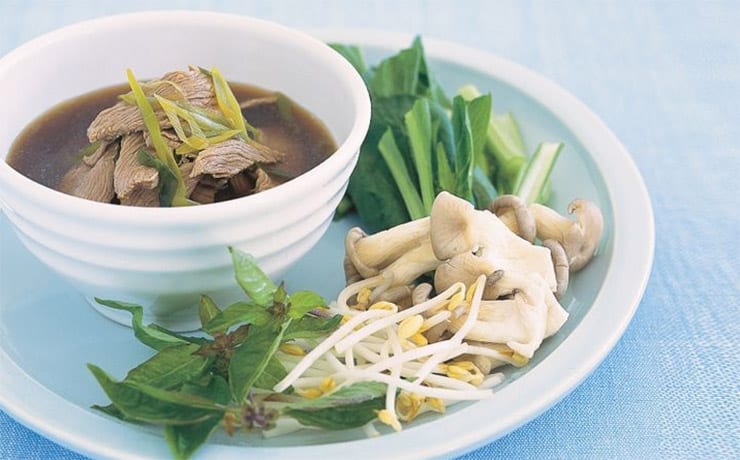 Ingredients
600gms lean beef striploin
1.5 litres Campbell's Real Stock beef stock
3 teaspoons grated ginger
2 Star Anise – available at Asian grocer, or substitute with a sprinkle of
McCormick's Chinese Five Spice
1/2 onion, thinly sliced
1 teaspoon fish sauce – available at Asian grocer
1 pinch ground chilli
500gms choice of 2-3 seasonal vegetables (eg. carrot, Chinese broccoli, button mushrooms, bean shoots) finely sliced
Instructions
Slice frozen striploin into wafer thin slices. Set aside. Combine stock, ginger, star anise onion, fish sauce and chilli in a large deep pan. Bring gently to boil, reduce heat, and simmer on a low heat, for five minutes. Remove star anise and discard. Reheat broth until just boiling. Add beef slices to hot broth with vegetables. Simmer over a low heat for 2-3 minutes until just cooked.
Serve with thinly sliced spring onions and Vietnamese mint or basil.
Serves 4-5.
Healthy Recipes