Planked Mustard Beef With Italian Parsley Salad
Roasted lean beef is the base for this healthy meal. Combined with fresh vegetables and carefully chosen spices, it's a massive source of protein, fiber, folate, vitamins, and minerals. Serve on a large serving platter or in a deep bowl and don't let these nutrients wait. Enjoy!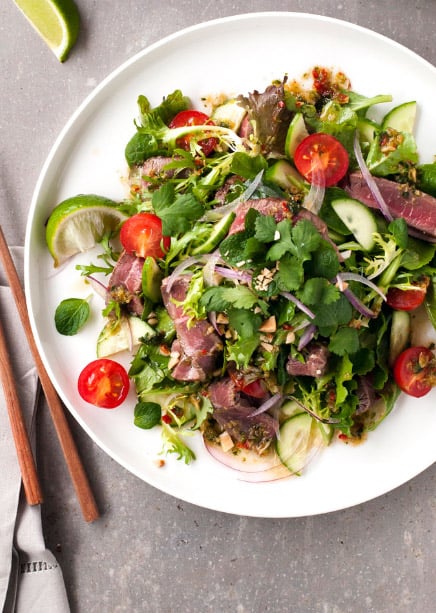 Ingredients
600gms lean beef sriploin
1 tablespoon wholegrain mustard
Salad:
2 cups Italian parsley leaves, chopped
Half a medium continental cucumber, finely diced
1 punnet cherry tomatoes, quartered
1/4 cup shredded fresh mint leaves
1 clove garlic, crushed
1/4 cup lemon juice
Instructions
Preheat oven to 180C. Trim striploin of any fat. Heat a frypan on high heat and cook beef quickly for 3-4 minutes on each side. Transfer beef to an oven tray. Spread mustard over surface and roast for twenty minutes.
Remove beef and rest, covered for 5-10 minutes. Arrange combined salad ingredients in the centre of a large platter.
Thinly slice the beef and arrange around the salad.
Serves 4-5.
Healthy Recipes