Moroccan Cous Cous Salad
This couscous salad is a traditional Morrocan dish and a fabulous combination of perfectly chosen ingredients which are packed with vitamins, minerals, and proteins. The best part about it is that you can always mix and combine some different ingredients you like. For this combination, I have chosen juicy cherry tomatoes, refreshing orange and sweet dates as the base for this couscous combination.
However, if you find it too intense for your taste, simply replace some of the ingredients and add your favourite ones. Just make sure to keep the traditional Morrocan touch you want to feel with this recipe.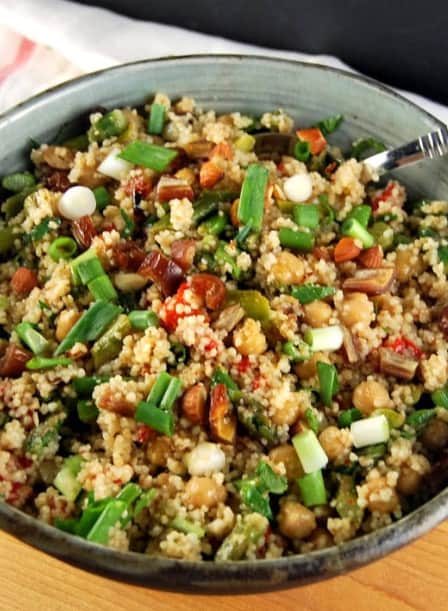 Ingredients
1½ cups cous cous
1/4 cup orange juice
1 tablespoon dijon mustard
1 tablespoon chopped fresh thyme (or one teaspoon dried thyme)
1 teaspoon grated orange rind
2 cups boiling water
1 cup chopped parsley
1/2 cup chopped spring onions
1 orange, peeled and sliced
1 tablespoon fresh lemon juice
Freshly ground black pepper
Instructions
In a large bowl, stir together cous cous, orange juice, mustard, thyme, and orange zest. Stir in boiling water, cover and set aside for five minutes, or until all liquid has been absorbed. Fluff cous cous with a fork.
Add parsley, spring onions, orange slices and lemon juice. Toss to blend. Season with black pepper, chill. Serve with grilled or BBQ fish.
Serves 6-8.
Healthy Recipes