Thai Two Minute Steaks With Pineapple Salsa
This eye-pleasing salsa will be the talk of a day when you make it. The best part about this mixture is that you can easily find the ingredients in the refrigerator. Simply, mix, cook, and serve. As for the leftovers - no problem. These beautiful Thai steaks with pineapple salsa taste even better when refrigerated overnight which is just perfect for your next food prep Sunday. Enjoy!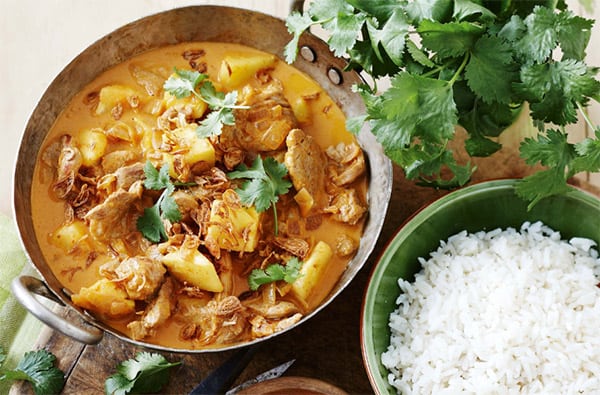 Ingredients
600gms lean beef striploin
1/3 cup fish sauce
1 tablespoon chopped fresh coriander
1 red chilli, seeds removed, very finely chopped
2 stalks lemongrass, inner section, very finely chopped
salsa:
1/4; fresh pineapple, skin removed, diced (substitute two firm ripe mangoes when in season)
2 small red chillies, seed removed, very finely chopped
half a small Spanish onion, thinly sliced
half cup fresh coriander leaves, chopped
finely grated rind and juice of two limes
Instructions
Slice striploin into four steaks. Cut each into three to produce mini steaks. Flatten sightly with a meat mallet. Heat barbecue or non stick frypan on high heat.
Cook steaks quickly, one minute each side. Remove from pan. Keep warm. Stir fish sauce, coriander, chilli and lemongrass into pan. Simmer over low heat for one minute.
Arrange steaks on a plater, spoon over sauce and top with combined salsa ingredients.
Serves 4-5.
Healthy Recipes